So, did you know that a few night M2s run via Coolidge Corner? Yeah, I had no idea, either! I mean, who would suspect? It's just so unexpected that these few random M2s happen to take a vastly different route than their counterparts. Well, anyway, want to hear about the ride? Heck yeah!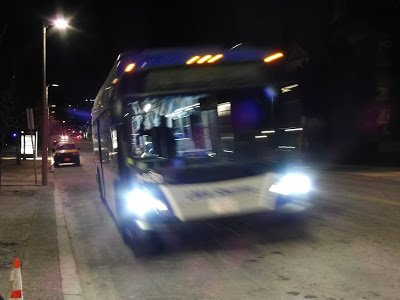 Whoosh!
To be honest, Nathan and I had no idea where to wait for this elusive M2C. There were shelters on both sides, and people were waiting at both. Originally we took the northern one, but eventually everyone meandered to the other side of the street, so we headed over there too. The bus arrived right on time, missing a front destination sign, unfortunately.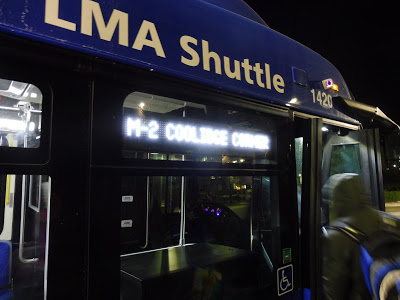 At least the side one was working!
We left the southbound stop and made our way around the wide median at the end of Avenue Louis Pasteur. This took us onto Longwood Ave, running right through the heart of the Longwood Medical Area. The buildings started to thin out as we continued down the street, until we crossed the Riverway, then went over the Muddy River and the D Line.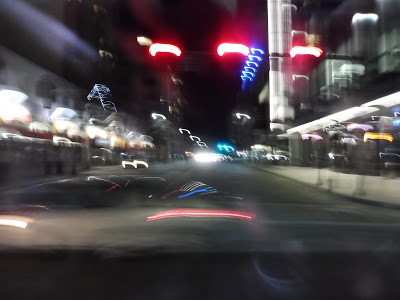 That's interesting…
Independent from any MBTA bus routes, Longwood Ave was now residential. Going by lots of handsome brick houses and apartments, we trundled down the road in the darkness. This eventually led us to Coolidge Corner in record time, where we turned onto Harvard Street, joining the 66 and crossing over the C Line.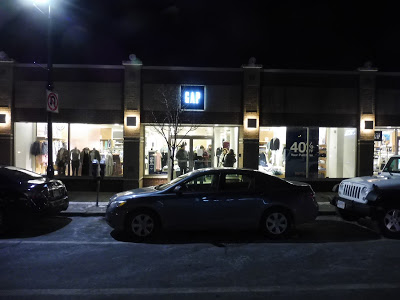 Hi, Gap.
Along this whole section we were passing those classic Coolidge Corner businesses, then they became apartments as we left the "downtown" area. It didn't last long, though, as retail soon lined Harvard Street again in full force. It consisted of single-story businesses for a while, but as we crossed Harvard Ave and the B Line, the buildings got taller.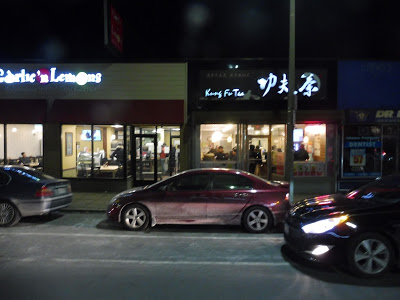 Some more businesses.
There was a mixture of retail and apartment buildings past there. While the 66 does its annoying Union Square "jog," we just stayed on Harvard Ave, then turned onto Cambridge Street. This blasted us over the Commuter Rail tracks and I-90, then some apartments and industrial businesses appeared on one side of the road beyond the bridge.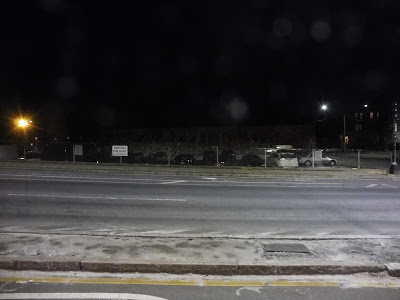 This is eerie…
The 66 turned onto North Harvard Street, so now we were running with the 64. Meanwhile, Cambridge Street ran on a bridge over its interchange with I-90, then we went over the Charles River. Cambridge Street became River Street, and after a park and a huge apartment building, we were surrounded by mostly dense housing.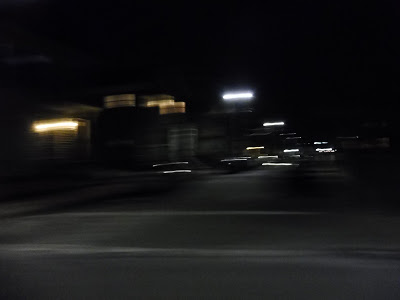 Not my best-ever picture, that's for sure.
I was assuming we'd run right into Central Square, but apparently that wasn't the case! No, instead we turned onto Franklin Street, a narrow one-way going past mostly more houses. Next, we turned onto Brookline Street for two blocks, and finally onto Mass Ave, making a stop at the rainbow MBTA shelter.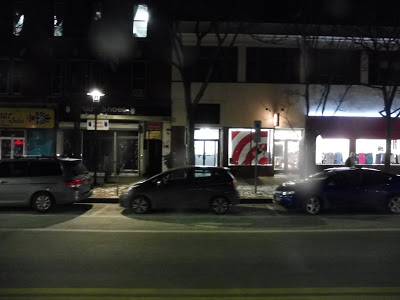 Oh hey, it's that new Target!
Central Square was full of businesses and tall buildings, which both continued as we left the square. There were also plenty of apartment buildings in the mix, as well as Cambridge College. Soon, Mass Ave split into two parts, and we ran up into Harvard Square. Holyoke Gate was the last stop, and the bus laid over there for a little while before returning to the LMA.
Too bad that destination sign still isn't working.
Route: M2C (Coolidge Corner)
Ridership: Okay, I have to be honest, I wasn't expecting anyone on this route, but I was dead wrong. Our trip got over 30 people, and most of them did indeed get off along the independent section, even as far as Cambridgeport! Clearly there's a lot of demand for this strange, infrequent route.
Pros: Yeah, so, people actually use it! I really wasn't expecting that! But then again, when you give it a good look, it's hard to see why people wouldn't use it. It's by far the easiest way of getting from the LMA to the places it serves, since it offers a direct trip right down Longwood Ave to Coolidge Corner. (I didn't even know that was possible!) This is actually the only one-seat ride from the LMA to that area, so it beats the MBTA in that regard!
Cons: Aside from the fare system, which continues to be ridiculous, this route only has the wee little problem of never freaking running. This route has five departures: four northbound trips at 5:15, 6:25, 9:30, and 11:30; and one southbound trip at 10:00. Why the heck does it only have these trips, and why the heck does it only run at night? It got so many people!
Nearby and Noteworthy: I love Coolidge Corner, but it's very unlikely you'll ever actually use this route to get there. Maybe try a route that runs during the day, such as the Green Line or the 66. Just sayin'…
Final Verdict: 4/10
This is a great route, but it just doesn't live up to its potential. There's gotta be some way they can give this thing more service, at least a few trips in the morning rush to get people to the LMA. And just to drive the point home, the schedule is really the only thing wrong with this route, but it's just so terrible that it's worth all those lost points. Give it at least a little more service!
Latest MBTA News: Service Updates