For anyone who rides the M2 regularly, it's incredibly easy to board. For anyone who doesn't…well, that's problematic. The M2 is a Longwood Medical Area shuttle that runs from Harvard to the LMA, and its fare system makes absolutely no sense. So, a Harvard ID allows free passage onto the bus, but anyone else needs to purchase a ticket in the form of Crimson Cash…and that's a wild goose chase in itself.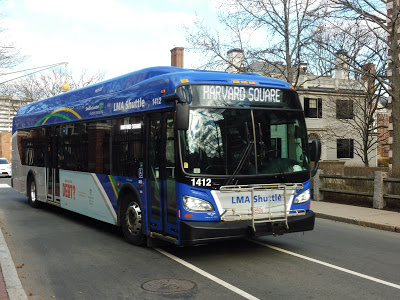 The bus that wouldn't let us on because we had no tickets…
So where does one go to get tickets? Well, in Harvard Square, you have to go to the Holyoke Center, a building that's currently undergoing a large amount of construction. Navigating through the makeshift path leading to the building entrance, Nathan and I arrived at the front desk. "We'd like to get some Crimson Cash," we said. The man said we'd have to go up to the 8th floor, and he printed us visitor's passes with our names on them.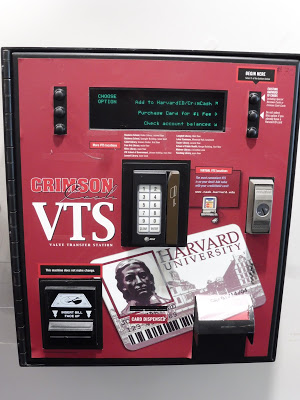 Oh no, what is this relic?
First problem with the machine: it was bills only. I didn't have any bills, so I had to gather up a bunch of loose change in my pocket and get it exchanged at the desk. The machines also didn't give change – we're talking about a really simplistic thing here. Well, it did offer credit card payment as well, so that's something.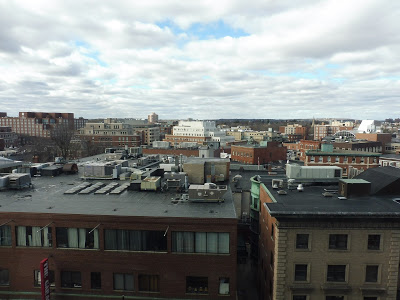 Nice view from up here!
After navigating the incredibly primitive interface, I managed to purchase a Crimson Card for a dollar and put four additional dollars onto it (Nathan had one already). With our fares now ready to be paid, we made our way all the way back down and out to the bus stop. Upon boarding, we showed our cards, and…that was it. The buses don't have fareboxes. Yes, the website claims there's a fare of $3.25, but…yeah, no, it's basically free.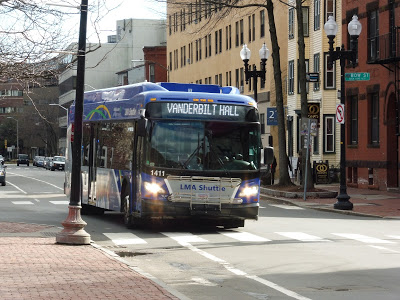 Let's try this again…
We boarded at the Lamont Library on Quincy Street. From there, the bus went like a 1, navigating its way onto the narrow and twisty Bow Street, meandering past various Harvard Square buildings. We turned onto Mount Auburn Street at an old church, which took us past dense apartments.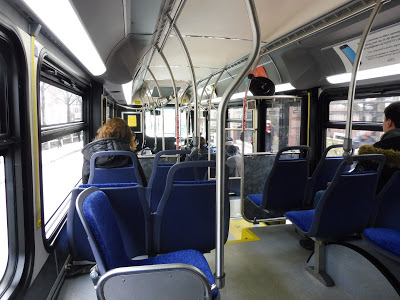 The inside of the rather nice Xcelsior!
Mount Auburn Street merged into Mass Ave, and the surrounding buildings got a heck of a lot taller. We were passing a mixture of businesses and tall apartments for quite a while, broken by the beautiful facade of Cambridge City Hall. Right after that, we were in Central Square and the street was lined with retail, residential, and office buildings.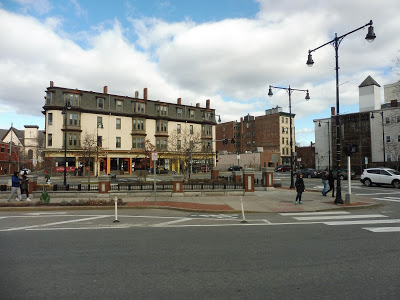 A park just past the square.
The retail continued for quite a while, but as we started to enter the huge domain of MIT, the buildings grew more modern. There was a small industrial pocket as we crossed the single track of the Grand Junction Railroad, then we passed through the main part of MIT's campus. Beautiful buildings and plazas were everywhere!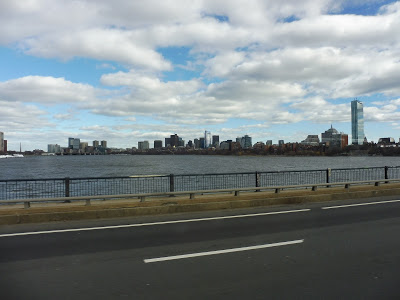 That view never gets old!
After going over the always-gorgeous Harvard Bridge, we all of a sudden turned onto Beacon Street. It was so unexpected – I'm so used to just staying on Mass Ave like a 1 would do! For a block, Beacon Street was lined with fancy Back Bay apartment buildings, including one with an oversized chair in front of it. It was quite an interesting sight!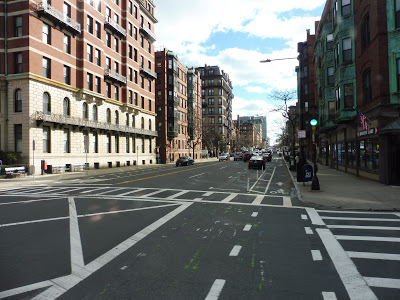 Goodbye, Mass Ave!
We went under the Charlesgate and over the Muddy River, then arrived at Kenmore Square after a few more apartments. Staying right on Beacon Street through the square, we went over I-90 past Yawkey Station, after which there were more apartments. Just before the C Line surfaced onto Beacon Street, we turned onto Park Drive, soon crossing the D at Fenway.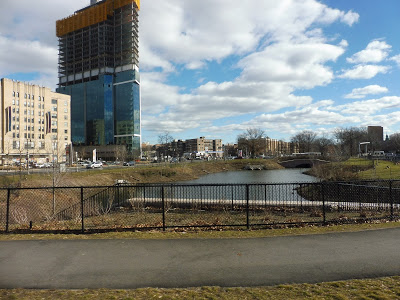 This is a pretty neat view.
Park Drive meandered its way through the traffic hell outside of the Landmark Center Mall, leading us onto the Fenway. After going by Emmanuel College, we turned onto Avenue Louis Pasteur, passing Simmons College and the Boston Latin School. Finally, at the end of the street, we arrived at our last stop, right outside the Harvard Medical School.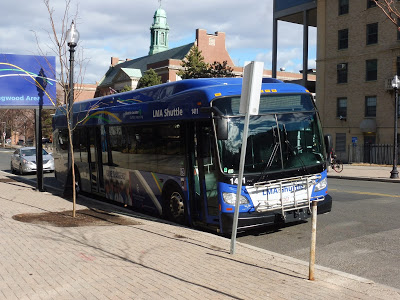 The bus taking a layover.
Route: M2 (Cambridge – HMS)
Ridership: There aren't any public ridership stats for the LMA shuttles from what I could find, but I can definitely say without a doubt that the M2's ridership is great. The route is often packed; my ride had a full-seated load, and that was going toward LMA in the afternoon. Imagine what the buses going the other way must have been like!
Pros: There is evidently dire need for a direct shuttle from Cambridge to the LMA, and this route fulfills that need very well. After the M2 leaves Harvard Square, it makes very few stops – only at key areas – which allows for a slightly faster ride. They try to keep this thing running frequently, too, especially during rush periods, when it goes every 10 minutes. When ridership is lower, it doesn't run as often, with service every half hour middays and every hour nights and Saturdays. Also, did I mention the route is free with a Harvard ID (and essentially free with Crimson Cash)?
Cons: This really only affects outside users like Nathan and I, but the ordeal required to obtain a Crimson Card is painful. Still, most riders are just going to have an ID, so it impacts very few people. My main problem with the M2 is the way it travels along the Fenway going northbound – a completely different route from the southbound direction! Not only that, it's a lot more traffic-ridden, to the extent that they actually reroute it to Brookline Ave during the evening rush. Even then, the M2 can still suffer from bunching, which is always an annoyance with frequent urban routes.
Nearby and Noteworthy: If you're trying to get from Harvard to the Longwood Medical Area for whatever reason, this is your route, I guess. Good luck getting a Crimson Card, though.
Final Verdict: 8/10
The M2 serves a very important purpose, and it shows in its ridership. Although bunching may cause it to be late, they run it frequent enough that people should never have to wait too long for a vehicle during rush hour. The northbound routing really bothers me, though – why can't they just route it via Brookline Ave all the time? That's close enough to the southbound route, and it would mean two-way service from Kenmore Square! Other than that, though, the M2 is a great bus…so long as you have an ID with you, of course.
Latest MBTA News: Service Updates