The MVRTA's Lawrence routes have a certain style to them. The authority seems to like very loopy routes that take different streets going inbound and outbound. It makes for some very strange-looking maps, and the 34 is no exception. Plus, this one has deviations!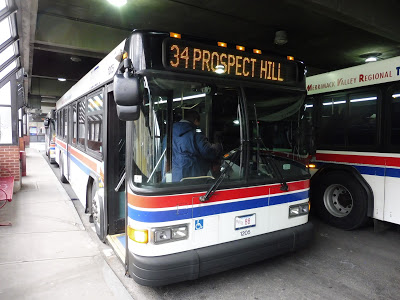 The bus boarding at Buckley. (feat. Jordan!)
We left the Buckley Transportation Center and headed down Common Street, going past – surprise! – a common (Campagnone Common, to be exact). The other side of the street was lined with the businesses of downtown Lawrence. After a few blocks, the common ended, and we got retail on both sides.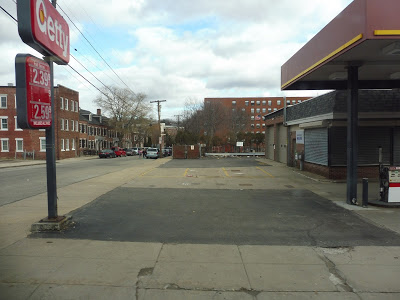 A Getty? Wow, I haven't seen one of those in a while!
We made a quick turn onto Newbury Street for a block, then we turned again onto Garden Street. The street was lined with apartments, but then we passed a huge abandoned factory. Past there, with the road now called General Street, things got a lot more barren, with lots of half-empty parking lots everywhere. After going over the small Spicket River, we pulled into the Lawrence Memorial Hospital.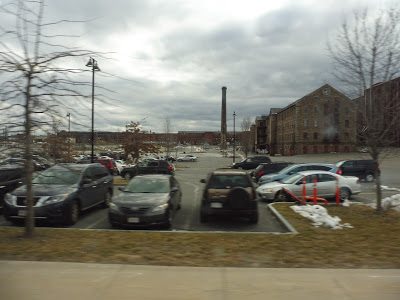 This is a strange area…
It was a steep hill down from the hospital that was scary to traverse in a full-sized bus. We returned to General Street for a bit, then headed through a huge parking lot. Now, on weekday middays, the 34 actually makes an additional deviation from here to the Marston Medical Center that looks like an incredibly long waste of time that makes the route wayyyyyyyyy too convoluted. Luckily, this was a Saturday, so we didn't have to make the deviation.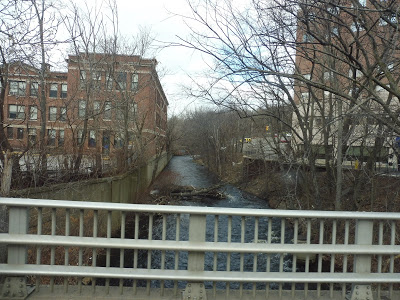 Crossing over the Spicket River.
Instead, we took a right onto Canal Street, running alongside – you guessed it! – a canal. Next, we turned onto Union Street, with one side occupied by that abandoned factory from before. We went through an intersection with Garden Street, from practically the beginning of the ride! From there, the street became a mixture of apartments and businesses.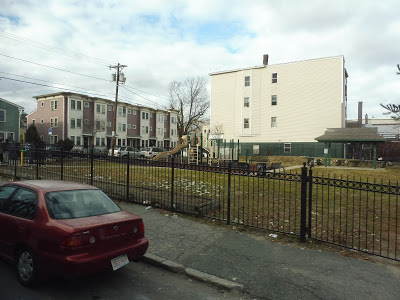 A playground with some apartments.
We turned onto Summer Street, then Newbury Street, which merged into Haverhill Street. We went over the Spicket River yet again, and the street curved around past apartments, retail, and a church. After the intersection with Prospect Street, we went up a hill and the road became lined with larger houses.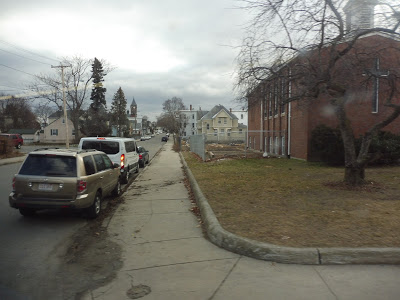 A side street.
Next, we turned onto Howard Street, whose houses were more dense. After we passed a fire station and a small school, those "houses" became more "apartments". We soon turned onto Allston Street, going down a rather steep hill. The road ended at Marston Street, where we took a left, going past a lot of car dealerships.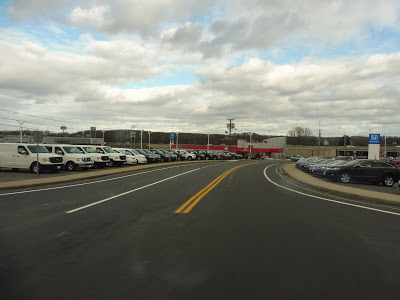 That's a lotta cahs!
Near a school, we made an incredibly sharp turn onto Haverhill Street. This went up onto a hill past the other side of the school, (that's how sharp the curve was!) then it became residential with dense houses. Next, we turned onto East Pleasant Street, which soon curved into John Street. From there, we turned onto Ferry Street, running past more houses.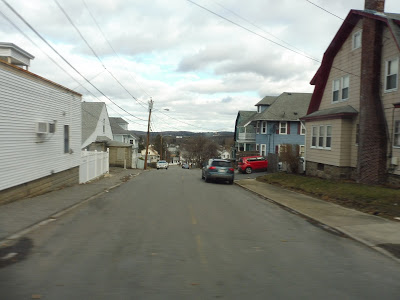 Kinda-sorta a view?
Ferry Street ended at Prospect Street, an intersection only three blocks away from the 1. We turned onto Prospect, taking us down a slope. The route overlapped itself at the intersection with East Haverhill Street, where the road's houses became denser. Eventually we arrived back at the Lawrence Memorial Hospital, deviating again to serve it.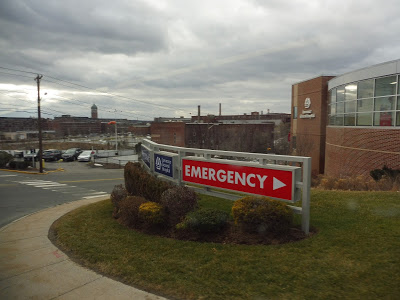 Coming down to the hospital.
We retraced our steps for a while, doing the General Street to parking lot to Canal Street to Union Street route again. This time, however, we turned onto Haverhill Street, running past dense houses. One side of the street became Campagnone Common, marking our arrival back into downtown Lawrence. We soon arrived at the Buckley Transportation Center.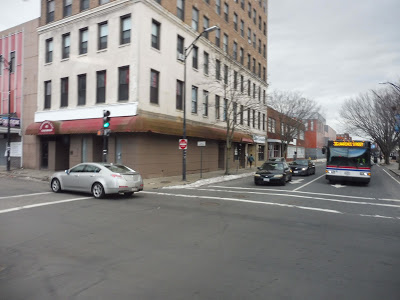 Unfortunately, all I have is this rather lame picture of Lawrence…
MVRTA Route: 34 (Prospect Hill)
Ridership: Sad to say, this is the least-used proper MVRTA route in Lawrence (sorry, 85) – it got 88,402 riders in 2015, or about 242 people per day. My Saturday trip consisted of entirely local riders heading into the city or going home.
Pros: It's got a typical MVRTA pulse schedule, which is good – every half hour during the rush, and every hour middays and weekends. And, well…the route definitely serves a lot of the eastern part of Lawrence. Yup, you would be hard-pressed to travel through there without encountering the 34…
Cons:…mostly because it loops and crosses over itself so freaking much! I mean, this is a seriously inefficient route. And yes, I know that it's a pulse system and the round trip has to take enough time to make the next pulse with a decent layover. But if that means having to traverse this loopy, indirect route, then isn't that a negative experience for the riders?
Nearby and Noteworthy: Houses or car dealerships…take your pick.
Final Verdict: 4/10
Although it serves a lot, no doubt about it, the 34 is just a mess. Well, I decided to go ahead and fix it…
This routing eliminates all of the places where the route crosses over each other, aside from the hospital deviations, which I assume are a necessity. I included the existing route on a separate layer so you can see how much of an improvement it is – and the best part is that a large majority of the route is either still served or has service only a few blocks away. The only significant portion that loses service is the northern part of Prospect Street and Ferry Street – but that's the bit that's only a few blocks from the 1, so they still have nearby service! Overall, the new routing cuts the 34 down from an 8.85 mile round trip to 6.26 miles. Really, the only drawback is that stupid pulse system – I imagine with this routing, the buses would get back to Buckley incredibly early. That's the drawback of a pulse: sometimes buses have to be purposely inefficient so they can get back to the hub at the right time. Oh well… (UPDATE: I was poking around on the MVRTA's website, and they have at least one route that gets back ridiculously early – the 34 update could still be feasible!)
Latest MBTA News: Service Updates