A downtown shuttle in Lawrence? Sweet, I like that idea! It's great that Lawrence has the 85 to connect all of downtown's businesses, houses, and transportation centers alike. Oh wait…it doesn't serve the Buckley Transportation Center on weekdays? And it doesn't serve the Lawrence Commuter Rail station at all?! Huh…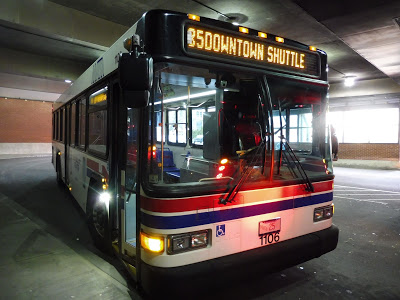 The bus at Buckley.
Jordan and I got the bus at Buckley, since it was a Saturday. As the pack of the pulse left, we made our way onto Essex Street, the main drag of downtown Lawrence. We headed past multistory brick buildings with businesses on their lower floors, with views of abandoned factories down side streets towards Lawrence's canal.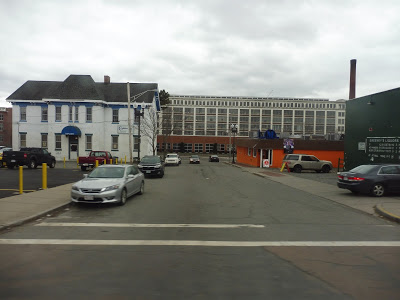 One of those aforementioned factories.
As we kept going, the buildings got shorter, but the businesses still stuck around. Essex Street ended in the shadow of a gigantic old factory, where we turned onto Union Street. This took us up past some apartments and housing projects, then we turned onto Haverhill Street, which was lined with dense houses of all different shapes and sizes.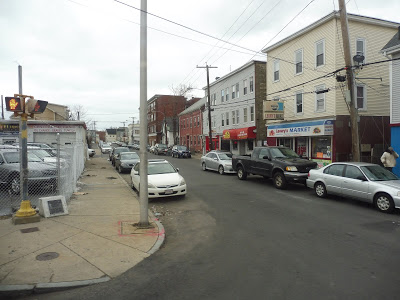 Turning onto Haverhill Street.
We came up along Campagnone Common and passed the Lawrence Senior Center, a major timepoint on the route (even an RTA as urban as this one can't avoid shouting out the ol' senior center). Only three blocks away from where we started, we turned onto Lawrence Street, going by a library, a church, and a park. It got more residential as we proceeded northward, then crossed over the tiny Spicket River.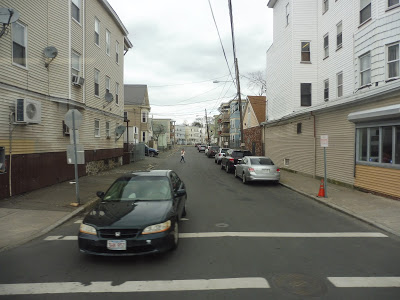 A side street.
Outside of some retail, we turned onto Park Street, continuing the dense housing we had been seeing before. The street ended at Broadway, onto which we turned, going by some more old factories. The street was predominantly lined with businesses, though – some of them had parking lots, while some of them were right up against the sidewalk.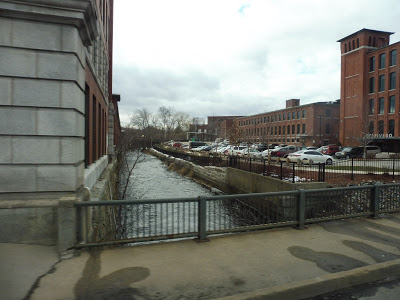 Going over the Spicket River again on Broadway.
After we had gone a little ways down Broadway…we got off to eat lunch. But we were almost done with the route, anyway – the only truly unique portion of the route we had missed was a section down Essex Street. After that, it would loop around to the senior center again before returning to Buckley.
See ya!
MVRTA Route: 85 (Lawrence Downtown Shuttle)
Ridership: To put it bluntly, this is the lowest-ridership route in Lawrence. In 2015, it got 30,867 riders which equates to a little over 100 people per day. And sure, it appears that the route was introduced in 2015, but considering that our ride had only two other people, I don't think it's gone up that much.
Pros: I love the concept of a frequent downtown shuttle, and the 85 fits the bill pretty well. On weekdays, it runs every half hour in a constant loop; on Saturdays, it's every hour, but it's also timed with a pulse from Buckley, which helps alleviate the lower frequencies.
Cons: Why doesn't this so-called "downtown shuttle" serve the Commuter Rail station?! On Saturdays I can understand why it wouldn't, since the schedule is tight, but on weekdays, it gets a 10 minute layover at the senior center! Why not have the route serve the station to give commuters a frequent service into and out of downtown Lawrence? And even aside from that…I'm just not sure how useful the 85 is. Most of it parallels other routes, and destinations around the loop are mostly walkable aside from a few rare cases.
Nearby and Noteworthy: Like I said before, I'm not a fan of downtown Lawrence…but this route will definitely get you around there!
Final Verdict: 3/10
I'm most definitely not a fan of this route. Aside from the fact that it could probably be eliminated, it doesn't even perform its basic duties well – there's nothing stopping it from serving the Commuter Rail station on weekdays. Seriously, though, the 85 just doesn't serve enough on its own to get a lot of ridership, and, well, it doesn't. I doubt many people would miss it if it were cut.
Latest MBTA News: Service Updates