Hoo boy, these MetroWest towns are starting to get to me. A few reviews ago, I covered a route that went to Holliston…now here's one that goes to HOPKINTON? They sound so similar! So here's the 5, a bus that goes to Hollis-wait, Hopkinton. My bad!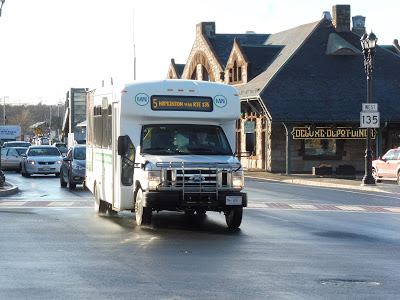 The bus near the Commuter Rail station.
We headed up Blandin Ave from the Blandin Hub, then turned onto Waverly Street. This took us to the Commuter Rail station, where there were also some businesses. Continuing down Waverly Street, the 5 can make a deviation to a hospital on Bethany Road by request, but I guess we didn't get one. The road was mostly residential, but as we came closer to the Commuter Rail tracks, there was a short industrial section (including a gigantic AT&T building).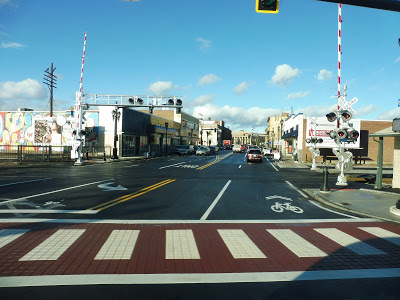 Trundling past downtown Framingham.
From there, the street became entirely lined with houses, at least for a bit. Once we entered Ashland, though, we got to see the magnificent sights of a storage building and an industrial lot! Okay, we also got to see a reservoir soon after that, but then it was all industrial on the other side.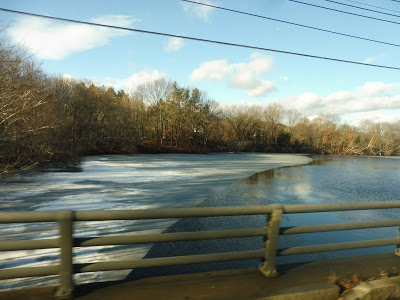 Going past the reservoir.
We crossed over a small river, then turned onto Homer Ave, taking us right up to the Commuter Rail tracks again. It was lined with houses at first, but as we entered downtown Ashland, there were a few businesses. We didn't really serve the heart of downtown, though, which is located across the tracks. For the record, why the heck does the Commuter Rail pass right through here without stopping? Stupid automobile culture…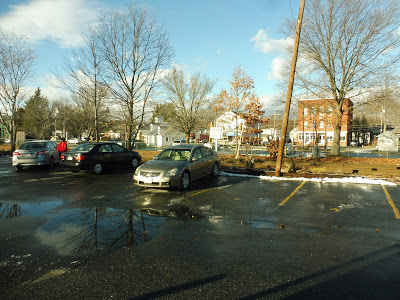 A look at downtown.
We headed down Summer Street after that, which soon grew residential (along with a park). Next, we turned onto Union Street, getting some suburban retail at the intersection. From there, aside from the Ashland Middle School and the Community Center, the street was entirely lined with houses. We also passed a long road that ultimately leads to Ashland Station. After a convenience store, we entered Hopkinton, but it was still houses everywhere.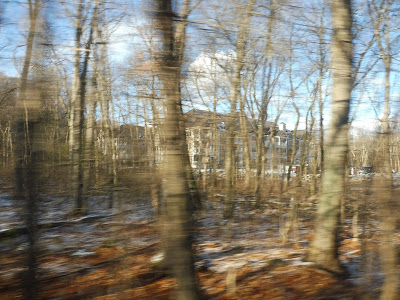 An apartment development hidden in the trees, just before crossing into Hopkinton.
We went through a rather strange mix of houses, farmland, and woods, then we ascended a hill into Hopkinton Center. It featured some historical buildings and businesses, but it ultimately seemed like a boring downtown that was unfriendly to pedestrians. There were dense houses and some businesses beyond there, but eventually it went back to the suburban housing we had been seeing before.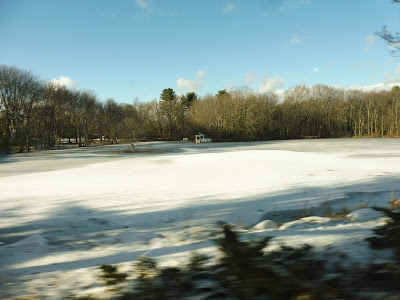 A frozen-over pond!
After passing a pond, there was an assisted living facility suitably called "Golden Pond". The street widened beyond there, playing host to both suburban businesses and office parks. We went through an interchange with I-495, then deviated to serve a modern but rather small shopping plaza. Turning onto South Street, we proceeded past lots of office parks before arriving at our terminus: a tiny shopping plaza with, like, two stores. Was it really necessary to bring a bus out here?
What a great terminus…
MWRTA Route: 5 (Ashland/Hopkinton)
Ridership: With 17,243 riders in 2015 (about 69 per day), the 5 is one of the least-used routes on the MWRTA. Still, it has pretty consistent ridership throughout the day, and actually gets a lot of reverse commuters heading to the office parks near the route.
Pros: The route serves an important street and two towns within the service area. It's also great that the schedule is consistent; the route runs every 65 minutes. Sure, it's an ugly number, but consistency in MWRTA schedules is always a good thing (they have some crazy headways on some routes).
Cons: Service is weekdays-only right now, but I think that's about all the route needs. One problem with the route is that it really ought to be extended a little further from its terminus – there's a gigantic Dell office park a little further down the road that would be great to serve during rush hour!
Nearby and Noteworthy: I didn't find downtown Ashland or Hopkinton Center to be particularly captivating, but those are the two most interesting places the route serves…
Final Verdict: 6/10
MWRTA does a great job catering to reverse commuters up along Route 9, but I think they could do a lot better with it on this route. I don't see any reason why the route shouldn't serve that gigantic Dell office park during rush hour! On the flip side, the 5 still serves significant towns within the service area, and its headways are nice and consistent.
Latest MBTA News: Service Updates