Oh geez, how do I come up with a catchy introduction for a route to a town as uninteresting as Holliston? Eh, I'm not even gonna try. Here's the 6!
We left the Blandin Hub onto Blandin Ave, then turned onto Waverly Street, running alongside the Commuter Rail tracks. It was pretty industrial until we reached Concord Street, which is the main drag of downtown Framingham – there were some businesses here. We continued down Waverly Street for a bit in order to serve Framingham Station, then we turned onto Cedar Street, then Claflin Street.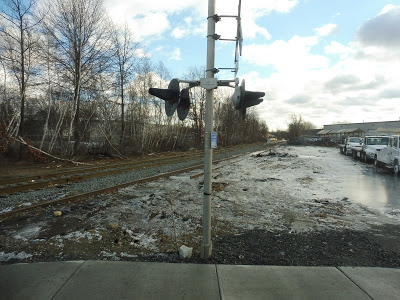 There are so many railroad tracks in Framingham…
Claflin Street was a mix of industry and houses, but it was also a short street – we were only on it to get to Hollis Street, which was a main road. We passed a few more industrial buildings and a few businesses, but the street was primarily lined with houses. For a few brief moments we came up alongside a pond, while we passed a CSX yard on the other side.
The pond!
Now in Ashland, we passed some more houses, then a shopping plaza. It had a good amount of stores. but the timepoint is just referred to as "Market Basket". There was a brief section of woods, then some businesses and industrial buildings. We also went by the entrance to a gigantic housing development.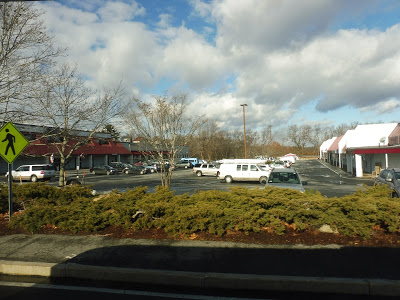 What a boring parking lot…
We arrived at some more shopping plazas and deviated to serve one of them, written on the timepoint as Shaw's. Continuing from there, we passed an apartment development, and entering Holliston, we went by a mini-golf course! It was residential from there, mostly with small suburban houses. After a farm, we reached a bunch of businesses as we turned onto Washington Street.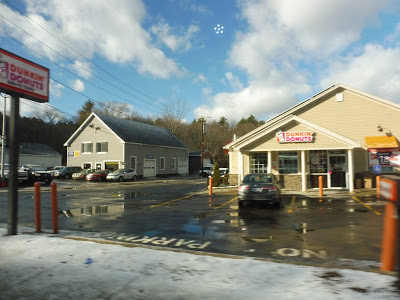 Were they nice businesses? Nope.
We went by another housing development, then the Holliston Police Department and Holliston Historical Society appeared on either side of the street. There were a few more houses, then we arrived in downtown Holliston. It consisted of some beautiful historical buildings like the town hall, a library, and a church, as well as some rather charming businesses.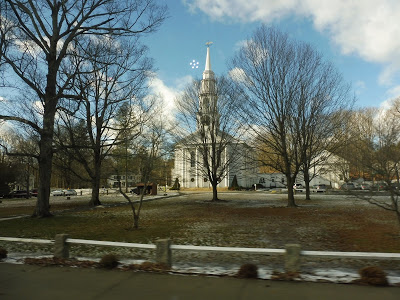 That's a really charming church!
Past downtown, the scenery became residential again. It was all houses until a little after a gas station, where we turned onto Summer Street. This took us to Mission Springs, an apartment complex and the last stop of the route when Sam and I rode it. I guess they've changed the schedule in the month or so since then, because now the route runs to the Quarry Square Shopping Center in Milford. Don't worry, though – we'll still be covering that section in our next review, the 14!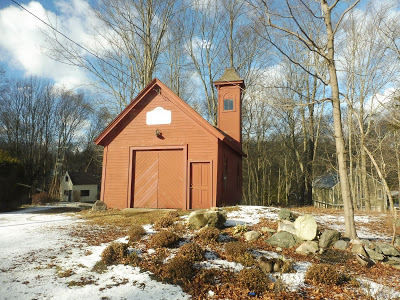 I don't have another bus picture, so here's a cool historical building!
MWRTA Route: 6 (Holliston/Milford Line)
Ridership: Ridership on the 6 is very low: 19,538 riders over the course of 2015, or about 78 per day. This is a commuter-based route, with most people riding during rush hours and significantly lower ridership middays. Hopefully the extension to the Quarry Square Shopping Center will help with that.
Pros: I'm a little dubious of the feasibility of a route to Hopkinton outside of rush hour, but now that the MWRTA has a connection to Milford from Quarry Square…well, now we're talking! Milford is a sizeable town that would actually benefit from a bus service. The 6 is the bridge from there to Framingham.
Cons: First of all, the 6's schedule is…weird. It's about every 70 minutes, but the departure times are all over the place: 9:30, 10:54, 12:03, 1:11, 2:03…yeah, I don't know why that is, either. It's also annoying how the MWRTA dropped the 6's evening trip to downtown Milford. The route used to have a direct trip there in both rushes, but now there's only one in the morning, so passengers commuting home have to transfer to the 14 at Quarry Square.
Nearby and Noteworthy: Downtown Hopkinton was actually a pretty neat little place, and there's a 5.5 mile rail trail from there to Milford that looks scenic.
Final Verdict: 6/10
Wow, the 6 gets a 6! The thing is, the majority of this route is very low-density, and there isn't much ridership coming from the places it serves except for the two shopping plazas in Framingham (which are also covered by the 4S). No, the main attraction here is Milford, and I do think extending the route to Quarry Square was a good idea. It allows for more shopping ridership (hopefully), as well as an easier connection to the 14 – but we'll be talking about that in the next post!