Back at the end of August 2016, the MWRTA quietly added a new route to its network: the 14, a loop around the town of Milford. The only advertising it got, as far as I could find, was a few small articles in local newspapers. This doesn't seem to have contributed positively to ridership…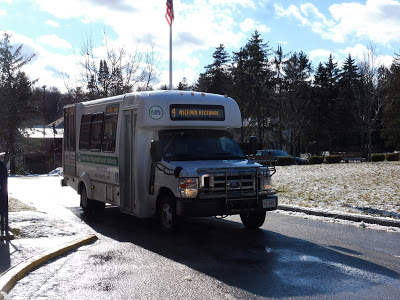 Oh no, the "1" is cut off!
Okay, I'm a little outdated here, since I rode this route back before the MWRTA made some changes to it. Previously, the transfer between the 14 and
the 6
to Framingham occurred at Mission Springs, a housing development. Since then, they've extended the 6 to the Quarry Square Shopping Center, and that's where the 14 starts now. Oh well…I'll be starting it from Mission Springs.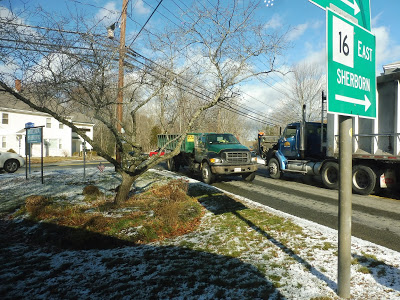 The intersection with Route 16.
We turned onto Washington Street, going by mostly industrial buildings with a bit of retail. Eventually it became residential, including both normal houses and a small development. The road became East Main Street as we entered Milford. A bit after that, we passed a stone quarry and went under some telephone wires and I-495, all in quick succession.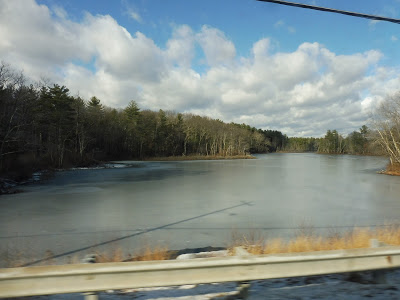 Oh yeah, we also went by a pond!
The other side of I-495 featured much different scenery from before – now we were just surrounded by horrible suburban businesses, malls, office buildings, and, of course, parking lots. Eventually we turned into the Quarry Square Shopping Center. This is where the 6 now ends (so we were basically following its route from Mission Springs) and the 14 begins.
Nothing like a mall deviation to spice up an RTA route!
We continued onto Quarry Drive, a winding industrial road that went up a slight hill. At the end of the street, we made another deviation, this time to serve Target. Next, we made our way down Fortune Boulevard, passing other huge stores and some hotels. We turned onto Cedar Street after that, which winded its way past a few cemeteries and a park.
Alright, alright, we get it! Malls!
As it started to get residential, we made an interesting turn onto Columbus Ave, then Meade Street. This neighborhood was mostly dense houses, and it also offered a few fleeting views of a pond. We passed Maher Court, a residential development, which might be the reason the route serves this neighborhood in the first place.
Cool view!
We turned onto East Main Street again, which was now a mix of dense houses and industrial buildings. As the street curved around, we entered downtown Milford, a sizeable town center with businesses everywhere. It was a bit stark for my tastes, but it definitely featured a lot of retail variety. However, we more or less bypassed it by travelling on Bow Street in order to serve the Milford Senior Center.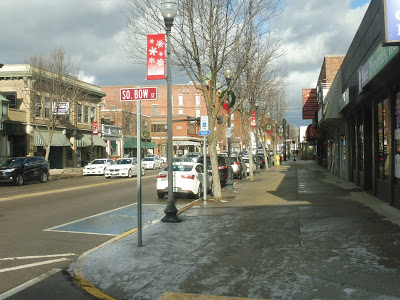 A view of downtown.
We passed a small common and a post office, then we turned onto South Main Street, which was lined with dense houses. Eventually we passed a massive bar whose parking lot was bisected by a river, and then we deviated to serve a small plaza featuring only a rehabilitation center and a Papa Gino's. For the record, there was a much bigger plaza down the road, but I guess that's not worth serving…?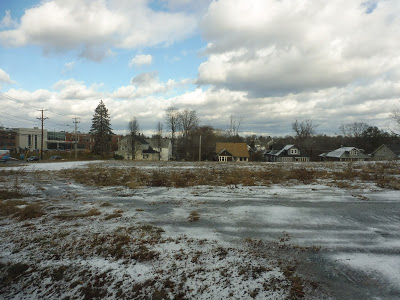 What an interesting view!
Now we headed up Cape Road, passing a few auto shops and some houses. Outside of a gigantic hospital, the street became Prospect Street, and it took us to some more shopping plazas. We didn't deviate to serve any of them, however, instead merging onto Highland Street and entering a residential neighborhood.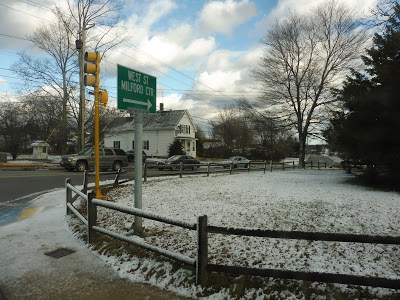 The intersection with West Street.
Eventually we turned onto West Fountain Street, descending down a steep hill and going by the gigantic Milford High School complex. Next, we turned onto Congress Street, passing a water tower and a bunch of houses. We ascended a hill for a bit, then turned onto Rolling Green Drive, taking us into a residential development.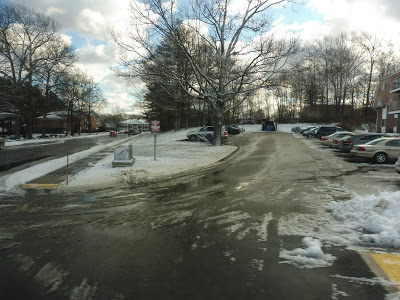 Inside the development.
We took a bunch of turns to get out of this place, so I'll skip ahead to when we were on Ivy Lane, now out of the development. There were normal houses everywhere again, and they continued as we turned onto Purchase Street. Next, we turned onto Dilla Street, then Sumner Street, which was lined with industrial buildings…and a random housing development.
Hey, look, an actual stop! With a sign and everything!
Eventually it started to get residential again, and we arrived back on Main Street on the fringes of downtown. We didn't go back there, though, instead travelling back toward where we started. However, we soon split off from the way we had came, staying on Main Street then merging onto Medway Road.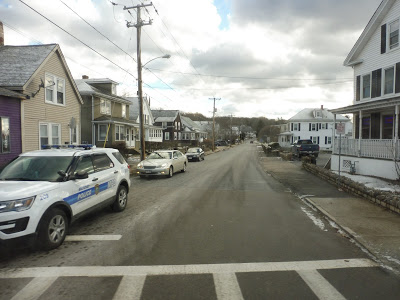 A side street.
We passed a shopping plaza, and then another two after some houses and a cemetery. Next, we turned onto Beaver Street. running up alongside I-495 and passing a hotel and some more suburban businesses. On our trip, we turned right onto East Main Street to head back to Mission Springs, but now the bus would go left in order to return to Quarry Square. And that's the end of that gigantic loop!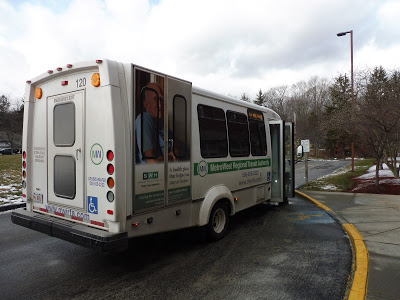 The bus at Mission Springs.
MWRTA Route: 14 (Milford)
Ridership: This route is too new to have ridership data, but I can give you the ridership numbers for our trip: zero. Yeah, this is the problem with not advertising a new route. I do think it has the potential to get people, and I hope ridership has increased by now!
Pros: Milford is one of the biggest towns in the MWRTA service area, so I'm glad that it finally has a bus route of its own. Yes, I'm not usually a fan of one-way loops, but it seems like the most efficient way to cover as much of the town as possible. The schedule is pretty consistent, too (for MWRTA standards), with service about every 70 minutes. Finally, drivers are very good about guaranteeing transfers from the 6 to the 14 and vice versa – if you let your driver know, they'll hold the other bus for you.
Cons: It's definitely a deviatory route, and that means that going around the whole loop can take a while. Still, cutting it back to Quarry Square is beneficial, and gives it more time to lay over. Also, once ridership picks up (if ever), Saturday service within Milford could be well-used, I think.
Nearby and Noteworthy: Downtown Milford has a bunch of different restaurants and businesses – it's definitely the most interesting place this route serves.
Final Verdict: 6/10
I really think this route has potential, but it's not being utilized at this moment. A circulator route covering Milford shopping areas could be great…if people knew about it. But at the moment, it seems like, um, no one does. Give it some advertising, MWRTA!