An elevated Commuter Rail station? Oh wow, that's cool, I'm sure I'll love it! Oh wait, it's also falling apart? Shoot…well, we'll have a look at Winchester Center anyway.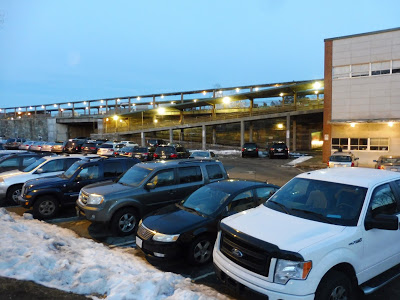 One of the station parking lots.
The parking system in Winchester Center is a bit…weird. I mean, okay, it has 237 spaces contained in two lots (one on each side of the tracks), which is great, especially for a town center station like this one. But on the MBTA website, under "Parking Rate", it says "Town Permit". My guess is that parking is free, but it's for residents only. Oh well, I guess that's okay – nearby Wedgemere has spaces for everyone.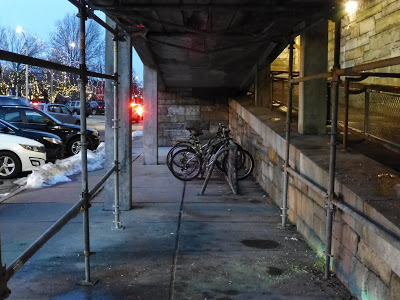 Underneath one of the ramps.
Access to this station is done by some very long winding ramps. On either side of the tracks near the parking lots, ramps snake up alongside the station, sheltered by wood with stone walls. The inbound side ramp has some bike spaces under it, and despite it being pretty dingy under there, they are at least sheltered.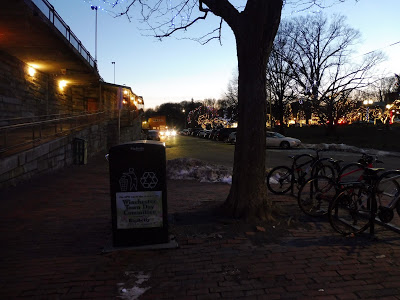 The area around the station's bus stop.
It's most definitely a public road, but I can't help thinking of the street that runs alongside this station as a "busway". The 134 serves the stop in both directions, which seems pretty unnecessary, truth be told. I mean, it's not even like the stop offers much! What have we got here? Some bike spaces, a wastebasket, and a newspaper box. So how about, I don't know, a bench? Pshhh, guess we don't need that!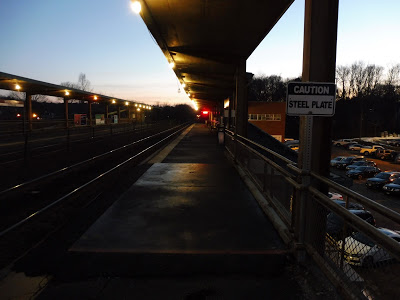 Ohhhhhh noooooo…
Winchester Center's platform is, well, decrepit. The whole thing is low-level, and though most of it is technically sheltered, that tiny wooden roof isn't gonna protect passengers from much. Oh, and be careful of the "STEEL PLATE"! Yeah, I have no idea why that's there, either.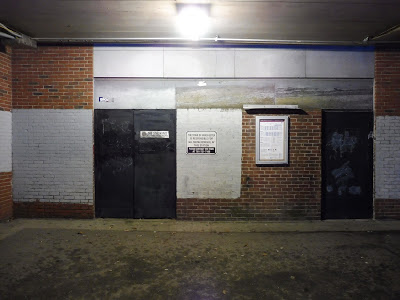 Oh come on, this isn't helping!
The platform offers very little in terms of amenities, as well. One or two benches? Some wastebaskets? Great. Also, a bunch of ads. Like, there are more ads than anything else on this stupid platform. And yet…it's also really nice to wait up here. I mean, it's elevated! You get a super pleasant view of Winchester Center! That alone is super unique for the Commuter Rail, and it makes me like this stop at least a little bit.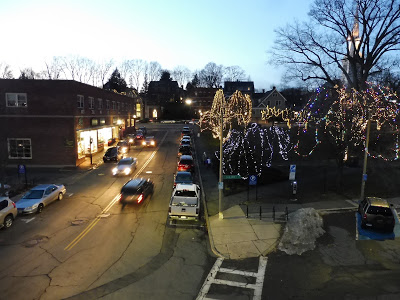 No trains came by, so here's a shot of lovely Winchester Center…from above.
Station: Winchester Center
Ridership: Okay, the ridership here is less than average for the Lowell Line, but you have to remember that the Lowell line gets a lot of people. Also, Wedgemere is ridiculously close, which probably takes riders away from here as well. Despite all that, Winchester Center's ridership is still quite high for the Commuter Rail, with 789 inbound riders per weekday!
Pros: Winchester Center is most definitely a unique stop. I mean, it's an elevated Commuter Rail station in a town center! I gotta give it some credit, don't I? Other than that, there's a good amount of parking here, even if it's only for town residents.
Cons: Look, the place is decrepit. It's falling apart. It needs a facelift. Why did they feel the need to renovate nearby Wedgemere but not here? Also, Winchester Center has absolutely no excuse not to be accessible. You've already got the gigantic ramps leading up to the platform – put a mini-high up there already!
Nearby and Noteworthy: This station is right in Winchester Center, and it seems like a really nice downtown. It's got a variety of businesses, many housed in charming businesses, as well as a historic common. A classic New England downtown!
Final Verdict: 4/10
Alas, uniqueness can't save this station. Don't get me wrong, the idea of an elevated Commuter Rail station right smack in the middle of a downtown is awesome – but Winchester Center falls flat beyond its concept. It's in horrible shape, and needlessly inaccessible. You have these gigantic ramps, and they're the only way of getting up to the station, anyway – how about doing something with them?!
Latest MBTA News: Service Updates