The Freedom and Liberty Links form a loop in the northern section of Plymouth, but I can't ever remember which one goes which way! Just to set it straight, the Freedom Link is counterclockwise and the Liberty Link is clockwise. GATRA, these route names are lovely and all, but it would be really nice if it was more obvious which direction they went…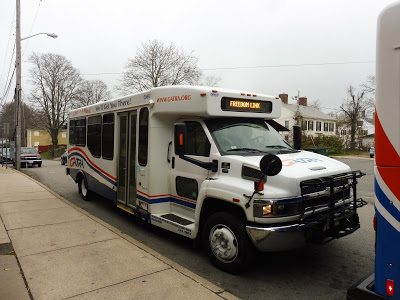 Now this is quite a beast!
Okay, the minibus used on the Freedom Link was a really curious one. For one thing, it was one of the ugliest buses I've ever seen…but for another, it was low-floor. A low-floor minibus? You know what that means! That's right, no jiggly wheelchair lift! Sure, the bus had terrible suspension and the back window was coming off, but the fact that it was low-floor was awesome.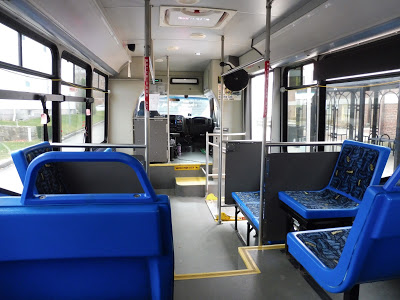 And what a strange seating arrangement!
We were doing the Freedom Link, so this was a counterclockwise trip. Thus, we headed north on Court Street, then turned onto South Park Ave. This led to a rotary, where we made our way onto Water Street, which ran close to the – you guessed it! – water. The ocean side of the street was occupied by parking, and there were lots of seafood restaurants everywhere.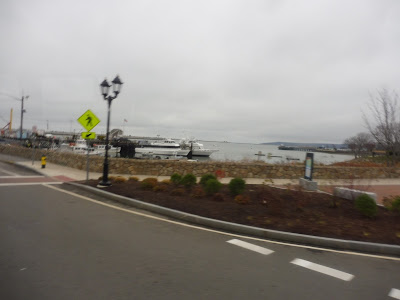 A blurry view of the harbor.
We left downtown Plymouth, and the buildings got less dense. We passed a small healthcare center, then near a beach, the street curved left and became Nelson Street. It was residential as we headed inland, then we turned onto Court Street again.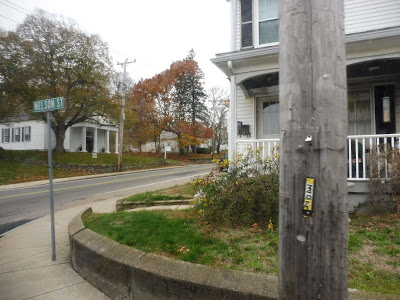 Making the turn onto Court Street.
We passed a field, and later on we got some dense businesses along the street. It almost felt like another downtown! It ended pretty soon after, though, with a few car dealerships and more suburban businesses. Right up near a pond, we made the first deviation of many, and it was a strange one…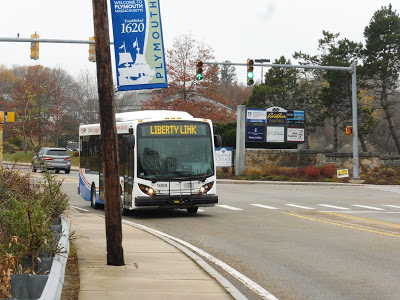 A Liberty Link from earlier in the day. Gosh, how I'd love to be in that MiDi instead…
So the deviation was to serve Cordage Park, which is some sort of office park. I'm not sure how occupied it is, but on the Saturday we were here, the dilapidated parking lot was empty. The bus curved around the office park and made a very strange loop around the parking lot. Was there signage for the stop? Nah, of course not.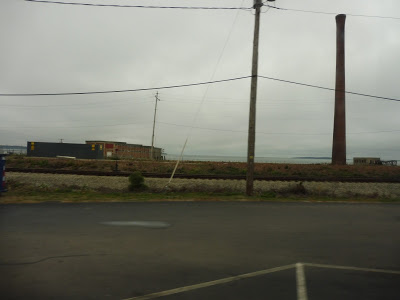 Running alongside the Commuter Rail tracks.
Now we were going next to the Commuter Rail, serving Plymouth Station (not that that's gonna be of much use to anyone). After that, we ran through the parking lot of an abandoned Walmart and returned to Court Street. It was mostly residential with a few businesses here and there, then we merged onto Crescent Street, which was lined with houses.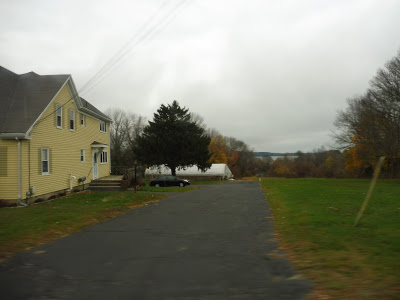 Oooh, it's just barely a water view!
We turned onto Smiths Lane, which continued to be residential. The street widened as we went through an interchange with Route 3. Some buses deviate to serve Kingston Station at this point to vaguely time with trains, but our trip wasn't one of them. We ran alongside the Kingston Collection, a huge mall, and turned into it later on. After a small loop, we returned to Kingston Collection Way with some new passengers on board.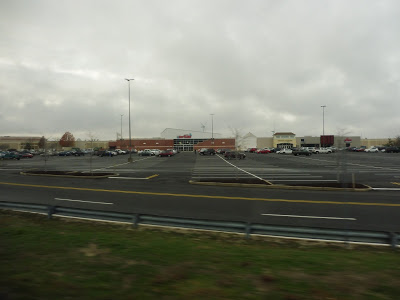 Heading past the mall.
We ran through forest for a bit, then it became industrial. Fittingly, we soon turned onto Industrial Park Road, going under Route 44 and passing various suburban offices (as well as the GATRA bus yard). Eventually we turned onto Christa McAuliffe Boulevard, which became Colony Place – we were serving another mall!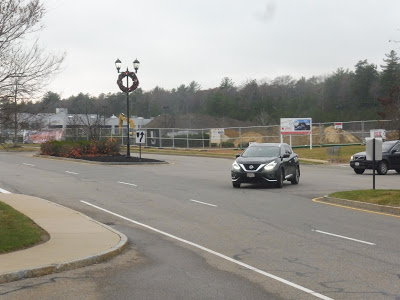 Looks like even more stuff is under construction.
After that mall-serving session, we made our way onto the wide Commerce Way, which was lined with businesses and parking lots. Pretty soon, we reached some sort of developing mall, and deviated to serve the one building that was currently there: Market Basket. We headed down Carver Road from there, which became a mixture of houses and woods.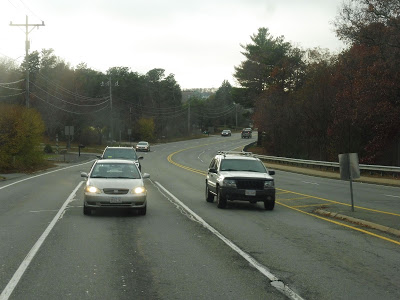 What a nice curve.
The road became Samoset Street, but the scenery stayed the same for a while. It became those classic businesses with parking lots once again soon enough, though. We didn't deviate to serve any of them, but we did run down Algonquin Terrace to loop around a housing development, Algonquin Heights. Close enough!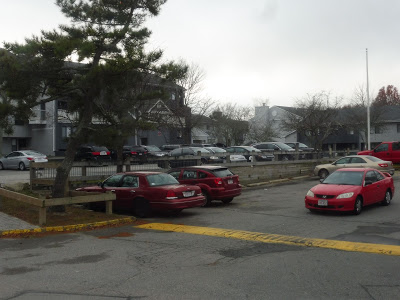 The housing development.
And then, weirdly, we headed back down the road a bit and deviated to serve a Shaw's. Next, we made our way onto Summer Street, which crossed over Route 3 and ran past a cemetery on the other side. After that, it became lined with some pretty dense houses.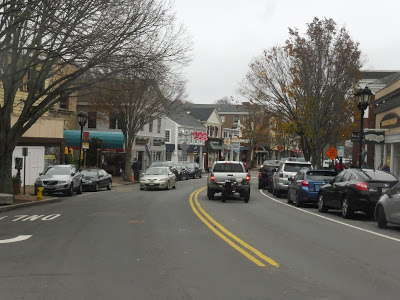 Back downtown!
We passed an apartment complex, then some historical-looking buildings. As we passed a nice park, we made our way onto Main Street, running through downtown Plymouth. We headed out onto Water Street for a bit, going by the ocean in order to get down Memorial Drive to return to the main hub. Here, the bus had a bit of a layover before its next circuit.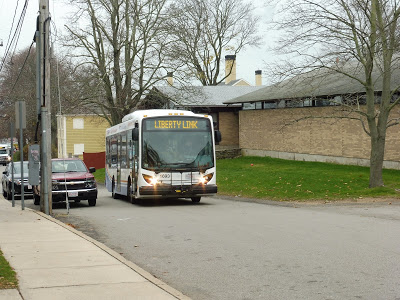 The MiDi again. What can I say, that low-floor minibus is ugly!
GATRA Routes: Freedom/Liberty Links
Ridership: I'm just going to count these as one route, since…you know, they basically are. The Freedom/Liberty Links are thus the busiest routes on the Plymouth Area Link system, with a combined 255 riders per weekday and 165 per Saturday. These are also the most productive routes in Plymouth, carrying between 10-15 people per hour each. Okay, it doesn't sound like a lot, but you have to remember that this is GATRA we're talking about.
Pros: The routes serve a pretty big chunk of the urbanized section of Plymouth. The malls they serve make them popular with shoppers, and I think that's the biggest contribution to their high ridership. Most of the deviations got at least one person, which is always nice to see. The route frequencies themselves are what you would expect – every hour for both routes. However, I still have a problem with them…
Cons: Why do both buses leave downtown Plymouth at the same time? I know they're trying to get a "pulse" thing going on, but with essentially only two routes, it doesn't have much of a point. I think it would be better if one loop left on the hour and one left on the half hour – that way if someone missed a bus, it wouldn't be too long of a wait for another one going the other way around the loop. Also, there are a few bothersome deviations: Cordage Park definitely doesn't need to be served on Saturdays, and the Kingston Station trips are very loosely timed with trains, to the point where it's not even worth it to deviate.
Nearby and Noteworthy: Well, these routes offer the only connection between the Commuter Rail and proper downtown Plymouth, so I would say downtown! It's a real pain to get to by public transportation, but this is a very historic area with some great sights to see.
Final Verdict: 7/10
Yeah, the routes definitely aren't without their problems. I suppose the two relatively pointless deviations are to be expected with any GATRA route, and all the other ones get people, but I can't let go of that scheduling thing. It seems ridiculous to have the routes leave at the same time – alternating them on the hour and half hour would allow for more "frequent" service and more balanced ridership. Still, the routes serve a lot and get a good amount of people, and for GATRA…they're not bad.
Latest MBTA News: Service Updates