Man, it's easy to forget how big Harvard University is. I mean, they have a whole bunch of other buildings down in Allston that need to be connected to the rest of the school! And this bus is the one to do it – the Allston Campus Express is a big loop from Harvard Square and Memorial Hall down to the buildings in Allston. Let's take a look!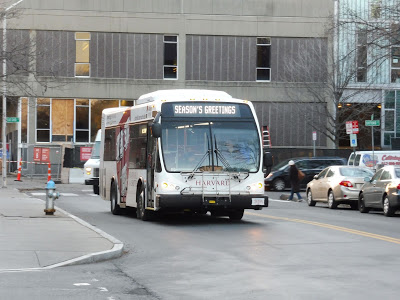 Well, that's fitting for the holiday season, I guess!
Nathan, Sam, and I got on at the Memorial Hall busway, just north of Harvard Yard. Of course, the bus getting to the Yard itself was a bit of an ordeal thanks to one-way streets. After a complicated path involving Quincy Street, Cambridge Street, Felton Street, Broadway, and Quincy Street again, we were running alongside the eastern end of Harvard Yard.
Rounding the corner onto Quincy Street.
After a stop at the Lamont Library, we made our way down the narrow, twisting Bow Street, with apartments and businesses on either side. We passed a church and continued down DeWolfe Street, which was lined with apartments and dorms, then we turned onto…Memorial Drive? Wow, okay, that's interesting.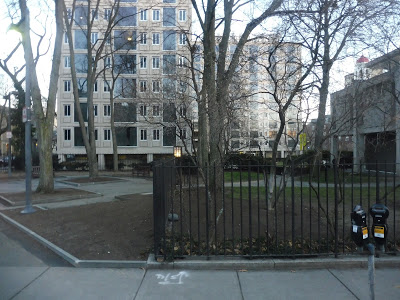 Some apartments on DeWolfe Street.
We got a lovely view of the Charles River on one side, while there were more apartments and Harvard buildings on the other. Next, we turned onto Western Ave, crossing the river. On the other side, there were university buildings galore, and they were all very modern – also, I forgot to mention the gigantic construction site to the south.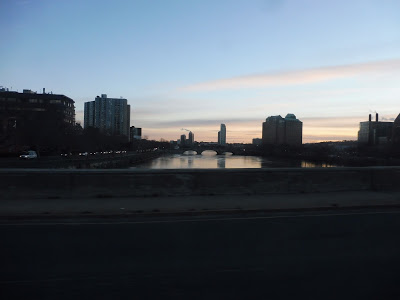 What a pretty sky!
The Harvard Business School and Innovation Labs were major attractions, before we reached some retail at the intersection with North Harvard Street. We turned onto North Harvard, and we got off just after Harvard Stadium to catch the Barry's Corner route. That didn't go to plan, but we'll save that for another post. From where we got off, the Allston Campus Express continues up North Harvard Street through Harvard Square, then runs up via the law school back to Memorial Hall.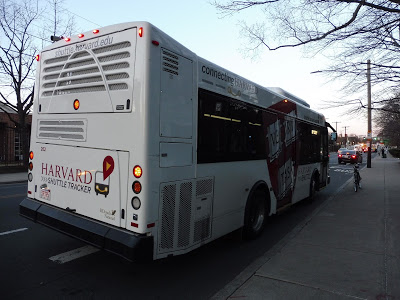 The bus heading back to Harvard.
Harvard Shuttle Route: Allston Campus Express (Allston Campus – Harvard Square – Memorial Hall)
Ridership: This route gets a lot of ridership from people going to Allston, since it's far from the main campus. After all, Harvard has a surprising amount of real estate in the area this route serves.
Pros: This route's loop formation is probably the most efficient it can be, not to mention the fact that Harvard patched up some annoying deviations in Allston back in March – now it's nice and straight. On weekdays, the route runs every 15 minutes with two buses, which seems to cover the ridership pretty well.
Cons: Well, what about weekend service? After all, neither of Harvard's weekend routes cover Allston, and based on the ridership of MBTA buses like the 66 or the 70, you would think a shuttle down there would get a lot of people! So, let's see…it's every half hour, that seems legit. Wait…but only from 5:45 PM to 7:45 PM? WHAT? How does that make any sense at all? Aside from a few very early morning trips on the Quad Stadium route, that's the only weekend service Allston gets!
Nearby and Noteworthy: Every time I go into Allston, I'm always fascinated by Swissbäkers, a very modern-looking European café. I should go there sometime…
Final Verdict: 6/10
Okay, on weekdays, this route is fine…although that being said, I really don't think it needs to make the Law School deviation north of Harvard – if the route just looped around the yard, it could save time and improve frequency. Leave the Law School to the Mather Express, I say! And don't even get me started on the barebones weekend service. When it comes to buses, I believe in "full service or no service". What's the point of running the Allston Campus Express for a span of two hours in the evening only? Who's gonna be using that? No, I believe it should run every half hour all day on weekends – I'm sure it would get people! Okay, despite its flaws, this is still a solid route, but it has some big issues…
Latest MBTA News: Service Updates