Wait…so this is an Old Colony station…in a town center? No, no, I simply can't believe it…and yet here it is! Sure, this isn't "downtown" Scituate, per se (the Greenbush Line doesn't serve that, alas), but it's still downtown NORTH Scituate! Hey, that's good enough for me.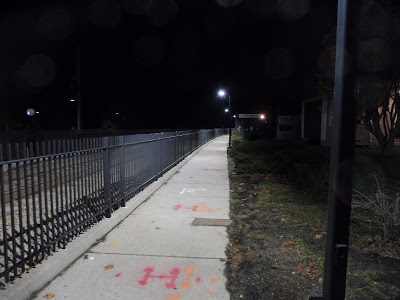 Wow, what a nicely-lit path!
To get from said "downtown" to the station, there's a convenient path that runs alongside the track. It takes you behind the backs of businesses, and then over what seemed to be a pretty gross river. There's also another pedestrian path that runs around the parking lot, so people don't have to walk between hundreds of cars if they're coming from that direction.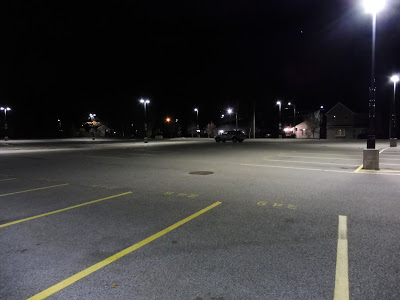 Basically empty…
Oh yes, not only is North Scituate located in a downtown, but it still has the room for a classically large Old Colony parking lot! With 279 spaces, the lot only gets a little under halfway full on a typical weekday, so there's definitely enough room here. Unfortunately, I didn't see any bike spaces when I was here, and the MBTA website seems to confirm that there are none.
My camera was drastically low on battery, so I had to settle for this slightly blurry shot…
The platform at North Scituate seems to go on forever. It has a shelter near the path, a stretch of open space, another shelter on the other side of the parking lot, and more open space into the woods! The open parts don't offer too much, featuring only ads and sparse benches, but the shelters have maps, schedules, more seating, and wastebaskets.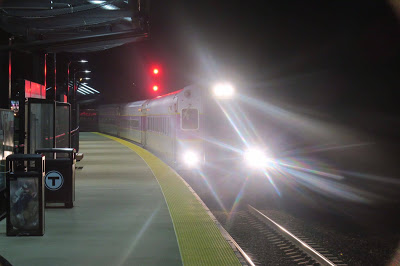 My camera was dead by the time the train came, so photo credit to Sam!
Station: North Scituate
Ridership: This isn't really saying much, but North Scituate has the second-highest ridership of any Greenbush Line station. With 419 inbound riders per day, it's only beaten in passengers by its neighbor and terminus, Greenbush.
Pros: Well, the station offers plenty of parking and a typical Old Colony feel (with two shelters), but what sets North Scituate apart for me is the fact that it's ACTUALLY in a downtown! See, Old Colony Lines? You can have a station in a downtown and still feature a gigantic parking lot! Take lessons from here.
Cons: The absence of bike spaces is pretty annoying, considering there are a lot of residential neighborhoods within biking distance to North Scituate. It's also strange how long the platform is, but I guess that doesn't matter too much.
Nearby and Noteworthy: You're in a downtown! The world is your oyster! Okay, North Scituate doesn't offer too much, but there are a few restaurants and businesses in this "center" bit.
Final Verdict: 9/10
If the station wasn't in a downtown, it would be a 7 or an 8 – I mean, it's fairly typical for an Old Colony station in most respects. But the fact that it's in a downtown? Well, that changes everything! Seriously, I kinda love this stop for that.
Latest MBTA News: Service Updates