You know, when I review RTAs, I usually bash them for having long deviations to housing developments that get very few riders. Well, here's an MBTA route that does exactly that – except it actually gets people! Indeed, the 40's sole purpose is to serve a housing development, Georgetowne…well, it also serves Washington Street, but a million other buses run along there, too.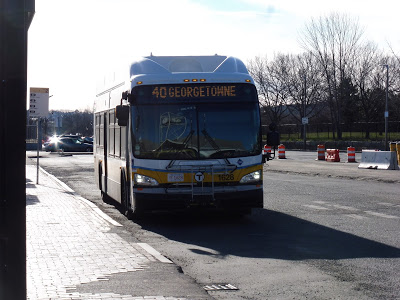 A new 1600 bus coming in!
Wow, this is the last time I'll be talking about the Washington Street corridor out of Forest Hills. That's probably for the best – if I have to describe it one more time, I'll go crazy! So, like so many other routes, we headed out of the busway and passed some businesses and industrial buildings along Washington Street.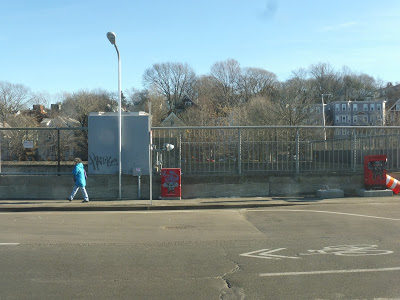 Running along the Southwest Corridor.
Soon dense apartments started to line the road, but we still got some businesses at certain intersections. After going by a park, we entered Roslindale Village, where all of a sudden there was retail all over. We curved around the town common (decked out in Christmas decorations), then continued down Washington Street, which was once again residential.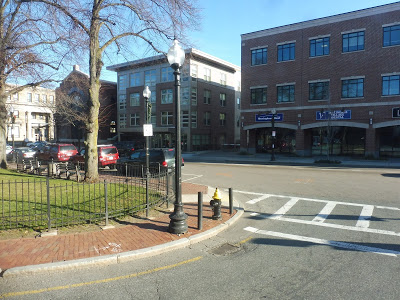 Some buildings in Roslindale.
Once again, businesses showed up at certain intersections, including a bunch at the one with Metropolitan Ave. As we ascended a hill, we went by some apartment developments, then a small shopping plaza. The street gained a median from there, and we passed through a woodsy section. Houses came up on one side eventually, but then we unexpectedly turned onto West Boundary Road, starting our independent section.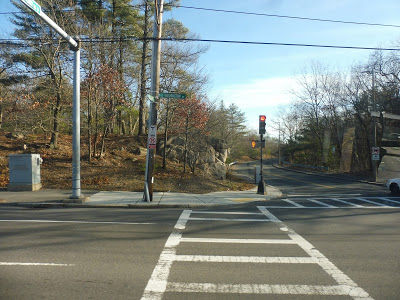 About to make the turn!
This was a narrow street just ambling through the woods – it was weird to think we were still in Boston! As the road curved its way through the forest, we could catch glimpses of houses in a different neighborhood. We passed a school, then the street made a hard right, and we were in Georgetowne.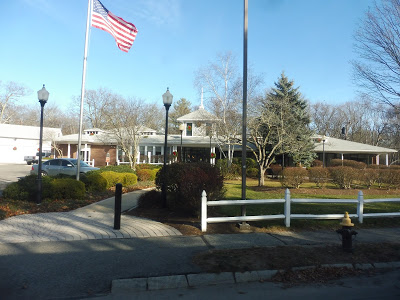 The main building of Georgetowne.
Now on Georgetowne Drive, we went past the main Georgetowne building, and then it was time for a NEVER-ENDING SUPPLY OF IDENTICAL HOUSES. The route also got really complicated here, with a bunch of different deviations. Right, so first we turned onto Crown Point Drive, which is a section of the development. We looped around it, passing all those similar houses.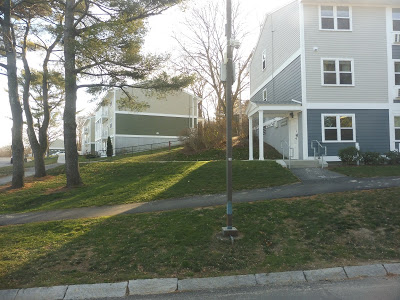 Looking up a hill.
We returned to Georgetowne Drive, eventually leaving the complex. We turned onto Dedham Parkway, then Alwin Street, running along with the 33. Alwin Street was residential, but it got a lot more woodsy when we looped onto Turtle Pond Parkway. Finally, we turned onto Dedham Parkway again, coming back to a shelter outside of Georgetowne.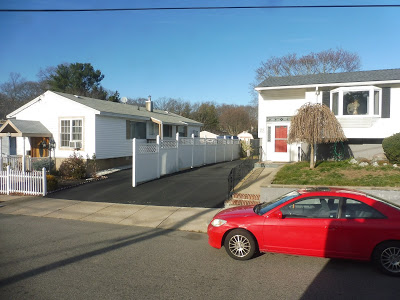 Some random houses along the loop.
Now that we were heading back the way we came, I assumed the route was over. However, there was actually one more deviation to do – we turned onto Georgetowne Place, running up a hill to the top of a dead-end street. The bus looped around a parking lot at the end of the road, stopped over for a few seconds on a slope, and then we finally started to head back to Forest Hills.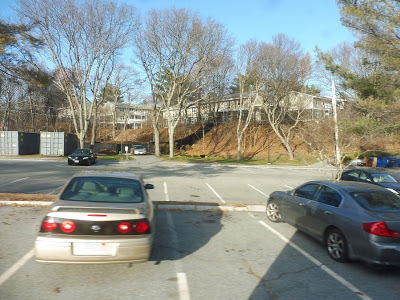 Heading through the parking lot.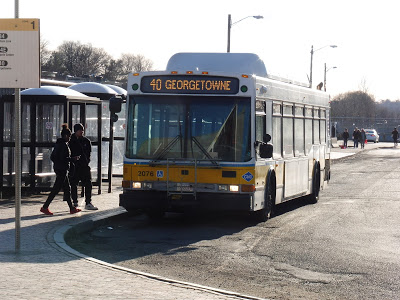 Aww, it's just a boring ol' NABI doing the next trip…
Route: 40 (Georgetowne – Forest Hills Station via Washington Street and West Boundary Road)
Ridership: It's pretty good! The route gets 1,344 riders per weekday, 715 per Saturday, and 309 per Sunday as the 40/50. Whether a bus will get crowded or not is pretty dependent on whether or not a 34 has departed recently, but the 40 is always guaranteed a decent amount of people going to the independent section.
Pros: Having a bus specifically to serve a housing development seems weird, but apparently Georgetowne is a big enough draw to necessitate it! The 40's schedule may not be too frequent, but I think it's good for the ridership – every half hour during the rush, every 50 minutes on weekdays, every hour on Saturdays, and on nights and Sundays, the route runs combined with the 50 in a loop every hour (the 40/50).
Cons: Are those deviations in Georgetown really necessary? Sure, they do get people, but it would save a lot of time if the bus stayed on Georgetown Drive, did its loop, and returned the way it came. Yeah, people would have to walk a little more, but it could allow the route to run a bit more frequently if it made enough of a time impact. Also, better coordination between the 34, the 34E, and the 40 along Washington Street would allow for crowds to be better spaced-out.
Nearby and Noteworthy: Basically just Georgetown… I mean, there are always the various Washington Street attractions that are served by a bunch of other buses, too.
Final Verdict: 7/10
The 40 is a route with a simple goal: provide a direct link from Georgetowne to Forest Hills. It definitely achieves that, with good ridership and a decent schedule. It definitely has its quirks that drag it down, what with the borderline-unnecessary deviations and poor coordination with the 34 and 34E, but overall, this is a pretty good route!
Latest MBTA News: Service Updates