I get the feeling the MBTA doesn't like Dedham too much. Quite a few bus routes terminate either just before Dedham or just after crossing the border – the 34E is really the only route that serves it substantially. The town does have its own local bus run by our good friends at Joseph's Transportation, which does look like an interesting ride. We're not looking at that today, though – we're taking a ride on one of those aforementioned routes that barely goes into Dedham. Yes, it's the 33.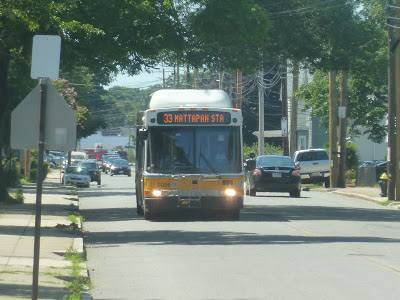 The bus coming down West Milton Street.
There was about 10 minutes between when I left Readville (actually pronounced Reed-ville – thanks to those who commented) and when the 33 left its "Dedham Line" terminus. I was worried about missing the bus, so I only walked a little ways down West Milton Street. This means that I missed the route's industrial origin and picked it up a few stops later, in a residential area.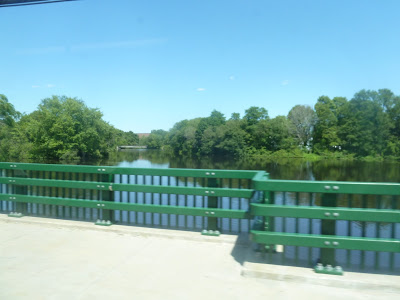 A view of a river.
We came back to Readville, where we turned onto the street of the same name. We then turned onto Neponset Valley Parkway, then River Street, which crossed over a river. From there, we merged onto Turtle Pond Parkway and went by a pool and ice skating rink. It got very woodsey after that, and it was hard to believe we were still in Boston.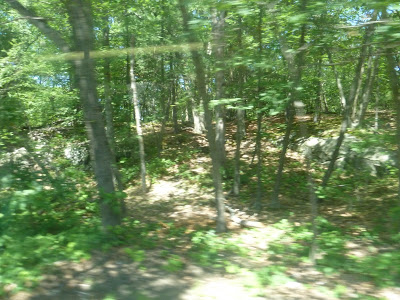 This is truly an urban center right here.
Eventually, we turned onto Dedham Parkway, which came down to the Georgetowne housing development. It had an interesting wooden shelter, and a fair amount of people got on here. We then headed down Alwin Road, which was residential, then back into the woods on West Smithfield Road. Once it became Reservation Road, we were officially out of the forest, and the street was lined with houses.
We turned onto River Street, which was also residential. Soon, however, we crossed over the Commuter Rail tracks at Hyde Park Station and entered Cleary Square. The street was lined with businesses for a while, then turned to dense houses. Now we were joined by the 24, and bunching with it, unfortunately.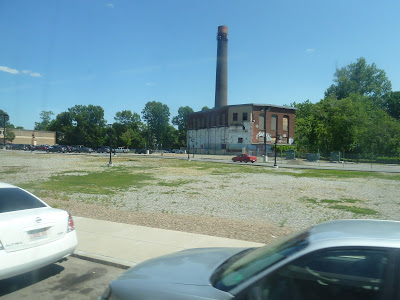 Huh. An abandoned factory, I guess.
Eventually we came to a modern shopping plaza with a big parking lot outside. From there, we crossed over the Fairmount Line tracks, and the street became mostly residential again. Soon the businesses came back, signifying we were in Mattapan. However, we first turned onto Blue Hill Ave, entering Milton for a bit, just to make a u-turn and come back into Boston. We then pulled into the Mattapan busway.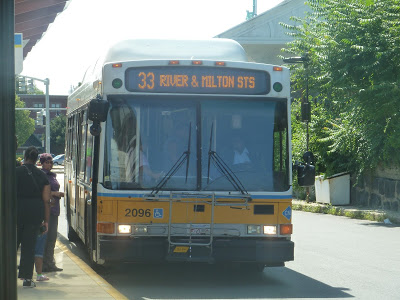 The bus at Mattapan.
Route: 33 (Dedham Line – Mattapan Station via River Street)
Ridership: On my ride, there were about 20 people in total. The large majority of them got on at Georgetown, and all but two people went all the way to Mattapan. Overall, the route gets an average of 1,246 riders per weekday and 462 on Saturdays.
Pros: The route serves some neighborhoods that are pretty much in the fringes of Boston and links them up to Mattapan Station. Georgetowne is a big ridership draw in particular, and so is Cleary Square to a much lesser extent.
Cons: The schedule of course! And the 33's schedule is pretty bad – every 30-35 minutes rush hour, and every hour weekdays and Saturdays. On another note, its route near Georgetown is rather circuitous, but I don't think there's much that can be done about that. Finally, there's the fact that we were bunching with the 24. Was this a fluke, or are the two routes not really coordinated? Based on the schedule, it looks like the latter.
Nearby and Noteworthy: Aside from Cleary Square, I didn't see much of note along this journey. Cleary Square does have a bunch of businesses, though.
Final Verdict: 5/10
The 33 does serve a fair amount, but its schedule is pretty darn bad. I suppose Georgetowne still gets Sunday service from the 40/50 to Forest Hills, but it seems like there's a certain amount of people who want to get to Mattapan from there. I mean, let's face it, Georgetowne is really the main ridership producer for the 33. Finally, this route really should be better coordinated with the 24, at least so that they don't bunch together.
Latest MBTA News: Service Updates