Alright, let's finish up the Needham Line! Let's do it! WOOOOOOOOOOOO! WEST ROXBURY IN DA HOUSEEEEEEEEEE!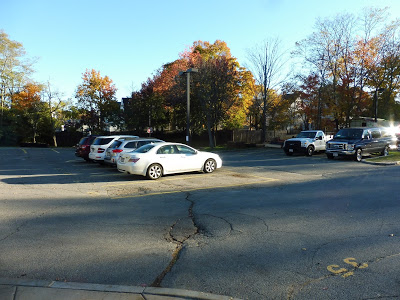 The station parking lot.
There's a nice little road that leads up to the West Roxbury parking lot from Lagrange Street. The lot has 62 spaces, and that's a good amount for a small neighborhood station like this. For pedestrians, meanwhile, stairs lead up onto both sides of the track crossing over Lagrange. There was bridge construction when Sam and I were here, so it made it a bit harder to get around.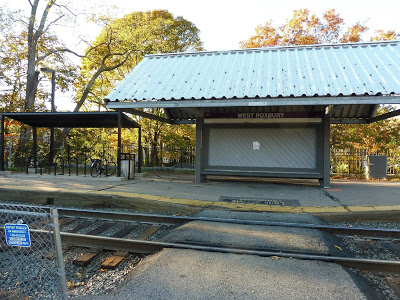 The station shelter.
West Roxbury's shelter is veryyyyy typical for the Needham Line. Is it newer? Check. Is it in ugly shape, despite being newer? Check. There's a bench underneath it, as well as a wastebasket, but what's interesting is the presence of a separate bike shelter right on the platform. That's a nice touch!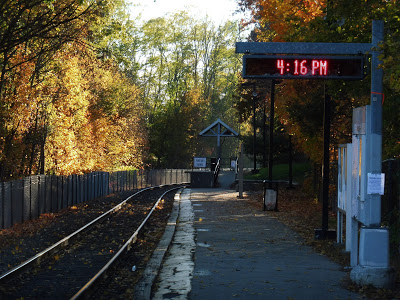 Wow, this platform is beautiful!
Heading down the single platform, you pass an old "honor box", a few wastebaskets, a map, a screen, and some ads. Also, you see some beautiful trees – this station has some gorgeous foliage. Finally, there are two more entrances by the end of the parking lot. One is a path that runs alongside the lot to the south, while the other is a staircase that leads to a side street on the other side.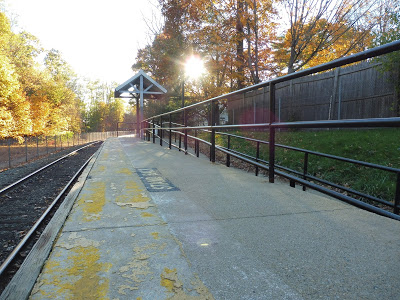 The sun pokes through the trees onto this rather terrible mini-high.
Oh yeah…I forgot that all the Needham Line mini-high platforms are horrible. Typical to the rest of the line, the one at West Roxbury is only a tiny shelter at the very end. There's no bench – only a single wastebasket. What's more, it's a long walk from the station's proper shelter to the high platform, so you might as well stand at the latter, since that's where you have to board!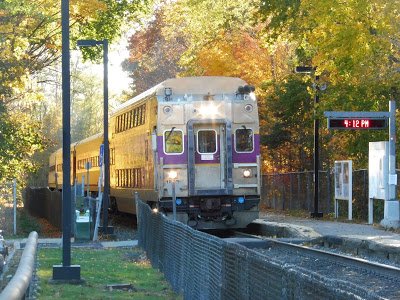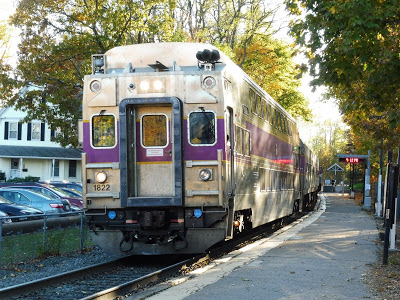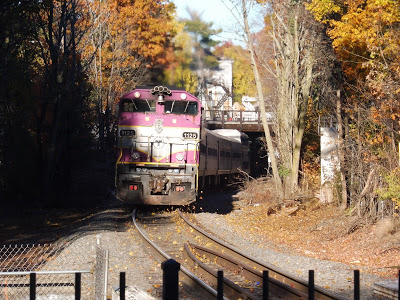 Man, this is a great place to take pictures of trains!
Station: West Roxbury
Ridership: West Roxbury's ridership is about average for the Needham Line as a whole, with 409 inbound riders per weekday. This is still pretty good, though, considering that there are three frequent bus alternatives from here, and that the station is really close to Highland.
Pros: Maybe it's because I came here on a fall day, but this station's foliage is just beautiful! Other than that, it performs all the expected functions of a Needham Line station, including a good amount of car and bike spaces.
Cons: As usual, it's a ridiculously long walk to the high-level platform, and that platform has a lot to be desired. Come on, Needham Line! All your stations have this problem!
Nearby and Noteworthy: You can find some small businesses from here by making the short walk to Centre Street, West Roxbury's main drag.
Final Verdict: 8/10
Well, I gave Highland an 8, and West Roxbury is pretty similar. Although Highland's mini-high walk isn't as bad as the one here, West Roxbury strikes back in the beauty department. Don't get me wrong, both stations are lovely, but West Roxbury is at least equally tranquil to Highland. Plus, this station gets more riders!
Latest MBTA News: Service Updates