Ah, it's good to be back on the Needham Line! It's been too long since I've seen those tiny mini-highs with no benches. Well…okay, maybe not that part of it. But Needham Line stations are always very tranquil, and Highland is certainly no exception.
The station parking lot.
The station is located on Corey Street, a block away from busy Centre Street. You can get into the station via the parking lot, which has a great amount of spaces for such a local station: 175. Sure, it only gets about 68% full on weekdays, but it's good to have the extra space.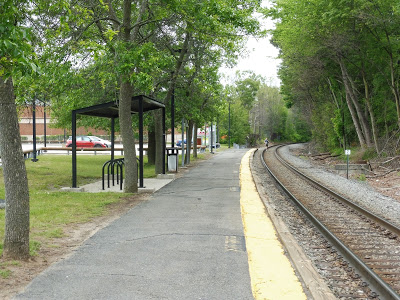 That guy on the tracks was also taking pictures of the station! Sir, if you're reading this…hi!
Most of the platform is low-level and bare, but the station still has a lot of character. There are lots of lovely trees everywhere, and though single-tracked stations are inefficient, it really gives the station a tranquil feel. But yeah, the platform is mostly bare aside from a wastebasket and a great sheltered bike area.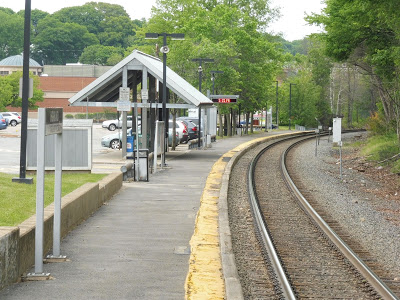 The station…from above. Well, from on the mini-high, anyway.
Of course, I must mention the shelter! It's a typical Needham Line shelter to be honest, looking like it was built in the 90s. But, you know, it has a bench and a few wastebaskets. That's all you really need in a shelter, right? It's nice, it's nice.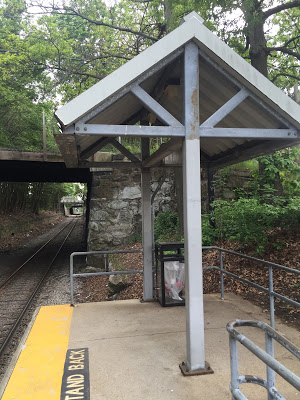 The mini-high (this one is courtesy of my friend Nathan's phone again).
What can I say? It's a typical Needham Line mini-high. Sure, there's a bit of shelter and a wastebasket, but as usual, I must complain about the lack of a bench. It seriously can't be that hard to stick a small one up there, can it?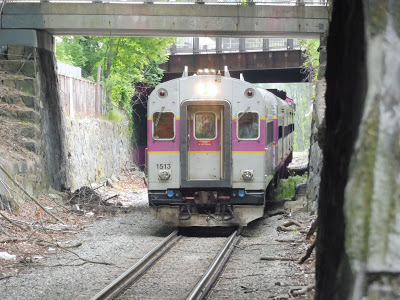 This station is so picturesque!
Station: Highland
Ridership: It's a local Needham Line station, so you can't really expect much. Highland gets 290 inbound riders per weekday, making it the second least-used station on the line after Bellevue. The ridership it does get must come from pretty close by, considering how close Highland is to its neighboring stations.
Pros: Oh man, it's just a beautiful station. It feels incredibly tranquil, and it also offers a great amount of parking. The shelter is generic, but it ultimately gets the job done without the station losing too much character.
Cons: As usual, the mini-high really needs a bench on it. Other than that, I think the Needham Line could definitely implement some flag stops middays and weekends. This station doesn't get too much ridership, and it seems like a waste of time to stop if no one's waiting.
Nearby and Noteworthy: You'll find lots o' businesses if you walk the one block to Centre Street, although I have no idea how "noteworthy" they actually are.
Final Verdict: 8/10
That 8 is mainly for the sheer tranquility and character of Highland. Yes, it's a typical Needham Line station, but man, it's just so nice here! Plus the station offers a good amount of parking, and it's good functionally; the walk from the shelter to the mini-high isn't terrible. And yes, the mini-high may be the standard, but it does its job fine, I guess.
Latest MBTA News: Service Updates