Awwww yeah, it's happening! Here we go! Get ready for the most hated line on the entire MBTA! That's right, it's time to review EVERY! SINGLE! STATION! ON! THE! B! Let's get this horrible tour started with…a somewhat decent station, actually. Time to talk about Blandford Street!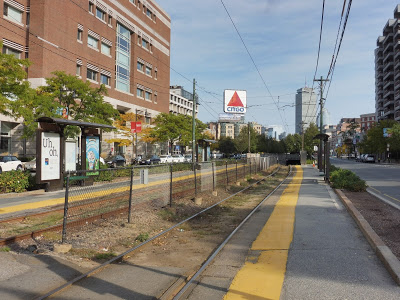 The platform.
Blandford Street is the first station out of the portal for the B, and it's right near Kenmore Square – this means there's a nice view of the Prudential and the Citgo sign. So what about the station itself? Honestly, it feels a lot like an E Line station, minus the ADA platform. There are two shelters on each side, and the right-of-way is reasonably pretty!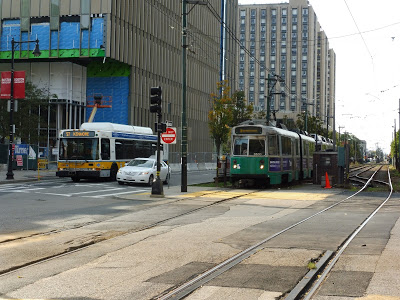 A train hanging out next to a 57.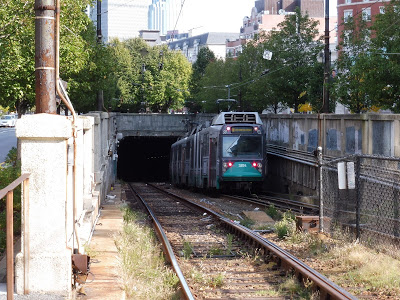 Into the abyss you go!
Station: Blandford Street
Ridership: You would think its proximity to Kenmore Square would lower ridership somewhat, but Blandford Street is right in the middle of the road for Green Line street stops – 1,540 riders per day. At least some of that is outbound ridership, as this station seems to get a good amount of it.
Pros: Having a proper shelter with a bench and everything is a RARE commodity on the B, as you'll find out. So having two on each side?? Well, we've hit a gold mine! Blandford Street is also aesthetically pleasing for the most part, with some nice bushes along the right-of-way (the track is somewhat questionable, but we'll let it slide).
Cons: The platform is essentially asphalt with a yellow line painted on it. It's pretty standard for the Green Line, but it does make it worse than similar E Line stations with their ADA platforms.
Nearby and Noteworthy: Boston University buildings are the immediate surroundings, plus you've got some nice brownstones between here and Storrow Drive. Cross Storrow, and you're at the Charles River!
Final Verdict: 7/10
Blandford Street isn't perfect, but it's a good effort regardless. The shelters are standard, the right-of-way is decent, and the ridership is pretty good. I could raise the score to an 8 if the platform was ADA (i.e. slightly raised from the ground with bumps on the yellow lines), but for now, a 7 it is.