Well(s), well(s), well(s), time to take a look at Wells! This is a station on the Downeaster in a very middle-of-nowhere section of the town of the same name, and it's the one we used to get home from Transit Day. What kind of stuff does it have to offer? Let's find out.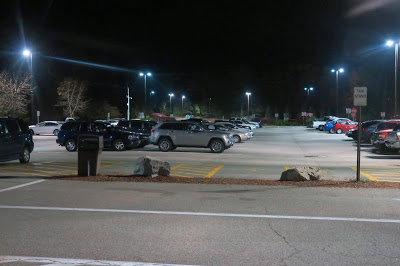 Special thanks to Sam's camera! Mine was out of battery…
We were dropped off in the station parking lot, which features a nice loop for drop-offs and pick-ups. It's also a busway, served by a Greyhound trip every day, as well as the Shoreline Explorer, which serves Wells with one full-year route and one summer trolley. Finally, the station features private car parking, of course, with about 200 spaces.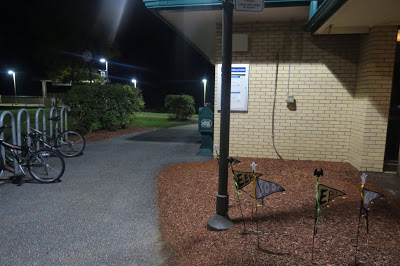 Heading around the side of the building.
The side of the Wells building features bike racks and newspaper boxes. There's a path that leads around to the platform, which is useful if you're rushing for the train and don't want to enter the building. Finally, there were some nice Halloween decorations in the mulch.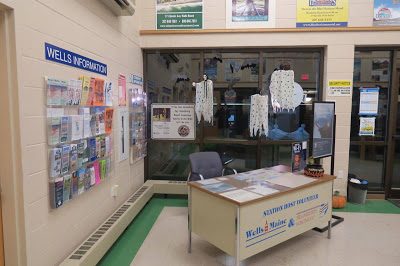 The inside of the building.
Wells has a fantastic modern building, with a bunch of amenities inside. Firstly, it features basically any type of brochure you can imagine, from Wells-related ones to Maine-related ones to travel-related ones! There's a desk for a station host, but they probably weren't working this late at night. The building also features a Quik-Trak ticketing machine, as well as a human to sell tickets.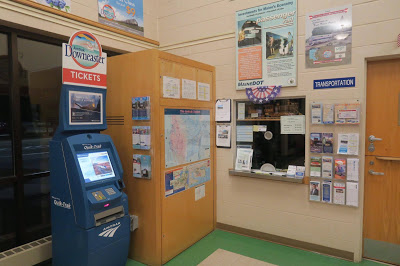 The "transportation corner".
What else, what else? Well, there are some vending machines in the center of the room to provide snacks, and a few benches to wait for the train inside. There are bathrooms here, too, and they were very clean! Oh, and the whole inside was decked out with Halloween decorations, which was super cute.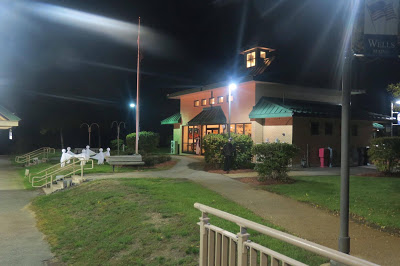 The building from the outside.
Heading out of the building, there's a nice little park next to the platform. It has a flagpole, some benches, and in honor of Halloween, an absolutely fantastic little display of ghosts dancing around in a circle! Seriously, what train station has Halloween decorations? I love it!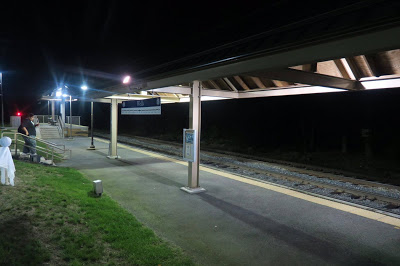 The platform.
Wells's platform is…well, probably the least interesting part of the station. It's pretty small to begin with, and much of it is low-level with a bit of shelter. It features a mini-high, too, which has more shelter and at least a bench. I guess they expect most people to wait inside the building instead, which is certainly reasonable.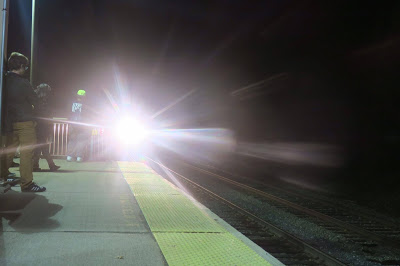 I…I…I think that's a train! Maybe!
Station: Wells
Ridership: In 2015, the station got 48,890 people, and unfortunately it seems that ridership on the Downeaster is generally decreasing. Still, that makes Wells the second-busiest station in Maine after Portland, and 134 passengers per day with only six trains isn't bad.
Pros: Wells has so much character, from the great building amenities to (especially) the Halloween decorations! The parking seems to be sufficient (and right off of I-95), and the platform is standard for the Downeaster.
Cons: That does mean the platform feels a bit bare, but the building is the best place to wait for the train, anyway.
Nearby and Noteworthy: If you come here in summer, you can use the Shoreline Explorer to get to the beach! I can't tell you how good of a beach it is, and I'm sure it gets crowded, but hey…the beach!
Final Verdict: 9/10
Even late at night, this station still felt very charming and welcoming. I'm sure it has a much different feel in the summer when it's overrun with beachgoers, but I'm sticking to my guns and giving this place a 9. Seriously, what a lovely station!
Latest MBTA News: Service Updates