I never thought I would ever review the Silver Line Waterfront shuttle, but I was at South Station and saw it and thought, "Huh. I've never ridden that before." So yeah…I figured I'd give it a lil' review. Let's take a look at this thing.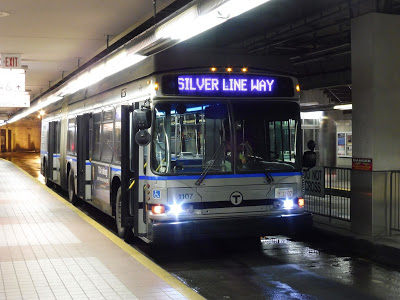 The bus at South Station.
These shuttles usually only run at rush hour, but since Boston Comic Con was at the World Trade Center, they were running the route to handle the extra crowds. However, there was still lots of hullabaloo at South Station, as the driver kept having to tell people that this bus was not going to the airport. Finally, with a decent amount of riders on board, we headed out.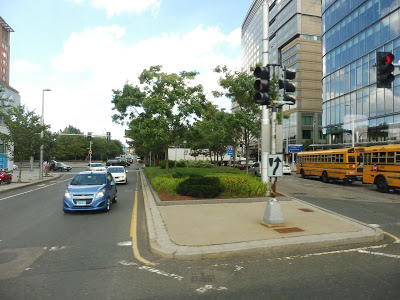 There isn't much of note inside the tunnel, so here we are crossing D Street.
We passed through beautiful
Courthouse Station
, where not many people left the bus. Once we arrived at
World Trade Center
, though, there was a mass exodus of people who got off (many in costume for the con). After that, we ascended the portal and waited at the D Street intersection for about 50 years.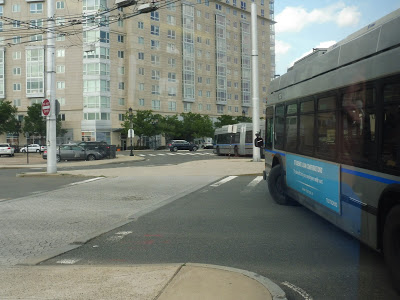 It wouldn't be an articulated bus review without some bus inception!
We went under a building and arrived at Silver Line Way. I was expecting us to just use the outbound stop, but it turns out the shuttle has a super special secret loop! Okay, it wasn't that special – we just kinda…looped. And that was the ride. Woooooooooooooo.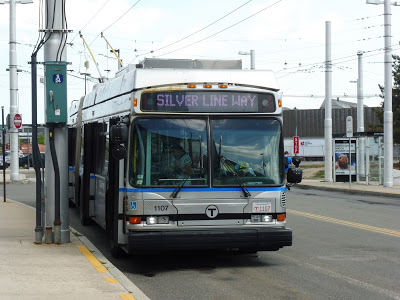 Two buses on the shuttle at Silver Line Way.
Route: Silver Line Waterfront (South Station – Silver Line Way)
Ridership: It's a primarily rush hour shuttle, and the route does pretty well considering that – 2,461 riders per weekday. The weekend ridership is significantly lower (344 riders per Saturday and 91 per Sunday), but I think that's just because this particular service doesn't run much during those times.
Pros: As a supplement, the Silver Line Waterfront does its job perfectly. They just run the route during rush hour and when there are other events that might spike Silver Line ridership. It also takes some pressure off of the packed SL1, and (during rush hour, at least) SL2.
Cons: Honestly, why can't weekend SL2s just be these? Hardly anyone goes out to the Design Center on weekends, but lots of people head to the Seaport District!
Nearby and Noteworthy: Yeah, basically the Seaport District and all of its attractions…but only as far as Silver Line Way, of course.
Final Verdict: 8/10
This was a bit of a weird review, but it has to be said that this rush hour variant does its job pretty well. It supplements the SL1 and SL2, and that's basically all it's meant to do. Of course, it would be nice if there were more of these (and SL1s) and less SL2s on weekends, like I said. Seriously, the every-15-minute SL2 gets less Sunday ridership than the 240, which runs every 75 minutes! I think priorities are not being set right here!