Oh boy oh boy oh boy! Here we are on the greatest part of the C Line! The bit where one side of Beacon Street goes up onto a hill and the street gets so scenic. Brandon Hall is one of the two stations along this section, and it's great!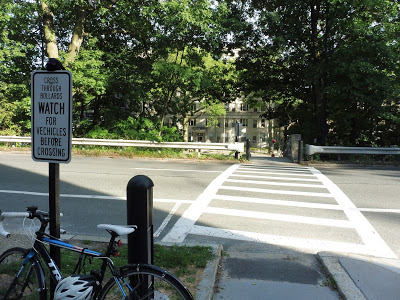 OH MY GOSH THIS IS SO AWESOME.
Okay, so on the upper, westbound side of Beacon Street, cars can go pretty fast, you know? Luckily, Brandon Hall has you covered. At the crosswalk to the station, you need only pass through a set of bollards to signal a flashing light that tells cars to stop for you! From there, you can descend a staircase into the station. This special kind of crosswalk is on the eastbound side of Beacon Street, too.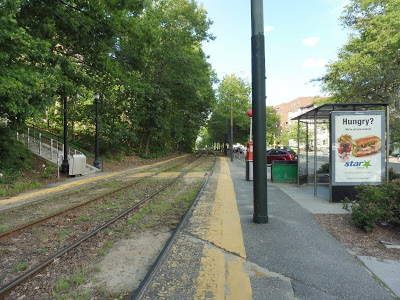 The platform.
The platform is also good for a C Line station. It has the shelter on the inbound side, which is always a plus, while the outbound side has a wheelchair lift. But the main thing about this station is that it's beautiful, with lots of trees everywhere and beautiful Beacon Street apartments on the south side.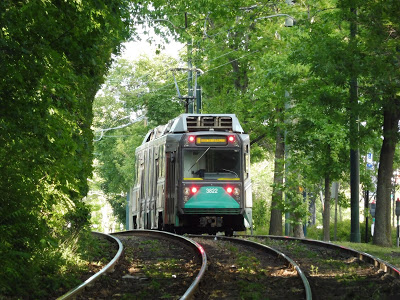 A train heading into Boston.
Station: Brandon Hall
Ridership: Alas, this is the second least-used station on the C Line after Hawes Street, with only 356 riders per weekday.
Pros: This is definitely the prettiest part of the C Line right-of-way, and it makes this station look amazing. The trees everywhere add a bunch of character. Also, the station has its shelter on the inbound side, which is great, while the crosswalks here are insanely useful.
Cons: Not much, although considering how close this station is to its neighbors and its ridership, it could probably be eliminated. But…but it's such a good stop…
Nearby and Noteworthy: It's all apartments at this point on Beacon Street, but they sure are pretty ones.
Final Verdict: 9/10
It has to be said that the stop itself of Brandon Hall is essentially the same thing as Summit Ave. However, it's really the surroundings that make Brandon Hall stand out – those trees are just so tranquil. Also, the crosswalks are awesome!
Latest MBTA News: Service Updates