Ahhhh, this one is a classic! Not only does Coolidge Corner have more character than what seems possible for a Green Line street stop, but it also gets amazing ridership! Let's take a look at this wonderful station.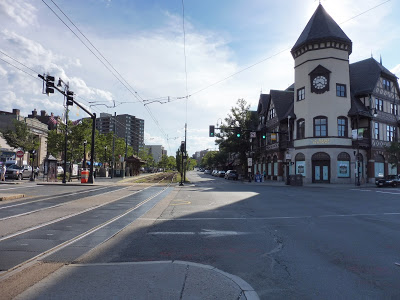 Did I mention that I love this place?
Coolidge Corner has staggered platforms, with the inbound one on the west side of Harvard Street and the outbound one to the east. The tracks also make an s-curve in the middle of the station, although there's most definitely a reason for that: so that the platforms can be as wide as possible! Seriously, they both have lots of room.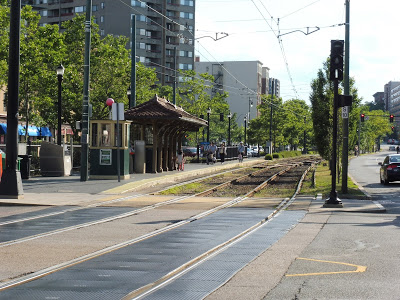 Such a classic shelter!
The shelters at Coolidge Corner are just so good. They have this great old style and lots of seating space underneath. Although they have a few peeling paint issues, the shelters still look great, and add to the station's character so much.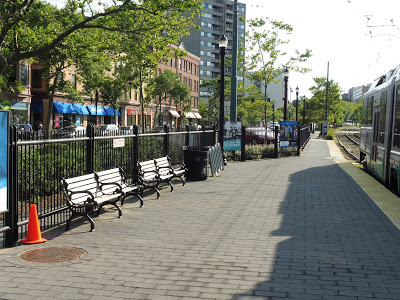 The inbound platform.
The rest of the platforms are awesome, too, with lots of benches and wastebaskets, and 20 bike spaces in total. The station also has a ticket validator for faster boarding during rush hour, although I didn't try it out when I was here on a Saturday to see if it was working. Finally, can I just say how great the signs here are? They all have this old-fashioned look, and even though they're newer signs, they just compliment the shelters so much.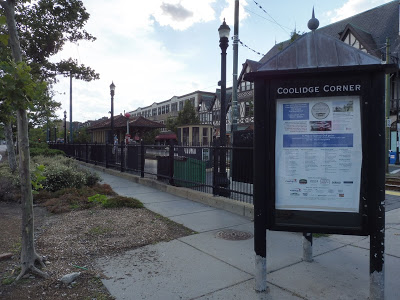 A pathway leading out of the station.
There are a few paths out of the inbound platform that lead to the next block, as well as street parking, i.e. the classic C Line parking where cars face the tracks. Additionally, this station has one bus connection, with the 66. The stops are…less than impressive, though. Yes, they both have benches provided, but a shelter seems like a no-brainer, especially for a route as busy as the 66.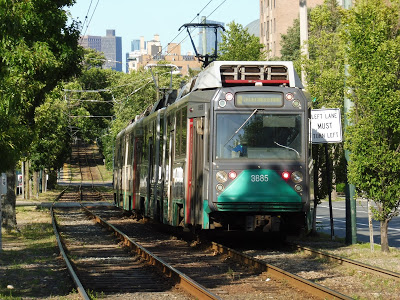 An inbound train leaving the station.
Station: Coolidge Corner
Ridership: This is the busiest station on the C by far, and one of the busiest in general on the Green Line branches – it gets 3,440 riders per weekday.
Pros: Not only is this station great for functionality (wide platforms, lots of amenities, etc.), but it also has so much character. I mean, the shelters look amazing and complement the buildings around them, while the old-fashioned stylized signs are great.
Cons: I only have two qualms with this station, and they're small: number 1 is the peeling paint on the shelters, which is annoying but an easy fix; number 2 is the lack of shelters for the 66. Yes, there are benches, but what about when it rains? What are people supposed to do then?
Nearby and Noteworthy: There's so much to do in Coolidge Corner, including a movie theater and a bookstore.
Final Verdict: 10/10
You know, I had it in my mind that I wanted to give this station a 10 when I got here, and it still remains one of my favorite Green Line street stops (if not my favorite). And though it does have a few flaws, I think it's arguably the best street stop on the entire Green Line, which is why it gets a perfect score. Yes, it's not a "perfect" station, but it's pretty darn close.
Latest MBTA News: Service Updates