After the pretty great Saint Marys Street, our next cluster of stations…isn't as great. They are in absolutely beautiful neighborhoods, but in terms of the stations themselves, they're definitely lacking. Let's take a look.
One problem with the C is that it often gets confused at what the peak direction is. You see, all three of these stations have shelters on the outbound side rather than the inbound. Hawes Street is no exception, with two simple (but functional) bus shelters on the outbound side.
Kent Street and Saint Paul Street are slightly different than Hawes Street in that they have staggered platforms. Their outbound platforms are the same as Hawes, but strangely, the inbound sides still have no shelter. Instead, Kent Street and Saint Paul Street have little plazas across the track from the inbound side with a shelter, bench, and wastebasket. Only problem is that that's not where the stupid train boards!!!
So yeah, time to talk about the inbound platforms – they're all decrepit. They're tiny, low-level, and in awful condition. The one at Saint Paul Street is particularly bad, with this plank of wood along the whole thing. They're all awful, though.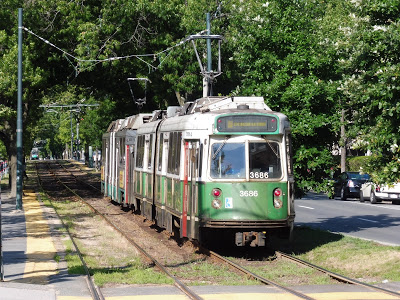 A train at Saint Paul Street.
Stations: Hawes Street, Kent Street, and Saint Paul Street (C)
Ridership: Hawes Street and Kent Street don't get many riders, with only 339 and 386 per weekday, respectively. Saint Paul Street gets significantly more, for some reason, with 849 riders per weekday.
Pros: These stations definitely have that typical C Line character. And if you're going outbound, then you're all set. Inbound, however, is a different story…
Cons: Okay, here's a little lesson for these stations: when people get on the train, almost all of them are going into the city. And so you're gonna have a lot more people waiting on the inbound platform rather than the outbound. So how about not having your inbound platforms be deteriorating messes, hmmmm?
Nearby and Noteworthy: Nothing much, just a lot of really beautiful apartments, and…wait…there's a Holiday Inn between Kent Street and Saint Paul Street?! Gosh, I always associate those with suburbia, and yet here's one right in the middle of Brookline!
Final Verdict: 5/10
Having a decent outbound platform is certainly a necessary aspect to any station. But you also need to have a good inbound platform. And most importantly, you need an inbound platform that's not tiny, decrepit, and awful. These stations all fail at that. Miserably. Still, they're nice enough in other aspects, but that inbound platform is quite important.
Latest MBTA News: Service Updates