Man, I had forgotten how much I love the C. It's the most reliable of the Green Line street lines, plus it has an absolutely gorgeous right-of-way! My friend Sam and I walked along its entire distance to see every single stop, so we're gonna be taking a look at all of them. Let's do this.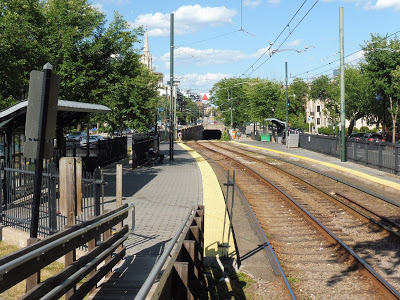 The station, seen from its wheelchair ramp.
Saint Marys Street has a very E Line kind of feeling. It has some great wide platforms, and those generic but useful shelters you would find on the E. The station is on an s-curve, and I'm not entirely sure why, but perhaps it's so that each platform gets a wide section? Also, the station features a wheelchair ramp on the outbound side, while the inbound gets a simple lift.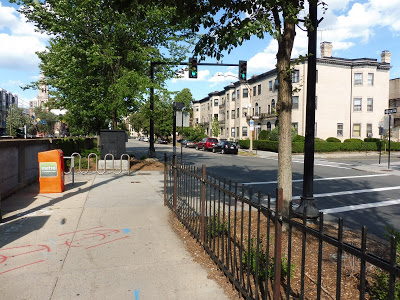 The southern side of the station.
It's also worth noting that to the south side of the portal, the station features a little…plaza? Okay, it's not really a plaza, but it does have a newspaper box and ten bike spaces, which is definitely useful. The pedestrian crosswalks here are conveniently placed, with easy access to the station.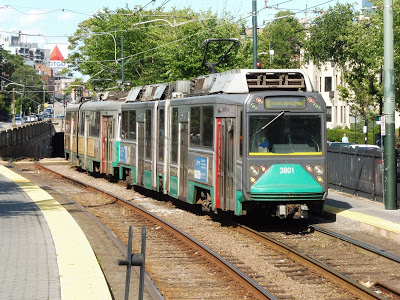 A train stopped at the station…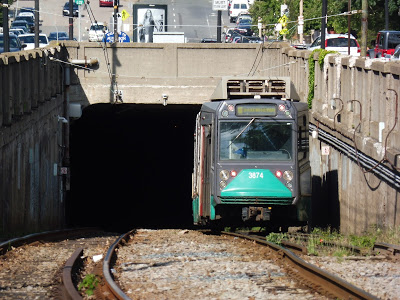 …and another train going into the portal.
Station: Saint Marys Street
Ridership: The ridership on the C is centered around its four "accessible" stations (although they're all technically accessible with the newer Type 8 trains), and Saint Marys Street happens to be one of them. This is the second-busiest station on the C, with an average of 1,532 riders per weekday (although that's less than half of the busiest, Coolidge Corner).
Pros: This station feels almost identical to the in-median E Line stops, which instantly makes it good. The platforms are wide, the shelters are useful, and Saint Marys Street even throws in that little plaza for bike parking!
Cons: There's definitely a lack of character here compared to stations further down the line. I mean, the right-of-way is quite leafy here, but the C gets downright beautiful as you go further west.
Nearby and Noteworthy: There are lots of restaurants and stores to be found on the north side of Beacon Street, while the south side is mostly apartments.
Final Verdict: 8/10
Don't get me wrong, Saint Marys Street is a great station, and if it were on a different line, it would probably score a 9. That said, we're on the C, and I can't help but give it a lower score when compared to some of the other gems further west.
Latest MBTA News: Service Updates