It's a shame that my last I-90 express bus had to be so…I dunno, generic. The 556 isn't a particularly interesting route. I guess we'll, uh, take a look, then. Enjoy!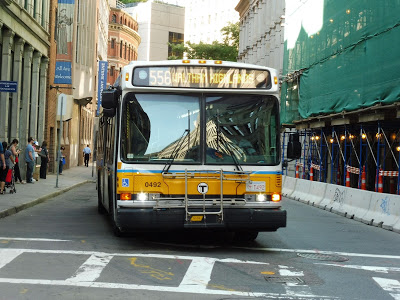 The picture I took when I actually rode the route was so bad that I came back to Boston the next day to get another!
I got on the bus at Otis and Summer Streets, and we headed onto Kingston Street from there. We then turned onto Essex Street, then Surface Road, going by the Chinatown gate. From there, we made it onto a highway ramp and headed onto the mercifully traffic-less I-90.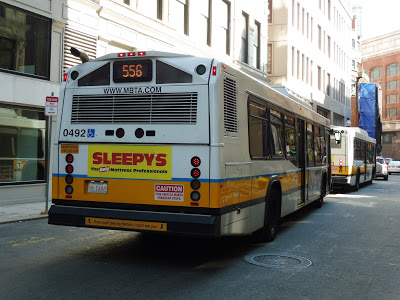 Just for kicks, here's the back of the bus, too!
After going by mostly apartments, we went through the Copley Square tunnel. On the other side, we passed Fenway Park, then went up onto the bridge and past lots of B.U. buildings and the Charles River. Returning to ground level, we went through the Allston Tolls and went by the New Balance building later on.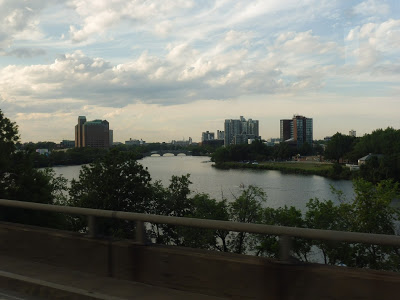 Nice view!
It started to get more suburban from there, with car dealerships and fast food restaurants visible from the highway. After the Commuter Rail tracks went under the highway to the other side, we took the next exit, and we were surrounded by offices and businesses. We made the first Newton Corner stop, but then we had to do the other one, too, requiring a loop around the highway to the other side.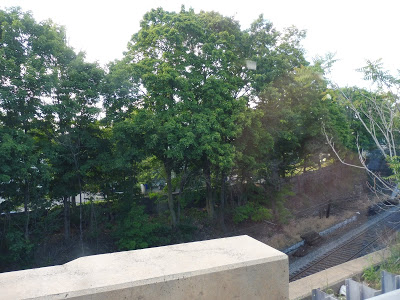 Here's a picture of…something.
We served the stop on the other side, then looped back around past the first stop and onto Washington Street. The highway occupied one side of the road, while the other side had houses, schools, and a church. Businesses started to become more abundant until Newtonville, where there were some nice blocks of 'em.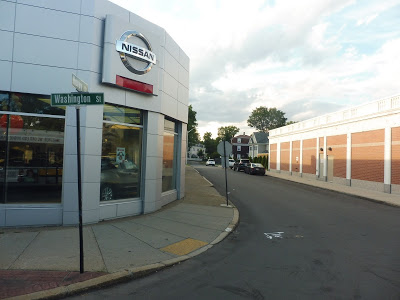 A car dealership.
Here, we turned onto Walnut Street, joining the 59 for a stretch. However, the 59 turned off onto Watertown Street pretty soon after, and now it was just us on Walnut. We passed a school, then a small common, and from there we merged onto Crafts Street. We went by a field and crossed over…um…"Cheese Cake Brook", and it was all houses from there.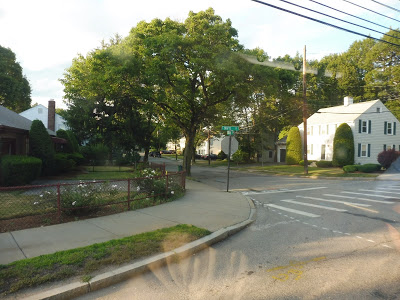 A side street.
Eventually the street curved north at a common and became Waltham Street. The road came up next to a cemetery, and there were pretty industrial businesses on both sides after that. When we entered Waltham, the street became High Street.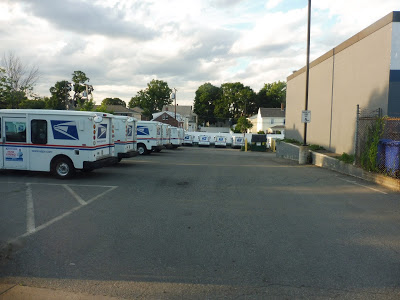 A mail truck yard.
There was one last stretch of houses, then we turned onto Moody Street, the main drag of Waltham. There were businesses on both sides until we crossed the Charles River and the single track of the Fitchburg Line. From there, we looped around Waltham Common and headed out onto Main Street.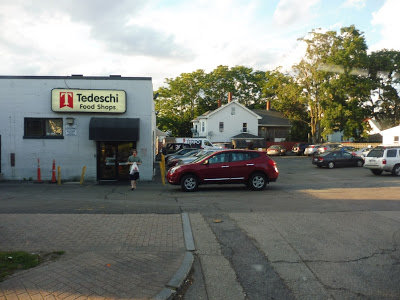 A convenience store.
After going by some more businesses on Main Street, we turned onto the amazingly-named Bacon Street. It was mostly lined with houses, but we also went by an industrial section (including a yard for The Ride vehicles!) and an elementary school. Next, we turned onto Dale Street and then Tomlin Street, where the houses were more spread out. This also happened to be the unassuming last stop of the route, so the driver kicked me off and I started walking back to Waltham Central Square.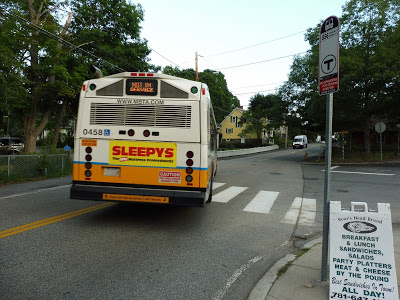 Gotta love that "NOT IN SERVICE" sign.
Route: 556 (Waltham Highlands – Downtown Boston via Newton Corner, Central Square, Waltham, and Newtonville)
Ridership: This is the second least-used I-90 express (after the 558), with only 515 riders per day. Don't get me wrong, I can totally see why it gets so few passengers. Its independent section from Newton Corner to Waltham is entirely residential, and the Waltham Highlands loop is tiny and close to Central Square, anyway.
Pros: I definitely see the need for this route during rush hour, when it brings commuters to parts of Waltham not served by other buses. The schedule is also sensible, with 30 minute headways during rush hour and 60 minute headways during the day.
Cons: Do the midday trips really get that many people, though? I mean, they only run from Newton Corner to Waltham Highlands, and I just can't imagine too many people taking advantage of a service like that.
Nearby and Noteworthy: Well, the independent section is mostly houses. Umm…I mean, I guess you could use this route to get to Moody Street, but there are a bunch of other routes that also run down that corridor.
Final Verdict: 6/10
During rush hour, the 556 carries a fine amount of people and brings them to their neighborhoods in Waltham. But midday? The route gets very few riders. I think they could probably cut midday service altogether, although that could get some outcry… Still, the 556 is definitely a good route at rush hour, at least.
Latest MBTA News: Service Updates