It's the namesake of the Franklin Line! And having been stuck in the downtown for over an hour, I'm quite familiar with it and all of its attractions (or lack thereof). Still, despite how boring the town may be, I'm reviewing the station, not its surroundings. Thus, let's take a look at Franklin/Dean College (or the other way around, as the station signs put it).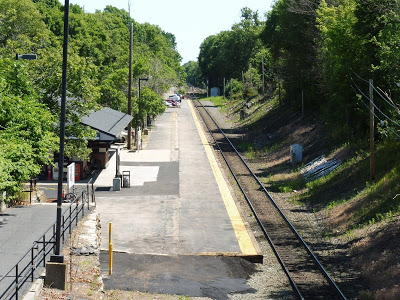 The station…from above.
The main pedestrian entrance is from Main Street, which has a bridge over the single track lined with flowers (and bees). It's well-marked with a T symbol, and is a simple flight of stairs leading down to the station. Also, Main Street is apparently where the GATRA Franklin Area Bus boards, despite the fact that there's no signage (as usual).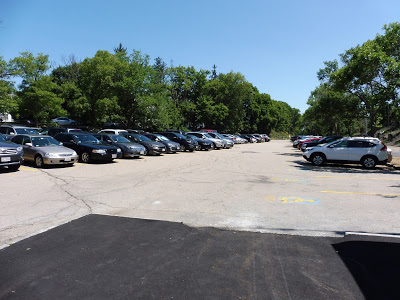 Gotta love that parking.
The other way of getting into the station is much more car-friendly, as it's via the parking lot. Franklin has a smaller lot than either of its neighboring stations with 173 spaces, but with a 16% availability rate on weekdays, it's just enough. There are also a few bike spaces near the parking lot entrance, which is a great option in this case – the station is located in a pretty dense area.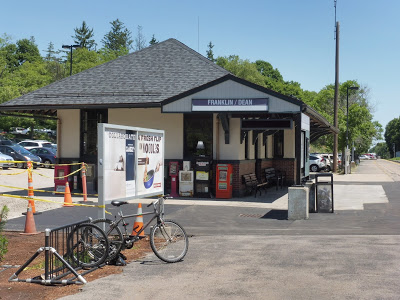 Oooh, that's a nice building!
Franklin's low-level platform is basically dominated by its building, which is a beauty. Built in 1912, it has a few benches and lots of newspaper boxes under its shelter. There's honestly not much else along the rest of the platform, aside from a few wastebaskets, benches, and some more bike spaces. Oh, and there's also a great "FRANKLIN" sign spelled out by white stones in the dirt on the other side of the track.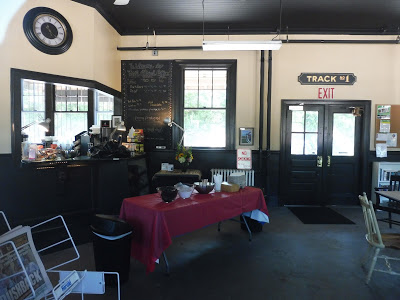 The inside of the building.
Unfortunately, as a piece of paper says in a comic sans-esque font, the building is only open on weekdays until 9:30 AM – it's for morning commuters. However, it has an amazing interior, from what I could see through the doors. Aside from a café offering coffee, as well as other drinks and pastries, there is seating, newspapers, some old signs and photos, and so much more. There even appears to be a library! The character just oozes out of this place, and I really wish I could've visited during the morning rush to be able to go inside.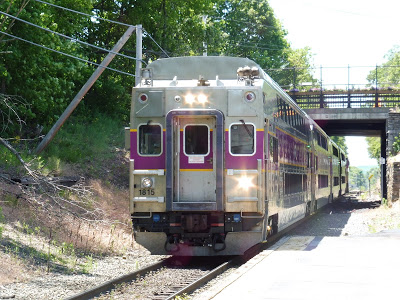 A train coming into the station.
Station: Franklin/Dean College
Ridership: Despite being the Franklin Line's namesake station, it's only the third-busiest station on the line. Still, 876 riders per weekday is great ridership for the Commuter Rail. It's also interesting to note that since the parking lot only has 173 spaces, many riders must commute in by means other than driving. The station must get lots of student riders for sure, as Dean College is very close by.
Pros: Oh man, this station has so much character. The place feels very serene, with the "FRANKLIN" spelled out of rocks being a nice touch. And the building…I mean, this has to be one of the nicest buildings I've seen on the Commuter Rail thus far. The inside just has so many details to give an old-timey train station feel.
Cons: The lack of accessibility is really the only problem, but it's a big one. The selfish part of me worries that a mini-high or high level platform would spoil the character, but accessibility is probably more important.
Nearby and Noteworthy: Okay, I'm sure Franklin isn't that boring of a town, but being stuck there for an hour isn't the greatest. I guess it's more of a restaurant-based downtown than a store-based downtown, so there are plenty of places to eat, but if you're looking for shopping, you won't find much.
Final Verdict: 8/10
Accessibility or character? Accessibility or character? Ahh, who am I kidding? I love this station so much. If it had a nice wooden mini-high with a bench on it, the score would go up to a 9, or maybe even a 10. However, at the moment, it's stuck being inaccessible, which is definitely an issue. But hey, that building is great, isn't it?
Latest MBTA News: Service Updates