So, I rode the Franklin Line for the first time! My friends Harry and Zach and I took it all the way to the end, and it was a pretty nice ride. Personally, I enjoyed seeing the varied stations along the line – there's a lot of variety, and each one seems to have its own quirks. Forge Park/Route 495 is definitely the most Old Colony-esque station on the line, with quite a lot of parking. Perhaps the "park" in "Forge Park" has a deeper meaning…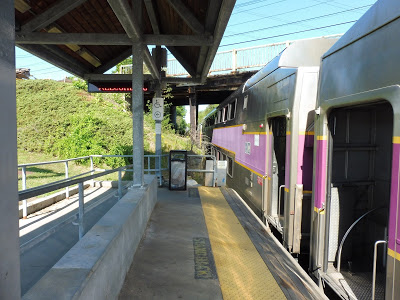 The mini-high platform.
To be honest, I was expecting a full high-level platform, given the fact that this station is a lot newer than the rest of the Franklin Line. However, I guess 1988 was too early to start building full high platforms, so instead the station has a rather small mini-high. It's very generic, and has only a wastebasket. Well…I guess you could sit on that concrete…thing.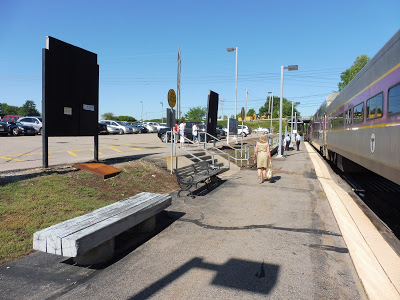 Further down the platform.
Luckily, the low-level section of the platform has a lot of seating. This does present the age-old Commuter Rail problem of having to walk over to the mini-high from where you're sitting, but I guess that can't be solved. Wait, yeah, it can – put a bench on the stupid mini-high!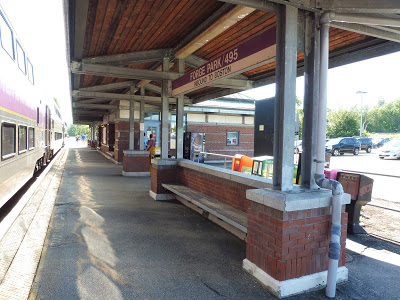 Shelter!
Shelter is also available under the awnings of the station building, with more benches that are admittedly even further from the mini-high. This part of the station also has some newspaper boxes and a vending machine. As for the shelter, it's a mix between metal, wood, and bricks – certainly not a true bland modern Commuter Rail shelter.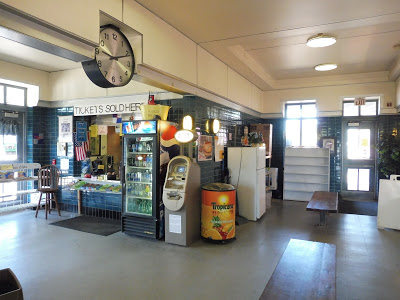 Oooh, fancy!
It was still considered the morning peak when we got to Forge Park, so the station building was still open! It had a lot of great amenities inside, most notably a small café where people can buy coffee for their commutes. The café is also where you buy tickets, so as not to incur a surcharge on the train – however, the person behind the counter didn't entirely know how things work. When I said I wanted a ticket to Norfolk and showed her my M7 pass, she said "I have no idea what that is." Oh well, I still got the half-fare in the end.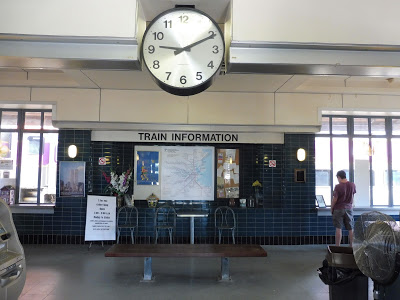 Look how crooked this is! What idiot took this photo?
The building features seating inside, and is probably the most comfortable place to wait for the train (a fan was keeping things cool inside). There is also some very outdated train information in here – train schedules from 2003, anyone? Keep in mind, however, that the building closes once the 9:22 AM train leaves Forge Park, and all day on weekends.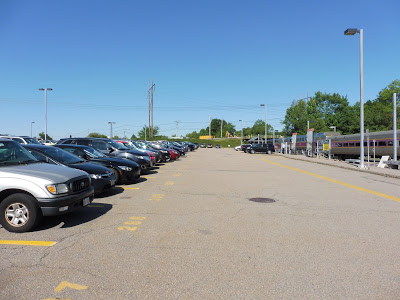 Parking!
Oh, yes, parking – Forge Park has quite a lot of that. Since the station is practically in the middle of nowhere (aside from a bunch of highway development and a tiny residential neighborhood), driving is essentially the only way of getting here. The station's 716 spaces cover its needs quite nicely, and it even has an additional 14 bike spaces (which were empty when I was here).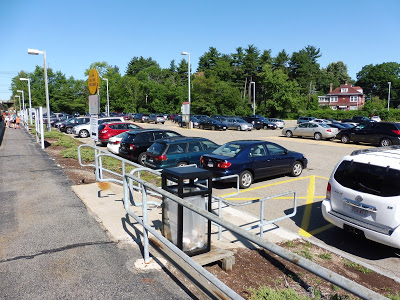 More parking!
What, you thought it was over? Nope! The station has two lots and two platforms! There isn't much on the other side, admittedly, with another basic lot and a platform simply meant for quick boarding. It doesn't even have benches. There are a few track crossings to get to the platform with more amenities, but the train in the station was blocking them, so it had doors open on both sides. That works, I guess.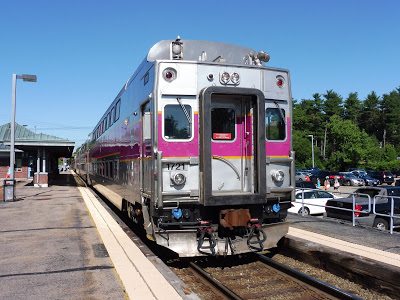 The train ready to go back to Boston.
Station: Forge Park/Route 495
Ridership: The Franklin Line is a busy one, so despite Forge Park's ridership being about average for the line, it's still pretty high. The station gets 747 riders per weekday, and I'm sure almost all of them are commuters driving in from further away. There could even be a few reverse commuters heading to office parks around the area, but that's less likely.
Pros: This is a great park-and-ride station, with lots o' parking and a bunch of amenities in the building for morning commuters. It's also accessible, unlike the other station in Franklin (just called Franklin). Finally, GATRA runs a few shuttles from here for commuters, which is useful for people who don't want to drive.
Cons: There really isn't much, but I do wish the mini-high had a bench on it – at least one. It can be annoying to walk over there to board.
Nearby and Noteworthy: Umm…there's a BJ's nearby. Who doesn't love big box stores?
Final Verdict: 8/10
Forge Park is a great park-and-ride station. The building makes it a heck of a lot more hospitable for morning commuters, and generally gives the station a bit of character. Sure, the mini-high could use a bench, but that's an easy fix. A FIX THAT SHOULD BE FIXED IMMEDIATELY. Sorry…
Latest MBTA News: Service Updates