This is by far the Green Line street stop I use the most, and it's one of the nicest! Whenever my family goes to the Museum of Fine Arts, we put all our faith into the E (for better or for worse) and head out to the station of the same name. Let's see what makes this place so great.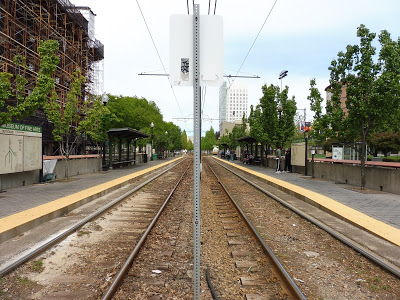 Looking down the platform.
I will say that Museum of Fine Arts is very similar to Northeastern in a lot of ways. They both have wide platforms with two shelters on each side, and lots of wastebaskets as well. Although MFA lacks extra outdoor seating, it makes up for it with nicer shelters, lacking the peeling paint that Northeastern's had. Both stations even have broken CharlieCard validators!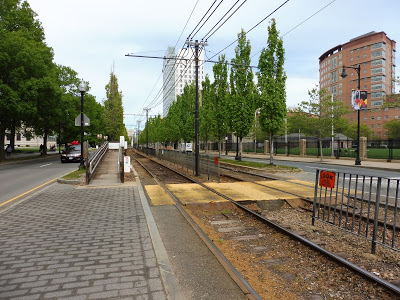 A crossing. And…what's that strange thing to the left?
There are great pedestrian facilities here, with crosswalks on either end of the station. But what's this on the outbound side, way at the end of the platform? A wheelchair ramp? What? Yes, Museum of Fine Arts features one of very few wheelchair ramps on the street-running sections of the Green Line. It's also completely useless, since there are these newfangled things called low-floor trains. Don't know if you've heard of them.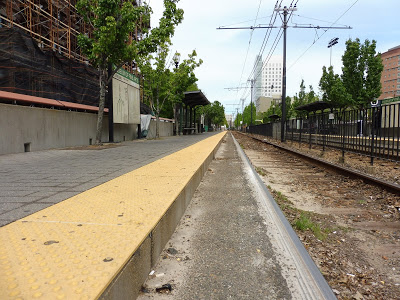 This is probably dangerous, but it's a cool photo…
All E Line stops connect with the 39, but MFA has a few more bus connections, as well; a plethora of bus routes run down Ruggles Street coming from the Longwood Medical Area or Ruggles Station (and points beyond). And although the routes (the 8, 19, 47, CT2, and CT3) only get a shelter, that's still better than nothing.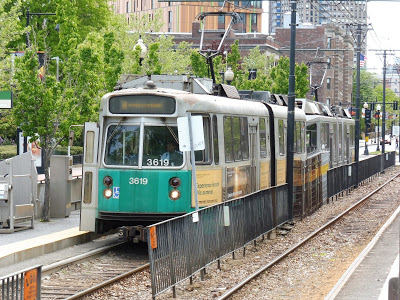 A train stopped at the station.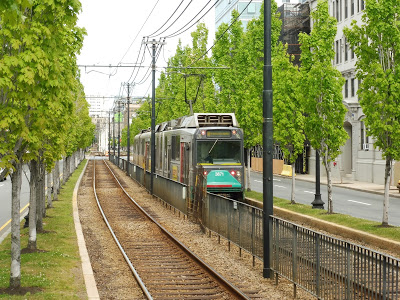 Argh, this right-of-way is so pretty!
Station: Museum of Fine Arts
Ridership: Surprisingly, this is the lowest-ridership station on the E's in-median street section. It's still pretty good for Green Line street stops, though, with 1,683 riders per weekday. Aside from museum-goers, there are also student riders, as we are still very much in college-land here.
Pros: I think this is the best station on the E. It has all the amenities you would want from a street stop, it's very clean, and the right-of-way looks great! The station even has that strange wheelchair lift.
Cons: Not much! I guess the broken ticket validator and lack of outdoor benches are problems, but these are more annoyances than true issues.
Nearby and Noteworthy: It's right in the name! The Isabella Stewart Gardner Museum, too.
Final Verdict: 8/10
Museum of Fine Arts is top-notch for a Green Line street stop. It has all the basic amenities you would expect from a street stop, plus the wheelchair lift! Yes, there could be a few more outdoor benches, but this is a great station overall.
Latest MBTA News: Service Updates