Well! This is most definitely the superior Concord station, especially compared to the other one. But seriously, West Concord is better than its companion in every way possible! I love this place so much…
There's a lot to talk about before we even get to the station!
Outside the station, there's this nice little plaza with so much stuff in it! I mean, you've got your classic benches, grass, and trees for starters, but how about the water fountain…that also has a specific place for filling up water bottles? There are also some plants with a unique drainage system for waste from a nearby parking lot! You've also got remnants of an old railroad junction, plus a solar garbage can! It's amazing!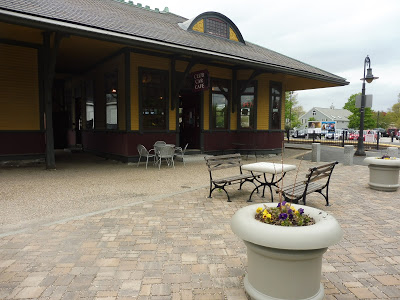 Another great station building!
Moving on, this is another station with a wonderful old station building. This one is put to great use, too, with an entire café inside! It also has a door that leads out to the platform (the inbound side!) in case you need to run and catch a train. The café even has some outdoor seating, including one with a checkerboard on it!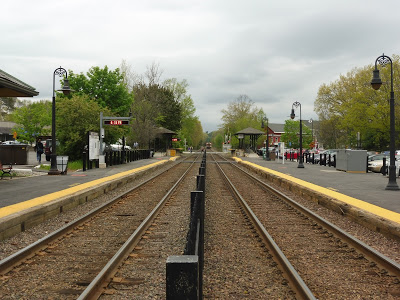 Looking straight down the platform. There's a train leaving in the distance.
This station is on a straightaway, and the platform feels long as a result. Not much is offered along the majority of it, especially on the outbound side – it's just a straight line with a few benches or wastebaskets here and there. As for the inbound side, it gets the building, so there's a bit more sheltered seating. A fence separates the two platforms, but there are a few level crossings used to cross over.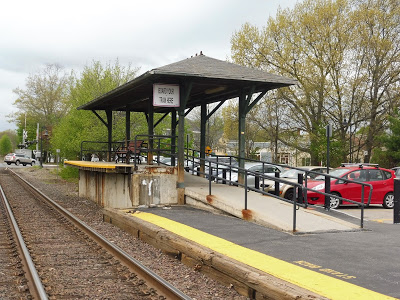 Hooray! It's accessible!
Yes, unlike its eastern cousin, West Concord actually has wheelchair accessibility in the form of some really charming mini-high platforms! Yes, they may be rusting a bit, but the wooden shelters are just lovely. Each side has only a single bench, but that's better than nothing, and the shelters can still fit a good amount of people underneath.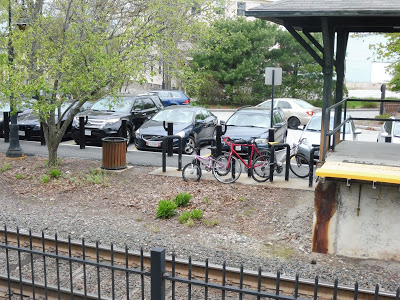 Bike parking! And regular parking!
Okay, there isn't that much bike parking – only 10 spaces. But still, that's something! And as for car parking, West Concord doesn't disappoint, with 146 spaces. I think it might still be municipal parking, but the MBTA website says it still has a 20% availability rate on weekdays, so that's fine! There is a fee, though, at $4.00 per day – although strangely, an old honor box says it's $5.00. I'm going to trust the website and say it's $4.00, but you never know.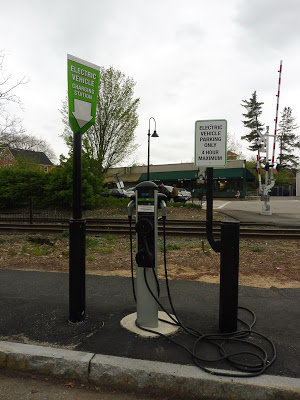 WOAH.
But despite having a fee, West Concord's parking completely makes up for it with an electric vehicle charging station. Yes, it may have a 4 hour maximum, so you can't charge your car all day while working in Boston, but it's just so cool! Does anyone even use this? Who cares? It's amazing!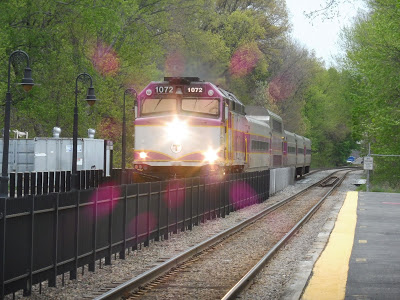 A train coming…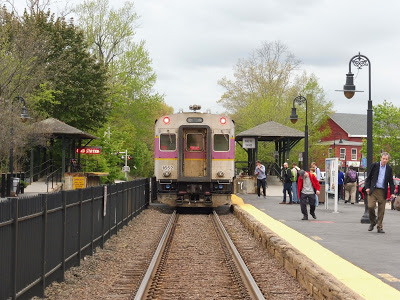 …and going.
Station: West Concord
Ridership: This station is just behind Concord in terms of ridership, making it the 4th-busiest station on the Fitchburg Line! So if West Concord gets 541 riders per weekday and Concord gets 592…gosh, Fitchburg only gets 518 riders! The town of Concord has over double the ridership, yet only half the population of Fitchburg! This is so strange!
Pros: There's just so much to love about this station! The plaza alone has so much fun, unique stuff, from the solar wastebasket to the old train junction to the plant drainage system. West Concord's building is beautiful, and put to very good use. Plus, it's actually on the inbound platform this time! This is the only accessible station in Concord, and…did I mention the electric car charging station? Gosh, I love that.
Cons: There is a level crossing here, but if a train driver stops well, it won't go down while the train is stopped (at least on the inbound side). Other than that, there really isn't much wrong here. The parking's expensive for the Fitchburg Line, but if you really want to drive in, just use nearby South Acton's cheaper parking (although there'd be a trade-off with fares). Plus, the electric charging station makes up for it!
Nearby and Noteworthy: There's a charming little "downtown" around the station with lots of small businesses. It's no Concord Center, but it's something!
Final Verdict: 10/10
You know what? I knew this station would get a 10 from the moment I stepped foot in that amazing plaza. And yes, I did have doubts when I found out about the parking cost (it's one of the most expensive stations on the Fitchburg Line), but come on! This place just does everything right! It checks all the boxes for a wonderful Commuter Rail station, including lots of character. West Concord manages to combine old elements like the station building and the former track junction with new ones, like the solar garbage can and the electric car charger! This station is as good as it gets.
Latest MBTA News: Service Updates