Yes! I've always thought that Waban has an absolutely hilarious name. I mean…Waban! Isn't that funny? Wow, I love stations with funny names. Okay, if you can't tell, I don't have anything else noteworthy to say about Waban.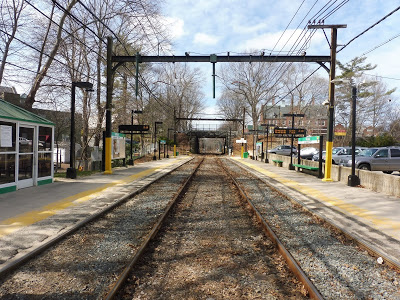 Oh man, these "middle of the tracks" shots are starting to blend together in my mind…
Surprisingly, Waban's outbound platform has three benches, which seems like a lot, considering it's the third-to-last station on the line. The inbound side, conversely, features only a heated shelter, with no other benches. That said, the heated shelter is basically all you need. Most of Waban's platform is bare asphalt, to be honest.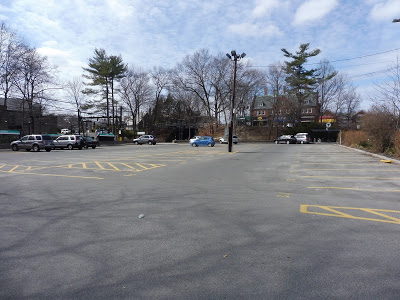 The biggish parking lot.
For the D Line, Waban's parking lot is pretty big, with 74 spaces. The station also features bike parking, with 12 sheltered spaces on the edge of the lot. Strangely, on the other side of the lot, there's an old "honor box", as well as two random newspaper boxes! I don't think any of those are gonna get any form of patronage…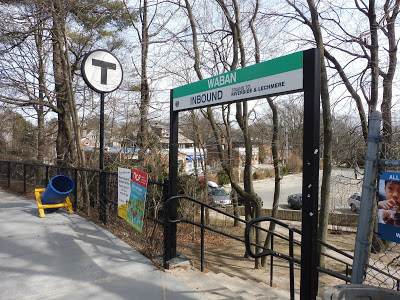 One of the station's entrances.
The only exit from the platforms is a pedestrian path from the outbound side. It runs up along the parking lot, with one way leading out toward Wyman Street and the other being a staircase up to Beacon Street. The latter could effectively be considered the "main entrance", as it features a station sign and a T symbol. It also takes you to a really nice little business block – the square after which the station is named.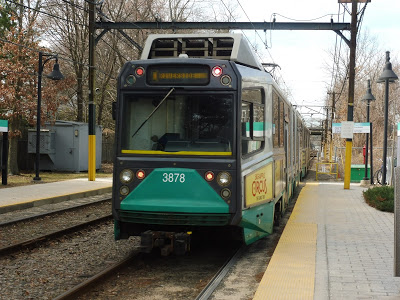 A train leaving the station.
Station: Waban
Ridership: Waban has the lowest ridership on the D Line, and by a pretty high degree. With 545 riders per weekday, it's almost 300 passengers less than the second-lowest station, Eliot. I'm not entirely sure why Waban gets such low ridership, but the surrounding areas are generally less dense than other stations along the line.
Pros: Wanna know what Waban is? Why, it's tranquil! Yes, this is a lovely quiet station, and despite not having much in the shelter department, it still manages to have that D Line charm. Plus, with such low ridership, the heated shelter is basically all you need. Waban also offers lots of parking considering its ridership.
Cons: My main issue here is with the entrances, or lack thereof. The problem is that the only way of getting in is from the north, forcing people coming from the south to double back. Still, we're talking about three minutes extra of walking, if that, so this is quite a nitpick.
Nearby and Noteworthy: Although it doesn't offer too much in quantity, Waban's "downtown" has to be the cutest business block I've ever seen. Really great old architecture, too.
Final Verdict: 8/10
Oooooh, I really wanted to go for the 9. I just reaaaaaaaally wish the station had a wooden shelter to truly make it a quintessential D Line station…and then some! Seriously, Waban has so much going for it. The only functional problem with it is the whole entrance thing, but it would never get fixed, and it really doesn't need to be. A three minute walk is nothing. Argh, I just wish it had a wooden shelter, dang it! Yes, I'm overly picky with my D Line stations. So what? Waban is still great! Oh wait…it's not accessible? Okay, that's an actual issue. 8/10 it is!
Latest MBTA News: Service Updates