Last year I wrote an MBTA rap for a school project. It was…interesting. And I don't really mean good-interesting. One of the lines in the rap went "Eliot Station is right by Route 9/The middle of nowhere, on the D Line". However, I had never actually visited the station when I wrote that. Well, when I finally went there, I had the startling realization that…well, I wasn't too far off the mark, as it turns out.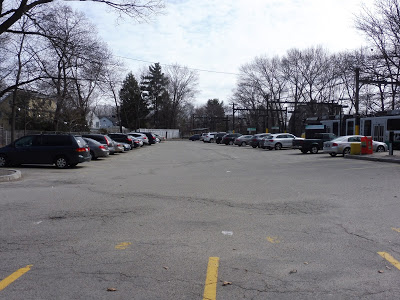 The station's parking lot.
I came to this station on Lincoln Street, which has a nice T symbol at the end of it to let everyone know that's where Eliot is. The street ends with an entrance into the station's parking lot – it's official MBTA parking this time, with a whole 55 spaces! Okay, so that's not nearly enough. At least the station also has 16 bike spaces next to the parking lot, and 22 sheltered ones on the inbound platform. Another pedestrian entrance leads from Meredith Ave, on the other side of Eliot.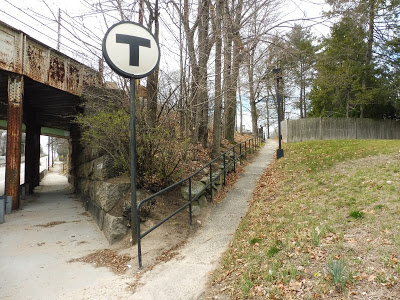 Um…I'm not sure if this complies with ADA standards…
The station is, as I said, "right by Route 9", and it has a few entrances from it. The first one leads to the inbound platform, and it's a very narrow path that goes right up a hill. Sure, it has a railing to help people get down, but I can't imagine someone like a senior using this entrance.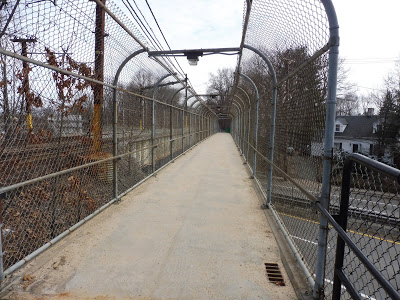 The footbridge over Route 9.
The outbound side has a staircase entrance down to the highway, but also, Eliot has a footbridge that actually goes over it. Paralleling the train tracks, the footbridge allows pedestrians to get over the massive road that would be impossible to cross otherwise. On the other side, people can descend a ramp to get to Route 9.
Looking down the platform.
Considering that the outbound platform is just a few benches, there's not much point in talking about it. The inbound side, on the other hand, has the classic D Line heated shelter, as well as…a glass shelter? Wait, no wooden one? But this glass one is so ugly! It's all scuffed up and has an awful metal bench inside! Well…that's a disappointment.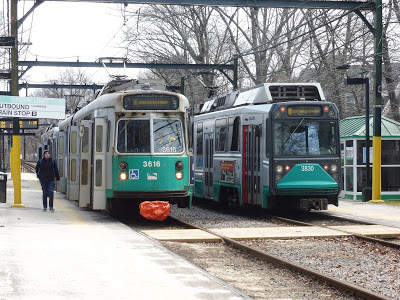 Woah! A double!
Station: Eliot
Ridership: It's certainly on the low end of the D Line's ridership spectrum, coming in at second-worst. Eliot's 814 riders per weekday almost certainly all go inbound, and fan in from the surrounding residential areas. And…I guess 55 of those people drive to the station, too.
Pros: Like many other D Line stations, Eliot has lots of entrances going everywhere, with the footbridge over Route 9 being especially useful. In terms of tranquility, Eliot gets a "somewhat" – although the platform is quite leafy, the highway nearby makes some unwelcome noise. Finally, the heated shelter on the inbound side is great, as always.
Cons: But the metal one is awful. For one thing, it's ugly, and for another, the bench must be so cold in the winter! (I wish I had sat on it to find out…) In addition, though not much can be done about this, the station doesn't seem to have enough parking. Perhaps more bike spaces could be added to encourage cycle commuters?
Nearby and Noteworthy: No, nothing much. The best thing you'll get is the nearby Sudbury Aqueduct, which people can walk along.
Final Verdict: 6/10
Noooooo! I thought all of the further-out D Line stations would have character, but this one has none! It's hardly even tranquil! Sure, it performs its duty as a station well, and I like the bridge over Route 9 a lot, but Eliot needs to step it up in the aesthetics department. Come on, Eliot, this is the D Line we're talking about!
Latest MBTA News: Service Updates