I love how quickly the neighborhoods of Brookline can change. Beaconsfield is in a very quiet, leafy residential area, yet it's only a block away from busy, urban Beacon Street. We will be covering the latter once we review Reservoir, but for now, let's take a look at Beaconsfield.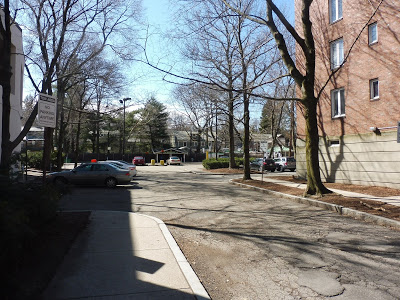 One of the station entrances.
The more obvious entrance to the station is from Beaconsfield Road, which is lined with apartments. A T symbol marks where the station is, and from there, a quiet side street leads into it. It also goes to the station's parking lot, which is once again not official MBTA parking. They just have an electronic meter where people pay.
Well, this is…unassuming.
The other entrance is on Clark Road, which consists of houses rather than apartments. Honestly, if I had been walking down this street, I would've never noticed the small path that leads to the station! The only indication that it even leads anywhere is a little sign that says "Beaconsfield Path". Perhaps a T symbol would be helpful?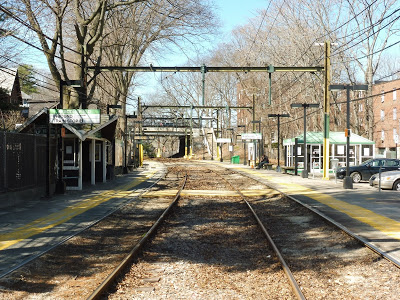 The two platforms.
Unlike Brookline Hills, Beaconsfield actually has a wooden shelter! Woooooo! This is the primary place to wait on the inbound platform, though it also has an outdoor bench. The wooden shelter even has a couple of cat silhouettes painted on it, which is a really nice (if slightly random) touch.
The station…viewed from above.
Meanwhile, the outbound side features a heated shelter, of course, with fare machines and benches inside. It also has a lone outdoor bench, but come on – just use the shelter. It's heated, for heaven's sake! The station's third and final entrance leads to the outbound platform, as well. It's a staircase that comes from Dean Road with some actual signage telling pedestrians it's a train station.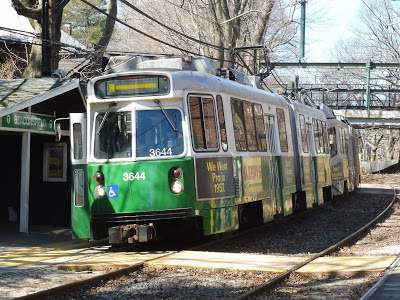 A train on the station's curve.
Station: Beaconsfield
Ridership: Since I called Brookline Hills "average" for the D, Beaconsfield is probably "below average". It gets 1,075 riders per weekday, and I think the lower number can be attributed to the C being nearby – although its closest station, Dean Road, only has around 400 riders per weekday, to be fair.
Pros: It's tranquil! Yes, the wooden shelter combined with the quiet neighborhood definitely gives Beaconsfield some good ol' D Line peacefulness. Aside from that, the heated shelter is always a plus, and the station features bike spaces and parking (albeit not official parking). Finally, the fact that the station has three entrances is great, making it easier for people in the surrounding areas to get there.
Cons: Well, firstly, there's the lack of official parking – paying by meter is certainly not optimal when commuting to Boston for the day. Also, the absence of signage on the Beaconsfield Path along Clark Road is annoying. Admittedly, the neighborhood is so local that residents probably just know where it goes, but a small T symbol would still be nice.
Nearby and Noteworthy: The surrounding areas are mostly residential, so I doubt you'll find anything interesting around here. Even nearby Beacon Street is just lined with apartments rather than any retail.
Final Verdict: 7/10
Okay, Beaconsfield is your true quintessential D Line station. From the wooden shelter to the heated one to the quiet platform to even the lack of signage…yeah, it's all there. Of course, the quintessential D Line station always earns a 7, so…there you go!
Latest MBTA News: Service Updates