In terms of rapid transit stations away from Boston, the D was basically my final frontier. Well, no more! I went and visited every station I hadn't reviewed yet along that line, and now it's time to write about them all! Let's do this.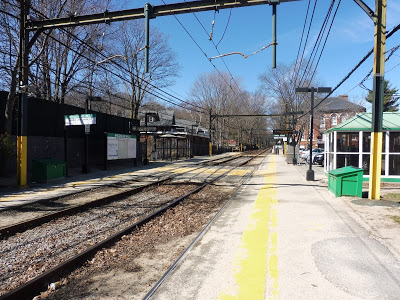 Oh yeah…there's also gonna be a lot of this kind of platform.
Brookline Hills is your quintessential D Line station…almost. The only thing it's missing is a wooden shelter on the inbound side. Instead, we get a boring glass shelter in which to wait. Other than that, the inbound side doesn't have much other than a few signs and maps.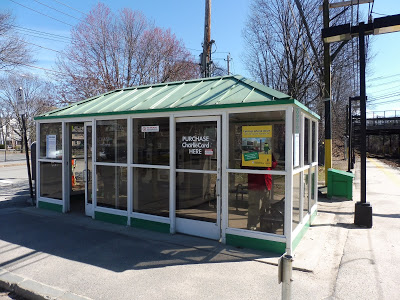 Ooooh, someone left the door open…
The outbound side, like every D Line stop, has a heated shelter! Inside, you can find benches as well as CharlieCard machines. This platform also has a bench out in the open to wait at if…actually, I don't know why anyone would wait there when there's a heated shelter. Anyway, there are also wheelchair ramps on both platforms, making the station accessible.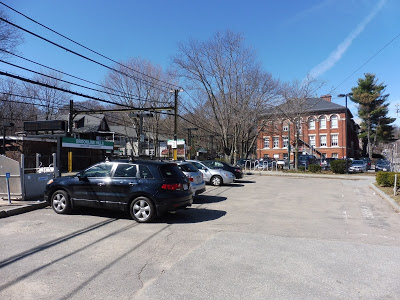 The small parking lot.
Brookline Hills doesn't have any official parking, but there is a small lot right next to the station. I'm not sure if it's affiliated with the station or not, but payment is done via an electronic meter. In addition, there are a few bike spaces next to the lot.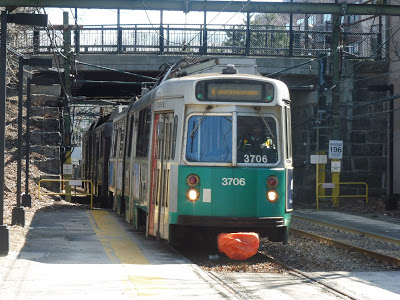 A Riverside-bound train entering the station.
Station: Brookline Hills
Ridership: I would say ridership here is about average for the D – 1,225 riders per weekday. It was quiet on the Sunday I was here, but that's to be expected for the D on Sundays. Brookline Hills is clearly a local station, based on its residential surroundings, and it seems like most people walk here since the parking lot is so small. Another major ridership draw is probably students, since the station is right next to the Brookline High School.
Pros: You're gonna be hearing this a lot in the coming posts, but hey – Brookline Hills is quite tranquil! The area around it is very quiet for the most part (until you walk to Route 9, but we won't mention that). Also, the station is accessible, has a heated shelter, and features bike spaces and at least some form of parking.
Cons: Speaking of the parking, I do wish it was official MBTA parking. I don't really know what kind of parking it currently is, but paying by meter doesn't exactly encourage driving in for the day. Also, and this is more of a personal problem, it would be great if the station had a wooden shelter instead of the glass one. They just have so much more character.
Nearby and Noteworthy: A swimming pool is right near the station! Come on, that's pretty awesome.
Final Verdict: 7/10
Yep. This is the classic D Line station. Well, minus official parking. And a wooden shelter. But other than that, Brookline Hills is great! Gosh, I'm gonna be struggling to fill this space up by the time I get further down the line…
Latest MBTA News: Service Updates