The 8 serves both one of the densest and one of the most suburban sections of Brockton. The former is a straight shot, while the latter is a loop at the end of the route. Since Campello (where I was) is the halfway point between these two, I wanted to take it around the loop and then head back up to Brockton. And this time I didn't have to pay twice!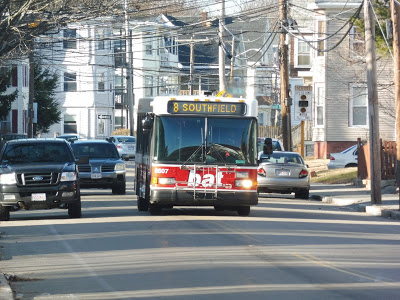 The bus in a residential neighborhood.
I got on the bus just outside of a school, on Warren Ave. We instantly turned onto Clifton Ave, which was lined with dense houses, then we made another turn onto Main Street. After a quick connection with the 2, we merged around onto Plain Street. This road was industrial as it crossed over the Commuter Rail tracks near Campello Station, but it was all houses on the other side.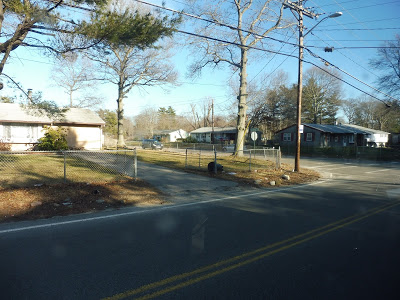 A perfect example of the suburban neighborhood.
We turned onto Otto Street, then Summer Street, with houses on one side and woods on the other. We then turned onto the suburban-feeling Carl Street, with no sidewalks and large front yards. Soon, we reached Plain Street, which passed a church and went under some huge pylons before becoming lined with houses once more.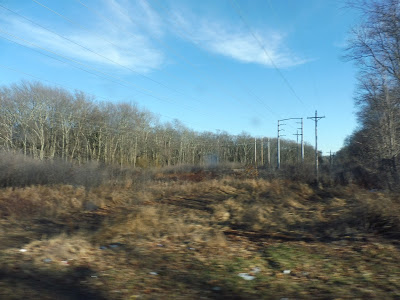 The pylons.
Next, we turned onto East Street, which was – You guessed it! – suburban and residential. This took us up to Edson Street, which went under the pylons again and became Summer Street. We made our way back to Plain Street now heading toward the BAT Center.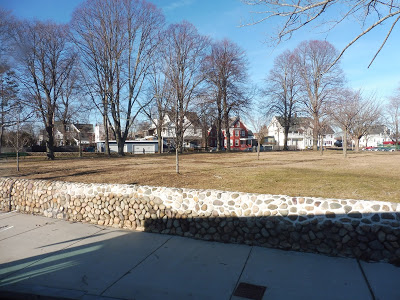 Some denser houses.
After crossing Main Street again, we took a slightly different route than the outbound one – a block away on the one-way Keith Ave, lined with dense houses. We then rejoined the outbound side and turned onto Warren Ave, the main portion of the route. We passed a school, then the street was lined with dense houses and apartments – a big departure from the suburban neighborhood we had just left. Compared to the commercial/industrial Main Street a few blocks away, Warren Ave had few businesses except for some small corner stores. We did pass an industrial lot at one point, though.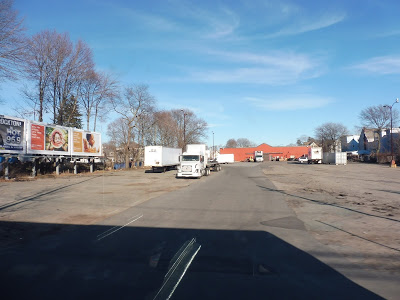 The lot.
Still, it remained mostly residential all the way until downtown Brockton. Once we got there, Warren Ave had a lot of…vacant buildings. We ducked around through downtown on Belmont Street, then Main Street, and finally, Crescent Street, which went under the Commuter Rail. We turned north onto Commercial Street, and after some more seemingly vacant buildings, we arrived at the BAT Center.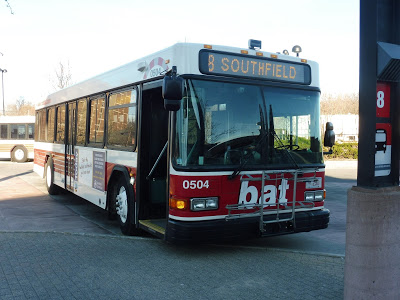 A different bus getting ready to set out on the 8 from the BAT Center.
BAT Route:
Brockton Route 8 (Southfield via Warren and Plain Street)
Ridership: This route seems to get average ridership for the BAT, with 668 riders per weekday, 349 per Saturday, and 117 per Sunday. My Saturday ride pretty much typified this, with about 20 passengers in total. Most of them got on along the dense section rather than the suburban loop, which is to be expected, and everyone got off at the BAT Center, of course.
Pros: I like the way this route serves two different "worlds" of Brockton: the dense houses further north, and the suburban residences around the loop. Of course, the former gives the route more ridership, though people still got on in the suburban section, too. In addition, the schedule is the classic BAT schedule that most of the routes have, with every 20-25 minute service rush hours, every 50 minutes during the day, every 45 minutes at night and on Saturdays, and every 40 minutes on Sundays.
Cons: Again, the default BAT schedule can be infrequent, but since that applies to most of its routes, it's not a specific con. It could be a potential problem that this route spends a lot of its time within three blocks of the 2, but both routes get decent ridership, so I guess it's fine (the 2 gets more, though).
Nearby and Noteworthy: As with presumably most Brockton routes, this section is basically a "no way."
Final Verdict: 8/10
This is another solid BAT route. Considering that most of them have the same schedule, I'll probably be saying that a lot of the BAT is "solid". Still, the 8 serves some dense neighborhoods and some not-so-dense neighborhoods, and that seems to give it fine ridership, so it gets a fine score from me.
Latest MBTA News: Service Updates