Wouldn't it be nice if every transit authority had a photo policy like the MBTA's? Or even better, if there was a single policy that applied to all authorities? It would certainly prevent annoying instances like what happened to me on the 2 from occurring. This time, the driver's argument was that I could get arrested for taking a picture of a bus driver. I'm not sure if that's true (leave a comment if you know), but I was taking a picture of the bus, not the driver! Sigh…whatever.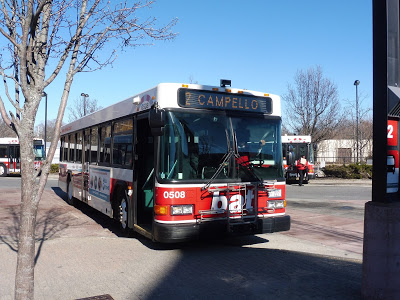 The bus at the BAT Center.
Pulling out of the BAT Center, we made our way to Centre Street, which went under the Commuter Rail tracks. Once on the other side, we turned onto Montello Street, passing parking lots and vacant brick buildings. Soon after, we headed left onto Crescent Street, then Maple Ave, going through a backlot.
By the time we made it onto Main Street, we had bypassed downtown Brockton – the inbound route takes care of that section of town. However, the inbound and outbound routes were together now as Main Street became more industrial. Side streets were lined with houses, but we were mostly going by either auto shops or small businesses.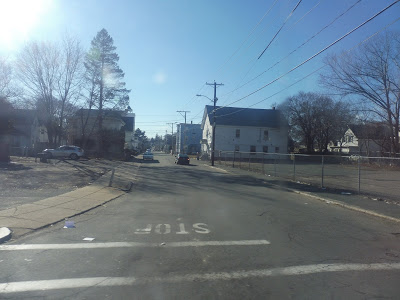 One of those residential side streets.
The industrial-ness was broken at one point, with an intersection at South Street. Here, there were a few business blocks and even a post office. We passed a park after that, with a connection to the 8 and Campello Station. However, once past there, the auto shops came back and it felt gritty again. Eventually, we turned off the road to directly serve an apartment building, then returned to Main Street, passing the BAT's main yard.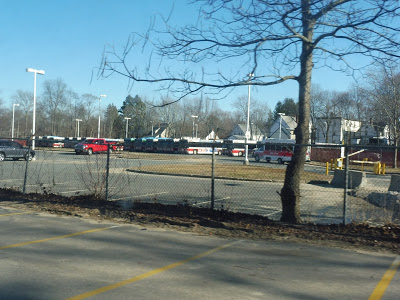 The yard!
The auto shops multiplied exponentially after that, and it seemed like at least 60% of the businesses were car-related. In addition, the parking lots increased in size as we continued south, culminating with an almost empty mall – Kmart Plaza. As the bus layed over in the parking lot, I asked the driver if I could take it back up to Campello Station. "You have to pay again to do that," she said. I wasn't in the mood to argue, so I tapped my card again, even though it did seem a little unfair…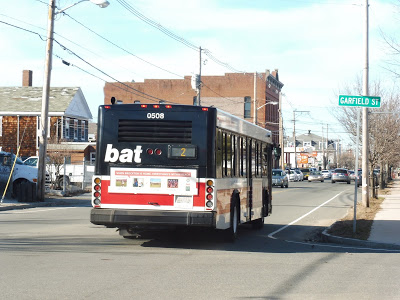 The bus after I got off near Campello.
BAT Route: Brockton Route 2 (South Plaza/Campello via Main Street)
Ridership: My Saturday ride had about 25 passengers, all of whom got on at the BAT Center. As expected, they slowly trickled off as we headed further away from downtown. The 2's ridership is about average for the BAT, with 954 riders per weekday, 590 per Saturday, and 199 per Sunday.
Pros: Aside from the meandering in downtown Brockton, the 2 is a straight shot right down Main Street. It goes through a lot of dense neighborhoods, which gives it decent ridership. In addition, the route's terminus at Kmart Plaza offers a connection to BAT's thrice-daily route to Bridgewater State University. The 2 gets the schedule that most BAT routes have, running every 20-25 minutes rush hour, every 50 minutes during the day, every 45 minutes at night and on Saturdays, and every 40 minutes on Sundays.
Cons: Even though the schedule can be infrequent, it's one bus shuttling back and forth outside of rush hour, which seems most economical. Also, the deviation to serve the apartment building seems a bit unnecessary – it's quite a short walk to the street. Nonetheless, the detour doesn't add much time to the route, and it seems like people use it, so it's not that bad.
Nearby and Noteworthy: There might be some gems amidst the constant auto shops, but a lot of this route feels industrial. Um…there's a Kmart at the end?
Final Verdict: 8/10
Since the BAT has such uniform schedules, I wonder if most of its routes will get similar ratings from me. I can say that as a route, the 2 is straightforward and serves a lot, which makes it a good one in my book. Considering that the apartment deviation is both short and well-used, the subtracted two points are mainly just for the general infrequency of the BAT's schedule, which can't be helped.
Latest MBTA News: Service Updates