I don't really have much to say about the 45. I mean, it's pretty short, exists mainly to serve one corridor, and…I can't even think of a third thing to properly complete the sentence. Umm…yeah, let's just get into this.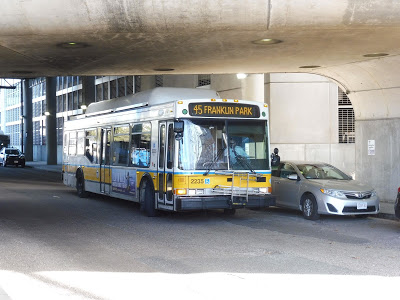 The bus at Ruggles.
The 45 is one of the many routes from Ruggles that goes down Tremont Street from the station. After traversing that wide avenue for a bit, we turned onto Malcolm X Boulevard (like most of the other routes we were running with), but then made a strange deviation. Although the schedule says that no Saturday trips are supposed to do this, we swerved onto Roxbury Street and headed up a hill.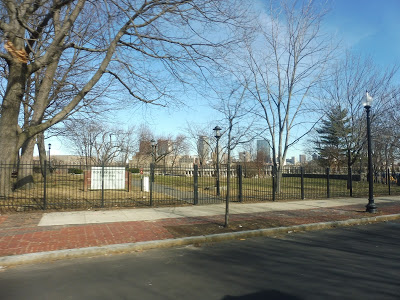 Hey, look! A sort-of view!
At John Eliot Square, where there were a few businesses, we swung around onto Dudley Street, heading back down the hill past houses and apartments. The street ended at a small park, where we turned onto Shawmut Ave, and then, um, Dudley Street again. We picked up some more passengers at Dudley Square and looped around the complex in order to return to Dudley Street.
We left the retail of Dudley Square behind, going by houses, apartments, and yes, the occasional business. After passing a little common, we merged onto Blue Hill Ave, where the 45's independent section started. The street was mostly residential, but there was a bit of retail in the mix, too.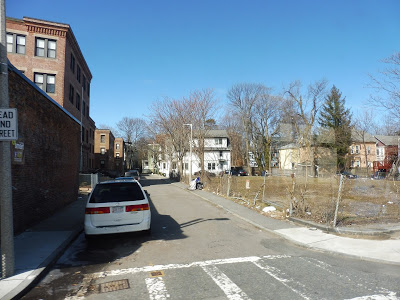 It wasn't the nicest of neighborhoods.
To be honest, there wasn't much else to talk about along this section. It was pretty much all houses, businesses, and empty plots of land. Eventually, though, after passing a school, the street became almost entirely lined with retail with apartments on top. From there, we merged with Warren Street (and the four buses that run that way), and now Blue Hill Ave had a huge median in the middle.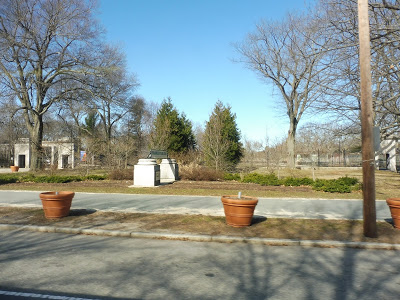 Franklin Park!
It felt a lot more built-up now, with multi-story apartment buildings on both sides of the road. However, eventually one of those sides was replaced by…Franklin Park! Thus, we soon turned onto Franklin Park Road, and after making a small loop within the park, I got off at the last stop and headed back to Blue Hill Ave.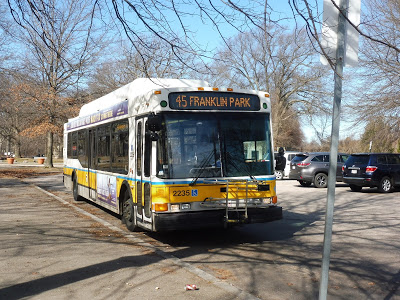 The bus at Franklin Park.
Route: 45 (Franklin Park Zoo – Ruggles Station via Blue Hill Ave)
Ridership: Ridership for this route is pretty good overall, remaining in the top 40 for MBTA buses both weekdays and weekends. More specifically, it gets 3,453 riders per weekday, 2,095 per Saturday, and 980 per Sunday. My particular Saturday ride had about 15 people in total, and they all got off along the independent Blue Hill Ave section, as expected. No one went all the way to Franklin Park, which I think simply acts as a place for the bus to turn around.
Pros: This is one of those nice, simple routes meant to serve a single corridor (Blue Hill Ave). Probably due to its short length, it also has a mostly great schedule. The 45 runs every 10 minutes during rush hour, (woo!) every 25 minutes during the day, every 20 minutes on Saturdays, and every half hour at night. Wait…I have the strangest feeling I'm forgetting something…
Cons: Oh yeah, it's every hour on Sundays. WHYYYYYYY? It's just a single bus running back and forth that spends 4 minutes laying over at Franklin Park and 12 minutes at Ruggles! It could easily be shortened to every 45 minutes, like what is done Sunday mornings and nights, but for some reason the day isn't good enough for that luxury.
Nearby and Noteworthy: To be honest, this route really doesn't serve much of interest. At best, the 45 could be used as a quieter alternative to the 28 for getting to Franklin Park, but the latter is slightly more frequent.
Final Verdict: 6/10
Overall, this route serves a good amount and generally runs often, except for the whole Sunday thing. Its schedule is comparable to the 44's, and since I gave that route a 6 solely based on its frequencies, I'm doing the same here. Plus, this route gets more ridership than the 44 on weekends, so there! Make the 45 run more often!
Latest MBTA News: Service Updates