Okay, important note: don't take this route from beginning to end. It is incredibly circuitous, taking 20 minutes to get two stops down the Orange Line. Of course, the route is meant to serve the portions in between, particularly Humboldt Ave, its unique section. So let's take a closer look at the 44.
This isn't the bus I took, but it's the 44 and it's at Jackson Square, so that's good enough for me.
Leaving Jackson Square, we headed down Columbus Ave, going by mostly apartments. There were businesses and a big apartment tower at Egleston Square, where the street became Seaver Street. After passing more apartments from there, we turned onto Humboldt Ave, starting the 44's unique portion.
The surroundings were mostly dense houses, with a few local businesses along the way. We then passed a school, which looked pretty boring from the bus, but really cool from above. Seriously, take a look at this. Anyway, from there, we went by more dense houses and another school.
Seaver Street became Walnut Street, and soon after we turned onto Warren Street. After a short time, we reached Dudley Square, navigating through the busway. We then joined the cavalcade of other bus routes that go down Malcolm X Boulevard. Going by a few schools, we turned onto Tremont Street at Roxbury Crossing, reaching Ruggles soon after.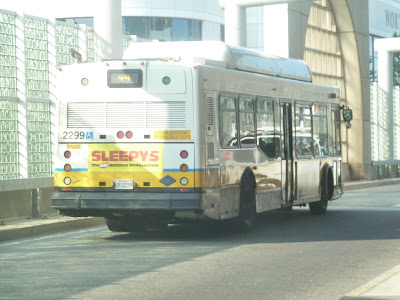 This is the bus I took, but it's a pretty bad picture.
Route: 44 (Jackson Square Station – Ruggles Station via Seaver Street and Humboldt Ave)
Ridership: There were about 30 people on my ride in total. I didn't keep tabs on the other passengers, but I can assure you that no one rode from beginning to end. The route gets good ridership overall: an average of 3,515 riders per weekday, 1,866 per Saturday, and 775 per Sunday.
Pros: The route serves Humboldt Ave, and despite the fact that it's pretty close to other routes, people still use the 44. It's convenient, I guess. It also runs quite often for the most part – every 12 minutes rush hour, every 25 minutes during the day, every 30 minutes at night, and every 20 minutes on Saturdays.
Cons: Why is it that so many MBTA buses have disproportionately bad Sunday schedules? The 44 runs every hour on Sunday, when it seems like it ought to run much more often. Seriously, it's not a long route. I don't think a second bus would hurt.
Nearby and Noteworthy: Along Humboldt Ave? No, there didn't seem to be anything noteworthy. There was Egleston and Dudley Squares, though.
Final Verdict: 6/10
Sigh. The 44's route is pretty good, as is its schedule…for the most part. But come on, every hour on Sundays? That's so awful compared to the rest of the week! Man, this is the problem with so many buses. Oh, well…
Latest MBTA News: Service Updates