You know, I was gonna do a review of a GATRA route. But then I realized this was my 500th post, and I can't go talkin' about regional transportation systems for such an occasion! Thus, here's a review of the 16. It's been over a month since I rode it, but I never got around to posting about it, so here we go.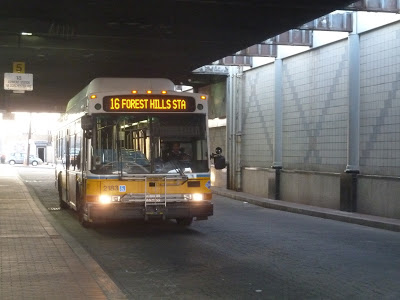 The bus in the dark Andrew busway.
Although the 16 is extended to UMASS during rush hour, I was riding it on a Saturday, so it was starting from Andrew Station. Leaving the dingy busway, we headed down Southhampton Street, and after a bit of industry, we went onto a bridge over the Commuter Rail tracks. There was a view of the Commuter Rail/Amtrak yard, and then we went over I-93.
From there, we entered the South Bay Center mall, running along a huge parking lot on one side and stores on the other. When we left the mall, we came pretty close to Newmarket Station, but turned the opposite direction on Mass Ave. After some heavy industry, we turned onto the wide Columbia Road, which was lined with apartments.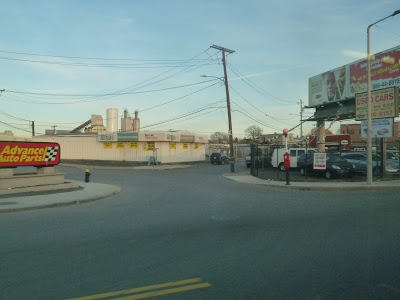 Some industry on Mass Ave.
However, we reached Uphams Corner shortly, and there there was a lot of retail, including an old theater! From there, it was residential once more, with apartments on both sides of the street. We went under the Fairmount Line tracks, then a middle school and the occasional businesses broke up the apartments.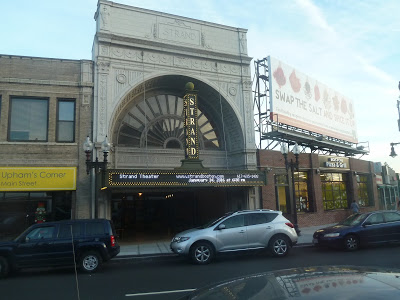 The Strand Theater! Fancy.
Those apartments became houses eventually, and Columbia Road started to curve westward. And after crossing Blue Hill Ave, we reached the most interesting part of the route. For it was here that we entered Franklin Park. After passing the Zoo on Franklin Park Road, the street became Circuit Drive and curved alongside a golf course.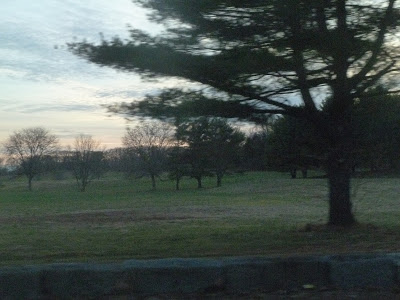 SO many opportunities to get a picture of the sunset and this was the best I could do! Disgraceful!
After a little while of speeding through the woods and past the golf course, we zipped by the Shattuck Hospital. Here, the street became Forest Hills Drive, and we soon reached a rotary, marking the end of the Franklin Park segment. There was a section along the Arborway, right alongside the old Forest Hills overpass, and soon we reached Forest Hills station, ending the trip.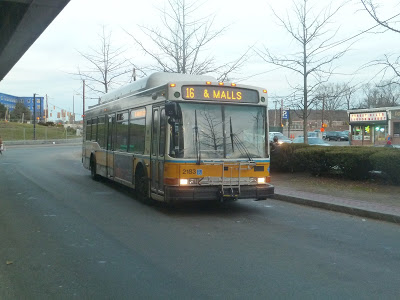 The bus in the Forest Hills busway.
Route: 16 (Forest Hills Station – Andrew Station or UMASS via Columbia Road)
Ridership: Oh gosh, my ride was so long ago, I don't remember how many people rode…I want to say about 30, but don't quote me on that. Luckily, the MBTA Blue Book is there to give the actual numbers! This actually is one of the busiest non-Key Bus Routes on the MBTA, with 5,330 riders per weekday, 2,776 per Saturday, and 1,764 per Sunday. It's so busy, in fact, that it uses articulated buses during rush hour!
Pros: This is a direct crosstown route right through Dorchester, and a really fast link from the edge of Franklin Park down to Forest Hills. Also, the 16 runs frequently for a non-Key route: every 17-20 minutes during rush hour, every half hour during the day and on Saturdays, and every 35 minutes on Sundays.
Cons: The only weak spot in the schedule is at night, where the route only runs every 50 minutes. In addition, by not having South Bay Center service until 9:30 on weekdays, mall workers are cut off and have to find a different way of getting to work.
Nearby and Noteworthy: The Franklin Park Zoo is the closest zoo to Boston, and though the 16 might not be the most frequent way of getting there, it can be the most direct depending on where you're coming from.
Final Verdict: 8/10
This is a solid direct link right through Dorchester, and even further down to Forest Hills, plus it serves UMASS during rush hour. It runs pretty frequently, even on Sundays (more or less), and really my only complaints involve the night schedule and not having at least one rush hour trip to serve mall workers. Besides, this route uses articulated buses at rush hour! Can't beat that!
Latest MBTA News: Service Updates
500 posts! Wow! I mean…wow! I know I celebrated my 3rd anniversary a few weeks ago, but…500 posts..wow. Thank you all for sticking with me for this long, and here's to 500 more posts!