The Washington Street corridor east of Quincy is quite a busy one. I've already covered one of its well-used routes, the 220, which goes out to Hingham. Now we'll be taking a look at the other main one on this corridor, the 222. This bus stays in Weymouth for the most part, but it's almost just as busy as the 220.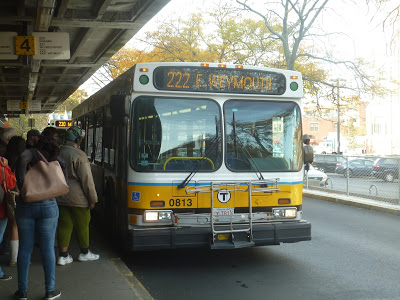 The bus at Quincy Center.
After picking up a good amount of riders at Quincy Center Station, we headed down Hancock Street. Since it heads east, the 222 bypasses the main drag of Quincy Center, so we managed to avoid some traffic by turning onto Washington Street. There were still businesses along here, but they certainly weren't as interesting as the ones along Hancock Street.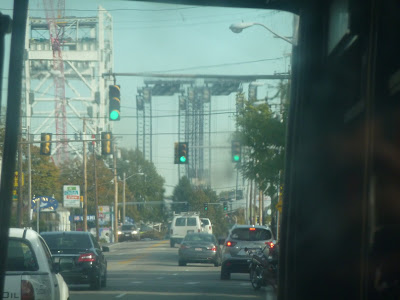 My, that bridge sure looms, doesn't it? And the new one they're building next to it is even bigger!
It became a mix of houses and businesses, starting out half and half, but leaning toward the former as we continued on. However, after we passed an apartment building, the retail came back and continued all the way to a big rotary, Here we went around, then went up onto the impressive Fore River Bridge, entering Weymouth on the other side.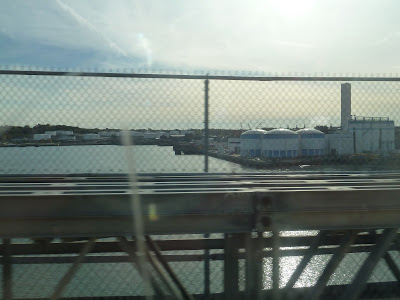 Mmm…industrial.
We were travelling down Bridge Street now, which was lined with some pretty industrial-looking businesses. At Bicknell Square (which doesn't look any different from the rest of Bridge Street and isn't even a "square"), we merged onto Sea Street, starting the independent portion of the 222. We then turned onto North Street, which was residential.
We were going by quite a few houses that were spread out enough to have decently sized yards. Going under the Commuter Rail tracks (or track, really), most trips would continue down North Street, passing the Weymouth Town Hall and a school. However, my trip was one of the few weekdays-only midday trips that takes a bit of a deviation.
Thus, we turned onto Church Street, then Commercial Street, then Essex Street. The surroundings really weren't much different from what they were before (though the street didn't have a sidewalk), until we reached the reason buses make this detour in the first place: a housing development. We didn't actually go in, but a few people got off outside it, which shows that this deviation is worth it in terms of ridership.
Right after the stop outside the housing development, we turned onto Broad Street, rejoining the main route at Middle Street. That intersection had a few businesses, and there was a fire station further down Broad Street. Soon after that, the street became lined with retail – we were in Jackson Square.
For some reason, the 222 makes a tight v-shaped deviation in Jackson Square, so we turned onto Commercial Street, going by a library. We then made a sharp turn onto Water Street, coming back into Jackson Square. Turning onto High Street, it got residential once more. We entered Hingham for just a little bit, making a loop and then returning the way we came.
I would like to point out that the 222 deviates in Jackson Square, with every other trip diverting to a separate terminus. On the v-shaped deviation, instead of heading back up to the square, it continues south on Pleasant Street. The terminus is just a loop around an area with a few small businesses.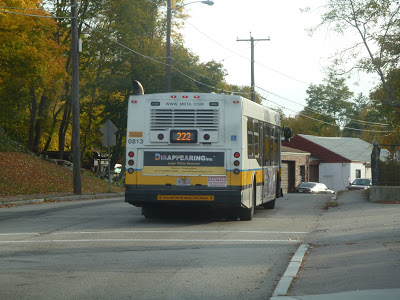 The bus heading down Water Street.
Route: 222 (Quincy Center Station – East Weymouth via Bicknell Square)
Ridership: The 222 is never quite as busy as the 220, but it's always close behind. On weekdays it gets an average of 1,690 riders, while on Saturdays it gets 744 riders, and on Sundays it's 554 riders. My trip was in the afternoon just before the rush hour, so it was slightly quieter – there were about 20 people who rode. Many of these people got off along Washington Street, with only about half continuing to the independent section.
Pros: It serves Washington Street! And it does so frequently – every 14 minutes during rush hour! Then it's every half hour during the day and on Saturdays, while it goes every hour nights and Sundays. You have to remember, though, that all those headways are divided by two because the route is coordinated with the 220. Thus, the shared portion on Washington Street gets quite a lot of service.
Cons: For one thing, rush hour coordination is pretty much nonexistent. It would be fine if the 220 and 222 had the same headways during that time, but they're slightly different, which means there are a few trips that leave right after other ones. Also, I find split terminals to be kind of confusing, but I think the 220 handles it pretty well. Every other trip goes to Pleasant Street – that's easy, I can handle that.
Nearby and Noteworthy: The main attraction of the 222 is Jackson Square in Weymouth, and it seems like a decently interesting place. But you know what it really needs? A movie theater. Seriously, I think that would make the square significantly better. I'm not sure how much business a theater here would get, but you know. It would be nice.
Final Verdict: 8/10
Overall, this is a great route, providing a partner in crime to the 220. This route provides service to a very large part of Weymouth, and it does it pretty frequently. Okay, so it's not the greatest on Sundays, but come on, how much ridership would it really get if it ran more often? The split-terminal scheme is simple, and neither of the tangents are especially long, which I think is a good thing. That means fewer people have to deal with service from every other trip. Rush hour coordination with the 220 could be much better, but overall, I like this route a lot.
Latest MBTA News: Service Updates