Getting to Hull by bus is a bit of a complicated matter, in that you have to take two of them. The first of those is the 220, which will take you as far as Hingham. And even though the ride to Hull is much more scenic, the 220 does have a few pleasant views for itself. Let's take a look.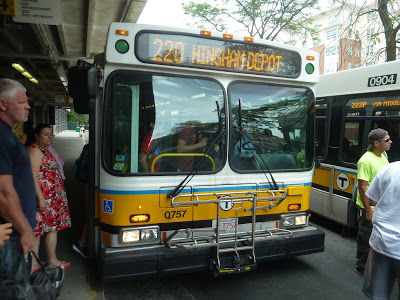 A 222 pulled up at the same time as the 220, so I ended up with a horrible picture.
Leaving Quincy Center, we made our way to Washington Street, going by some reasonably tall buildings in the process. These turned to small businesses, and then a mix of residential and retail. With a combination of traffic and lots of requested stops, this section took forever. Finally, we reached a rotary and went up onto the Fore River Bridge into Weymouth.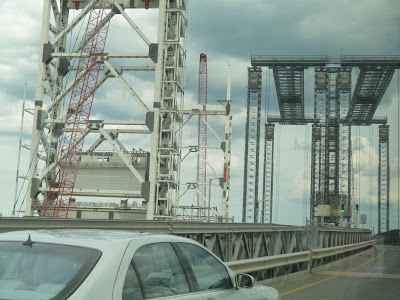 Wow!
Okay, the Fore River Bridge was pretty epic, as you can see above. The current bridge is only temporary, and they're building a second one to the left in the picture. Apparently it takes forever when a boat has to get under the bridge, but it still looks really cool. On the other side, there were still businesses, but they now had parking lots out front.
After the 221 and 222 left Bridge Street (formerly known as Washington Street), the 220 became solo. We passed a big mall, then crossed over a bridge into Hingham. The road became Lincoln Street as we went by the Hingham Shipyard, where there seems to have been a huge amount of development. Some 220 trips divert to the shipyard, but ours was not one of them.
After a few more shopping plazas, we turned onto Downer Ave, going by a school. After that, it was a very local residential neighborhood. We then turned onto Otis Street, with a few water views through the houses. The views became much better when we merged onto Summer Street – there was even a small beach.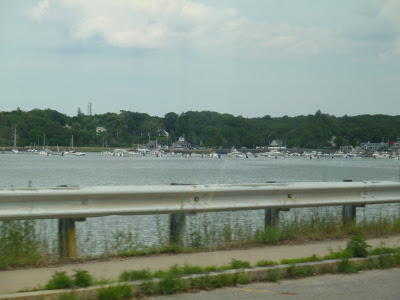 This was the best picture I could get.
The bus turned onto North Street, and unfortunately we had to get off in order to make the 714 to Hull. The route then continues down North Street to downtown Hingham, where it turns onto Main Street. It then makes a mostly residential loop through Hingham, going through "Hingham Center" (which looks much less interesting than downtown Hingham) and passing Hingham town hall. It then comes back up to downtown and terminates at Station Street in Hingham.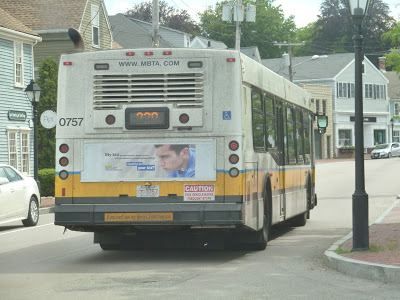 The bus heading down North Street.
Route: 220 (Quincy Center Station – Hingham Center via Fore River Bridge)
Ridership: There were only about 20 people on my ride, most of whom got off along the Quincy section of the route. However, the 220 does get good ridership overall, with an average of 1,719 riders on weekdays, 1,091 on Saturdays, and 606 on Sundays. It's one of the busier Quincy routes in general, probably due to its rather long distance.
Pros: This route serves a lot, and it's the only MBTA route that spends a significant amount of time in Hingham. It has some nice views along the way, and also runs often – every 10 minutes during rush hour, and every half hour during the day, at night, and on Saturdays.
Cons: On Sundays that becomes every hour, which isn't very good. I suppose the low-ish Sunday ridership justifies it, though. Also, something that isn't the 220's fault is that it takes a very traffic-prone route. The Fore River Bridge, so I've heard, gets extremely busy during rush hour, but it's pretty much the only way of getting into Quincy from Weymouth and Hingham. So yeah, not the 220's fault, but a problem.
Nearby and Noteworthy: This route goes by lots of businesses, and I know none of them. I would say the most happening place along the route isn't downtown Hingham (though that does seem like a cute local downtown), but rather the Hingham Shipyard. It has stores, businesses, and even a movie theater.
Final Verdict: 7/10
The 220 is certainly an important route that's pretty well-used. It serves quite a lot, making a horizontal slash across Quincy, Weymouth, and Hingham. It also runs frequently for the most part, except on Sundays, when the ridership seems to be somewhat low anyway. It's also a presumably terrible ride during rush hour, but what are you gonna do?
Latest MBTA News: Service Updates