The 17 is a short little route, taking only around 15 minutes to do the whole thing. Running between two Red Line stations, though, no one would take this from beginning to end. Like many other MBTA routes connecting two stations on the same line, it's all about what it serves in the middle.
Luckily we didn't have to go through the madness known as the Fields Corner busway, since we were leaving the station instead of arriving there. Turning onto Geneva Ave, we went under the Red Line tracks and past lots of apartments and a few businesses. We then turned onto Bowdoin Street, which soon became lined with businesses.
After passing a small park with a fountain in it, it got residential again. We went by a resting 15 at Kane Square, then headed up Hancock Street, which was mostly lined with apartments. There were lots of businesses again when we reached Uphams Corner, turning onto Columbia Road.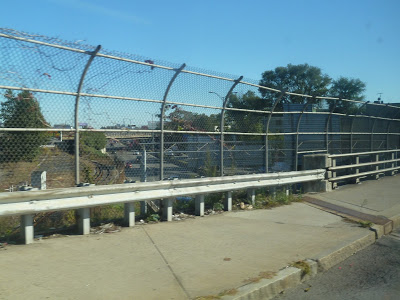 Nice…view? "View"?
North of Uphams Corner, the wide street became residential, but there was a bit of retail at the massive Edward Everett Square intersection. Columbia Road turned right here, but we continued straight on what was now called Boston Street. It was sort of a mix of industry and houses, then we crossed over I-93. Soon after that, we made our way into the Andrew Station busway.
Hmm…is it just me or did it get dark all of a sudden? Oh, wait, it's just the Andrew busway.
Route: 17 (Fields Corner Station – Andrew Station via Uphams Corner and Edward Everett Square)
Ridership: My ride had about 25 people on it, which is pretty good. On weekdays and Saturdays the 17 gets good ridership, with 3,436 and 1,516 people per day, respectively. However, the ridership drops down to 586 people on Sundays, which is…less good. As is the nature of routes like this, everyone who got on at Fields Corner got off at local stops, and everyone who got on at local stops went all the way to Andrew.
Pros: The 17 is a great link to the Red Line for the neighborhoods it serves. And not only is it a great link, but for the most part, it's a frequent link. On weekdays, it runs every 15 minutes all day, and on Saturdays it runs every 20-25 minutes. The best part is that since the route is so short, these headways can be accomplished with only two buses!
Cons: Sundays and nights, the headways are increased to every 40 and 50 minutes, respectively. That's pretty much it for cons, though.
Nearby and Noteworthy: This route goes by a lot of businesses, for sure. Are they worth going to? No idea.
Final Verdict: 8/10
"What?" you may be asking, looking at the score, "But Miles, just look at that abysmal night and Sunday schedule!" Ah, but you see, that's not the whole story. On nights and weekends, the 15 is extended to Fields Corner, thus providing frequent service along the whole southern half of the 17. Plus, though not nearly as frequent, service on the northern half of the 17 is also covered by the 16. So yeah, it's not as infrequent as it may look.
Latest MBTA News: Service Updates