Considering that the CT3 was on the chopping block in 2012, I assumed it would be pretty bad. I mean, I'm not a fan of the crosstown routes anyway, since they supposedly offer "limited stops" but really don't skip that many. So imagine my surprise when I found out that the CT3 is actually kinda…fast? Now granted, you're not getting an express service here, but it skips enough stops so that it makes a somewhat significant time difference.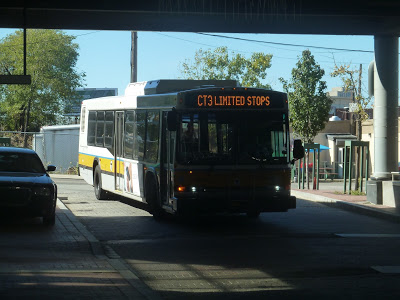 Did I mention that the Andrew busway is really dark?
We turned onto Dorchester Ave from Andrew, waiting for a bit at a massive six-way intersection. We then turned onto Southampton Street, going onto a bridge over the Commuter Rail Old Colony tracks with a view of the Amtrak yard and of the Boston skyline. There was another bridge over I-93, then we passed the huge South Bay Center mall.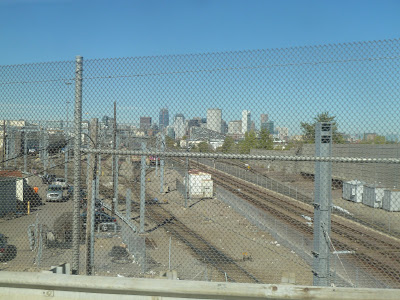 Well, it's a nice view if you don't mind the chain-link fence.
It was industrial when we got to the other side of the bridge, passing the MBTA's Southampton Garage. During rush hour in the peak direction, some CT3 buses go down Newmarket Square to make a stop on Mass Ave, but we continued down Southampton Street nonstop. Eventually the street merged onto Mass Ave anyway, but we turned onto Albany Street a block after that.
We were now at the B.U. Medical Center, making our first stop since leaving Andrew. We were surrounded by tall hospital buildings as we turned onto East Newton Street, then Harrison Ave. This street had apartments on the right side, but the hospitals still reigned supreme on the left. It got industrial again from there, then we turned onto the leafy Melnea Cass Boulevard.
There was a stop at Washington Street to connect with the Silver Line, but we continued speeding down the tree-lined Melnea Cass Boulevard. We reached Ruggles, pulling into its busway and making a stop, then we headed down Ruggles Street. Passing various university buildings, we crossed over the E Line at the Museum of Fine Arts, then the street became the Fenway.
After a short leafy section through the Emerald Necklace, we turned onto Avenue Louis Pasteur. From there, we turned onto Longwood Ave, where we were once again surrounded by hospitals. By the time we reached our final stop on Brookline Ave near the Beth Israel, the bus was empty, so I got out and started my walk to Kenmore.
The bus laying over before heading back to Andrew.
Route: CT3 (Beth Israel Deaconess Medical Center – Andrew Station via BU Medical Center)
Ridership: Although this is the least-used crosstown route, it still gets decent ridership. Every weekday, the CT3 gets an average of 1,393 riders. I'd imagine most of these people are hospital workers, considering this route serves two major medical areas. I took the bus midday, so there were less than 10 people on it in total, but it's probably more crowded during rush hour.
Pros: The CT3 does not make a lot of stops on its trip. It's technically a hybrid between two local routes, so I'll talk about them separately. From Andrew to the B.U. Medical Center, the CT3's alternative is the 10 – that makes 11 stops to the "main" stop on East Newton Street. The CT3? It makes three. Then between B.U. and Longwood, the 8/47 both detour to Dudley, so they have a total of 19 stops to the Beth Israel. The CT3 is less than half of that, with only 8 stops! So yeah, the CT3 does legitimately make limited stops, unlike some of the other crosstown buses, *cough* CT1.
Cons: Of course, just because it has limited stops doesn't mean the CT3 is speedy. Traffic can still impact the bus no matter how many stops it skips…but at least the CT3 is faster than local routes. This route only runs every hour during the day, but that's not when it's needed – the CT3's every 10 minute rush hour schedule shows where all the ridership is. That said, the schedule still has some problems. Every other trip during rush hour is a shuttle from Andrew to B.U. (or vice versa, depending on whether it's the morning or evening), which makes sense, giving commuters a quick ride to that medical center. However, in the evening rush hour, these trips are not coordinated well, with one shuttle trip leaving B.U. a minute after a full CT3 run stops there. That shuttle run probably doesn't get very crowded…
Nearby and Noteworthy: This is a route meant for commuters, so I can't see anyone taking the CT3 for pleasure (well, okay, I guess I technically did, but that's beside the point). That said, if you like hospitals but can't stand all those stops, then the CT3 is the route for you!
Final Verdict: 7/10
I would say that functionally, the CT3 is the best crosstown bus, simply because it actually skips a bunch of stops. And considering it's meant for commuters, the fact that it runs weekdays only, every hour during the day makes sense. I mean, my midday bus had 10 people on it, so clearly it doesn't need to run often. Yeah, most of the ridership happens during rush hour, and every 10 minute service during that is great. However, during the evening, the coordination between the Andrew-B.U. shuttle runs and the full trips could be improved. But even though the CT3 isn't perfect, it does what the crosstown buses should do – it offers marginally faster service than local routes. Kudos to you, CT3!
Latest MBTA News: Service Updates