Continuing on with the Porto Metro, next up is Line C! A note about this one is that it doesn't go all the way to Estadio do Dragao where the other lines terminate – it ends one stop earlier, at Campanha. I guess Estadio de Dragao doesn't have enough capacity for five whole lines.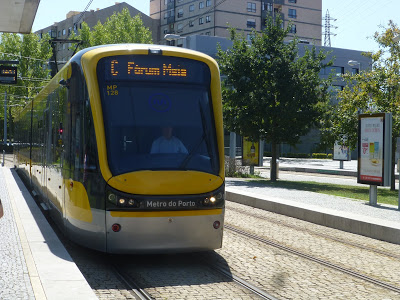 A train at Fonte do Cuco.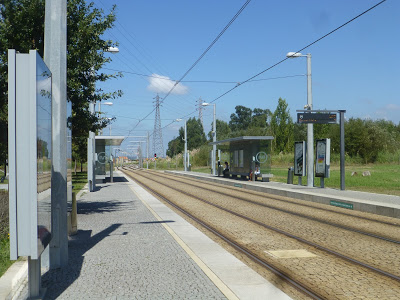 Fonte do Cuco Station.
Fonte do Cuco is where the C splits off the main line, and it's where we got on. From there, we went through fields for a little while, then crossed under a highway. After that, we snaked through small villages with fields in between, making stops at each one. The line then went over Parque da Maia, with an elevated station of the same name.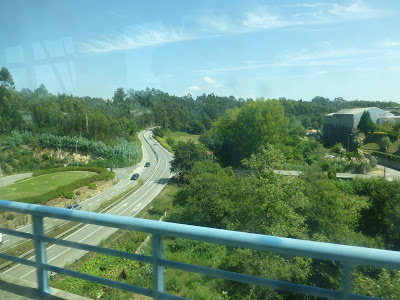 Going over the park.
We returned to ground level, taking over a street in downtown Maia. Maia is a city with over 135,000 people and even a skyscraper. We went right by that skyscraper on the train and had a stop close by, at Forum Maia. This was also the point where we discovered that some Line C trains terminate at Maia…the hard way.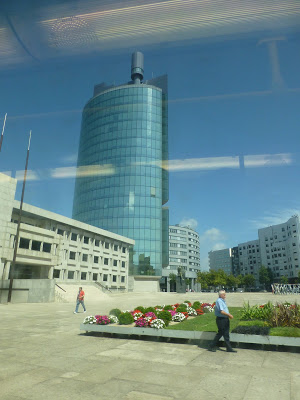 There's the skyscraper.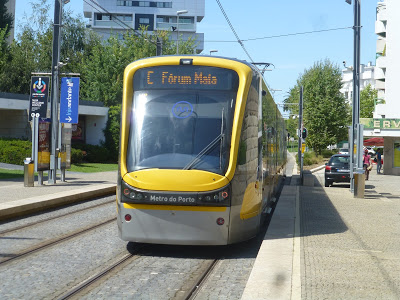 Ah. Should've read that destination board.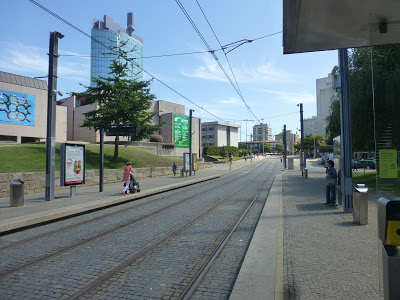 The station.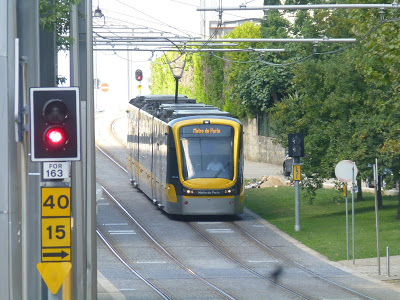 Yeah, you just sit there and lay over.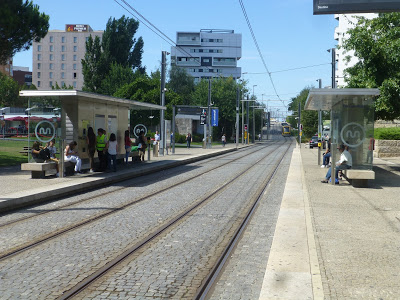 Looking the other way.
Now at this stage, we could've given up and just taken the train back to Porto. But I wanted to go the extra four stops to the real end of the C, so we decided to stick it out for 15 minutes until the train to ISMAI came. While we waited, we went to this cheap bakery and got some really good bread. Returning to Forum de Maia, the train arrived and we were off to ISMAI.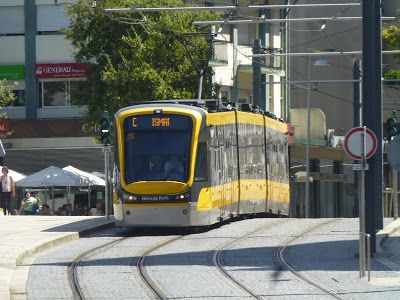 There's a welcome sight.
Continuing north, we went through a rotary and then rose up to an elevated line. After crossing a highway, we went underground in an industrial area, stopping at the aptly named Zona Industrial Station. We came out of the tunnel again, running next to Via de Francisco Sa Carneiro on a grassy right-of-way.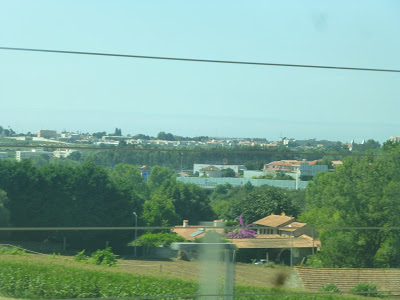 The view from the elevated section.
We then left the road and the factories behind, turning off and running through woods and fields. After that, we reached another town, Castelo da Maia (I didn't see any castles), then we arrived at the elevated ISMAI Station.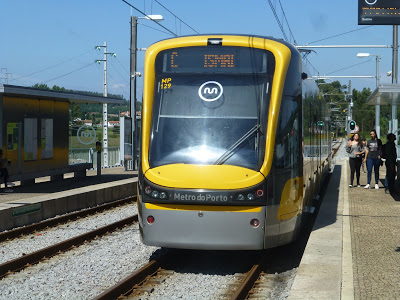 Goodbye!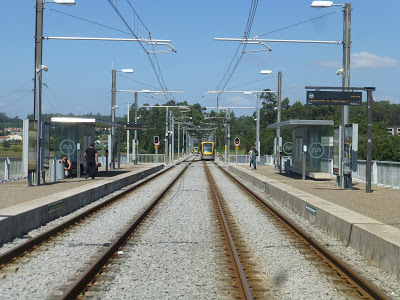 The station.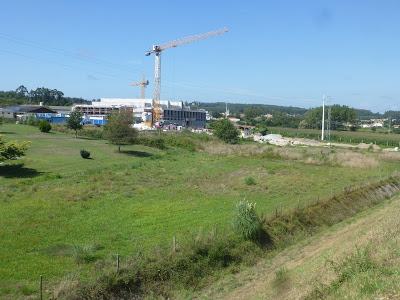 Looks like a building's under construction near ISMAI.
ISMAI, as it turns out, is a university, and a new one, too – it was formed in 1990. Still, though, its station felt pretty desolate, and I was looking forward to get out of there. Looking at the countdown clock, the next train to Porto was only…29 minutes away? Well…looks like we're gonna be here awhile.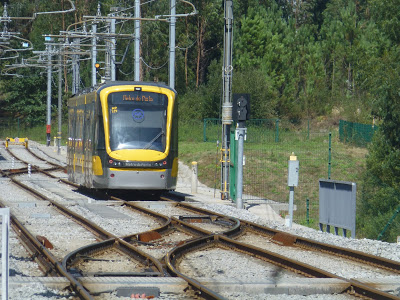 Yeah, you just sit there and wallow in your shame.
Line D, meanwhile, is completely separate from the other lines. Its only connection with them is at Trindade, but whereas the other ones go east-west through the city, Line D goes north-south. It's also the shortest and most urban line. Plus, it has the absolute best view on the system.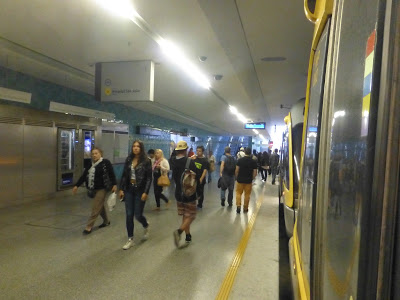 The underground Santo Ovidio station.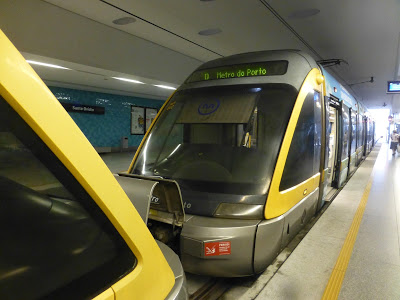 The place where the two cars are coupled.
Although the southern terminus, Santo Ovidio, was underground, we rose up to street level soon after we left the station. This part of Line D was similar to Boston's Green Line, running right down the median of Av. Republica. The only difference was that Line D actually moved quickly, since it got the right-of-way at traffic lights. The street was lined with tallish apartment buildings along this whole section,
At General Torres, there was a connection with suburban rail. After that, we went through a small park, stopping at Jardim do Morro. And from there, we crossed over the Luis I Bridge into Porto. Line D runs on the upper deck (the lower deck is for road traffic), meaning it offers a spectacular view of the city. It was amazing – just look at the pictures!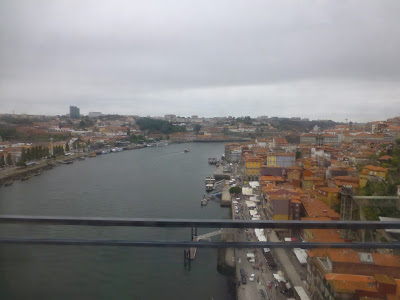 Soaring over the city!
This side of the River Douro has a bunch of wineries.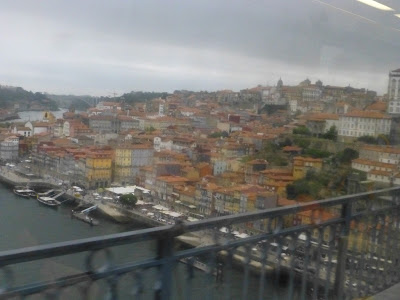 And there's the city!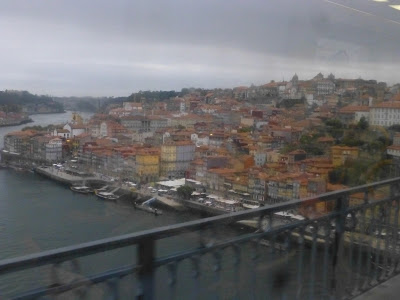 I wish the pictures weren't so blurry…
It's hard to tell, but there's a train zooming over the bridge here.
Once we crossed into Porto, we went underground, stopping at Sao Bento Station soon after. This is pretty much the only Metro station in the touristy part of Porto, and it's pretty big. But is all that space occupied? Nope. Sao Bento has this massive mezzanine with pretty much nothing in it.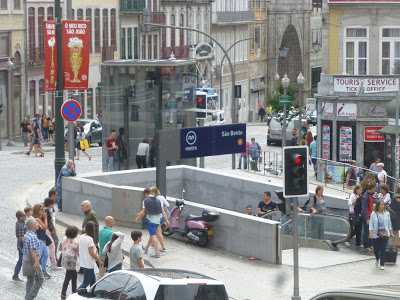 A crowded entrance to the station.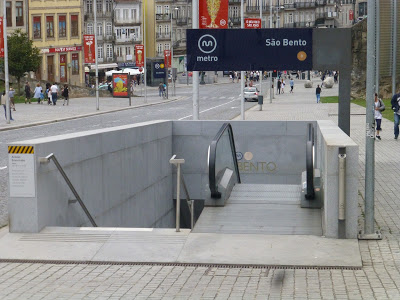 Another entrance.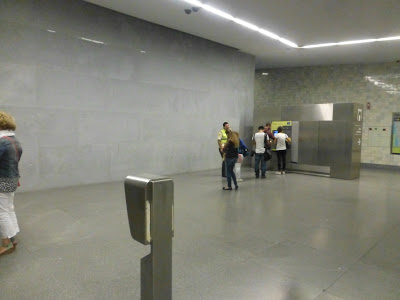 See that line to the ticket machine? It moved slowly.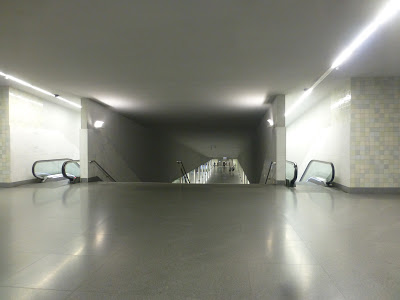 Hm..lots of space here, isn't there? Perhaps there could be room for, I don't know, some more ticket machines?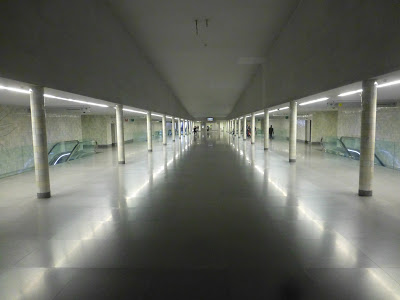 Ah, this hallway is so big…I'll be they could fit a few ticket machines in here.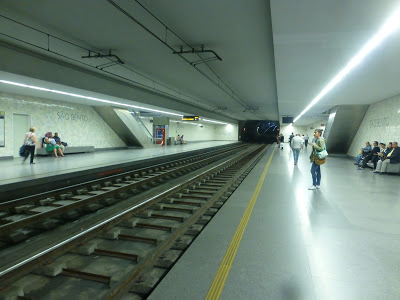 The platform.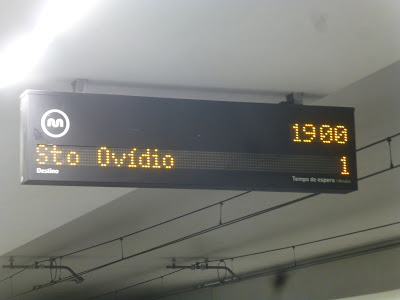 Oh, yeah, the system has countdown clocks! I think I forgot to mention that…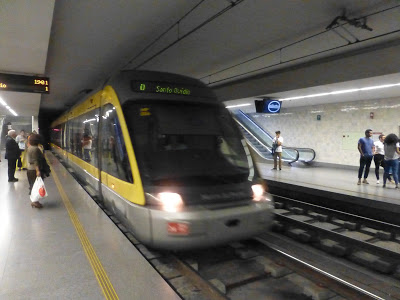 A train coming in.
The next station north was Aliados, and I also used that one. It was almost exactly the same as Sao Bento – indeed, all of the underground stations on the Porto Metro have a very clean, consistent style. So yeah, that made Aliados a "good" station by default.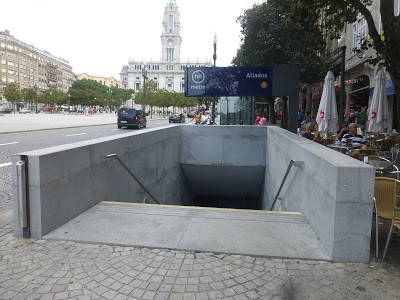 The entrance.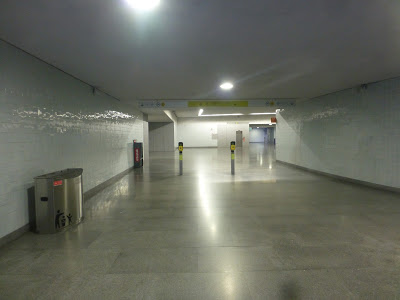 This mezzanine isn't as big, but it's still huge.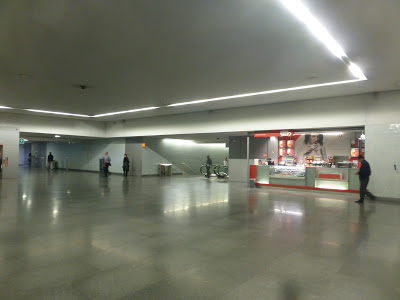 Hey, there's some sort of shop here!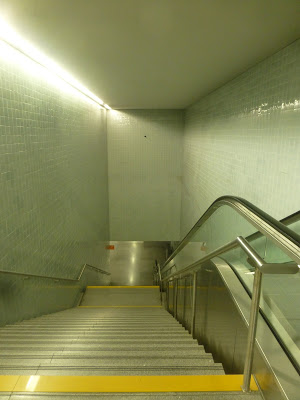 Going down the stairs.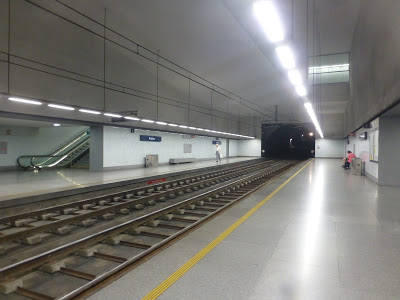 The platform.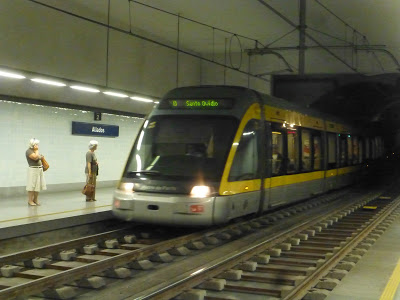 A train coming in.
The next stop was Trindade, where you can change for all the other Metro lines. The Line D station is underground, though, unlike the other lines. Does it look exactly the same as every underground station on the Metro? You bet.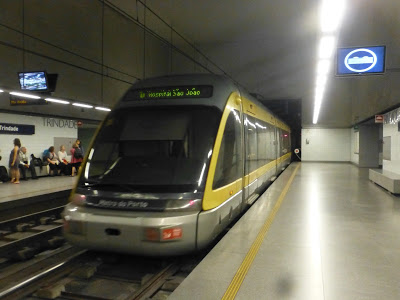 A train leaving Trindade.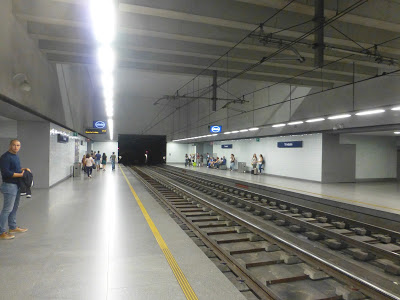 The platform.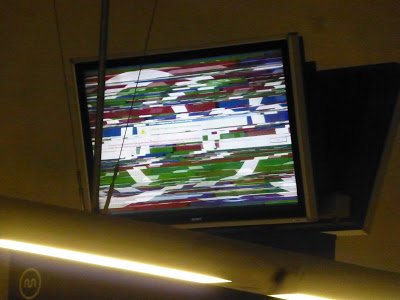 Hm…I think this TV is trying to tell us something…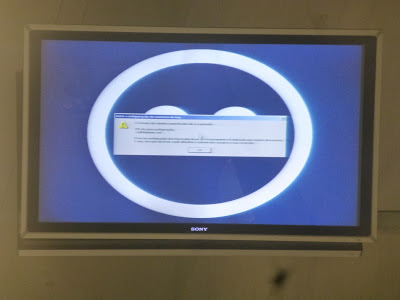 Here's another TV with an error message.
The line continued underground north of Trindade, stopping at no fewer than five subway stations. After Polo Universitario, we finally surfaced, making a sharp turn coming out of the portal. Running alongside R, Alfredo Allen, we were in an interesting neighborhood. I would call it a mix between Kendall Square and an office park.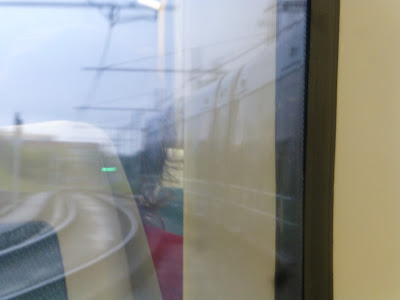 It's hard to tell, but of course I couldn't forget a tram inception picture!
After a stop at IPO, which is a hospital, we took a right and had another stop at Hospital Sao Joao, which is…another hospital. This was also the last stop – the northern end of Line D only has two aboveground ones. Stick to the south for this one, if only for that bridge crossing.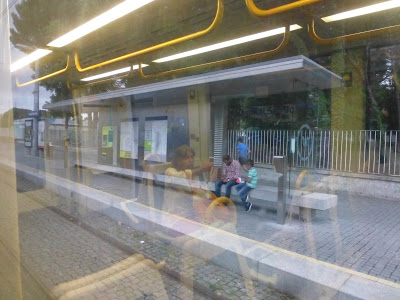 It was dark by this point, but Hospital Sao Joao Station isn't anything special, anyway.