Wow, Brandeis University gets its own Commuter Rail station! That's great! Well, wait, both Harvard and MIT get subway stops. And actually, there are many universities in the Boston area with frequent subway access. Huh…well, here's Brandeis/Roberts, anyway.
I love these shelters!
This station has accessible boarding areas on both sides, and they're great. They're wooden, so they have kind of a rustic feel to them, and I like that. Of course, they have benches and wastebaskets as well.
Looking down the platform.
Along the rest of the platform, there are a few more benches and wastebaskets, but nothing too interesting…except for one shelter. Yes, the inbound side has a shelter way down the platform where no one would ever bother to wait. It was cute and all, but I'm really not sure if I would call it "rustic" or "disgusting". You be the judge…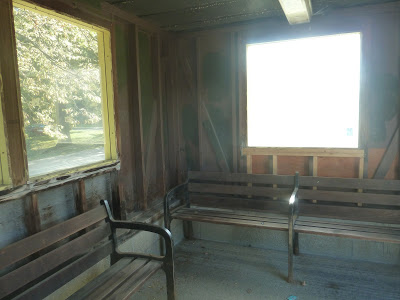 Um…hmm…
This station offers parking, but I'm not exactly sure how much. The Wikipedia page says there are 70 spaces here, while the MBTA station page says there are only 24. Either way, the official page says there's an 86% availability rate, so clearly the parking that's there is enough. This station is also served by a bus route, the previously reviewed 553 to Boston.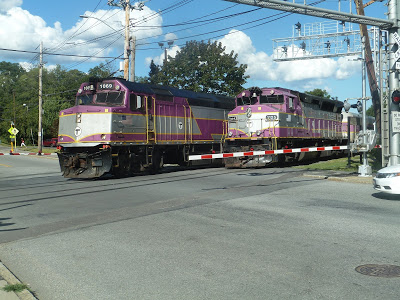 Oh my gosh, it's two trains!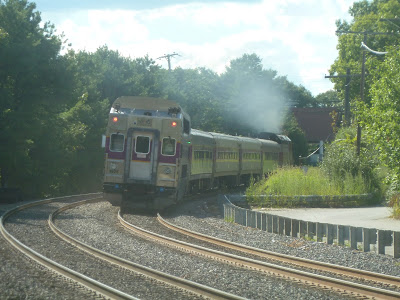 I feel like I do this kind of shot a lot…
Station: Brandeis/Roberts
Ridership: This is one of the busier stations on the Fitchburg Line, with an average of 437 riders per weekday. I assume most to all of this ridership is student traffic to and from Brandeis.
Pros: Again, I really like the rustic feel of the boarding platforms. The station also has ample parking, which is great.
Cons: The major issue with this station concerns its level crossing. Brandeis/Roberts' platform is long. Yet in order to stop at the boarding platform, trains have to stick out into the level crossing, causing huge traffic jams. It's not like you can just move the platform, but it's probably very annoying for drivers on South Street. In addition, that shelter on the inbound side is borderline useless, plus it's kinda gross in there.
Nearby and Noteworthy: As I mentioned in the 553 post, there are some businesses close to this station. Also, Brandeis University, of course.
Final Verdict: 7/10
Eh, I like a station with charm. The boarding platforms are excellent, and I can't help kind of liking the gross shelter on the inbound side. The level crossing thing is a bit of an issue, but it's a hard one to fix. It's probably more efficient to just let it be…
Latest MBTA News: Service Updates