The H2O route of the CCRTA runs from Orleans to Hyannis, via Brewster, Harwich, Chatham, Harwich again, Dennis, and Yarmouth. Sound circuitous? You bet it is. I'll start this post right where the last one let off…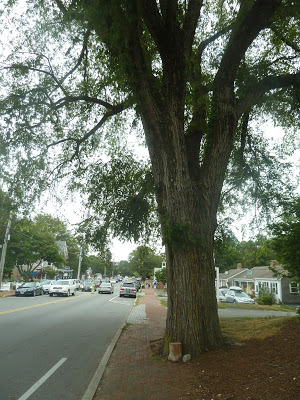 The "stop" at which we waited for the H2O/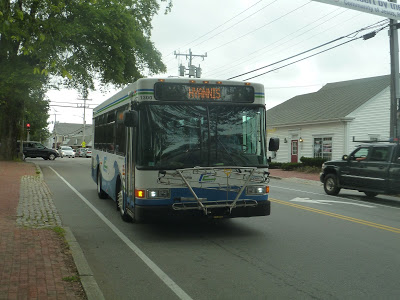 It was a quick wait, as you would imagine.
This was a slightly different bus than the one we rode on the Flex, mainly in that it was almost entirely sideways-facing seats. The only forward ones were in the back, which of course I took. Other than that, the layout of the front was a bit different, but the overall aesthetics were similar to the last bus.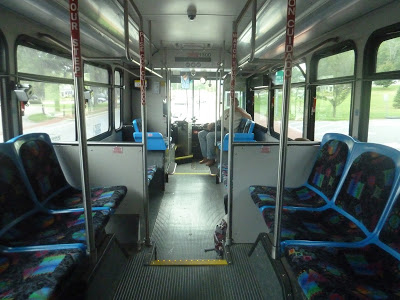 The inside.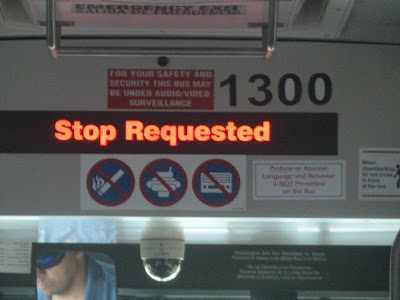 The stop request sign up front.
We went by some businesses as we headed down Main Street, then a school when we turned onto Route 28. It was residential from there, with houses that were pretty spaced apart. The next place of interest wasn't for a while, and it was only a gas station. We headed onto Route 39 (Harwich Road) from there.
This road was also residential, and we entered Brewster without much change in the surroundings. Aside from a school and a golf club, this part of the route wasn't especially interesting. We entered Harwich, then turned onto Pleasant Bay Road. This led back to Route 28, which we turned onto.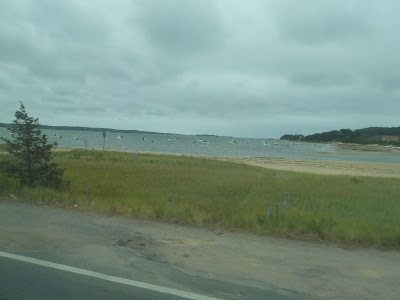 Ooh, a beach!
At one point, the road came along right next to a beach, offering a nice view. We then passed another golf course and a different body of water. By this point, we were in Chatham, but the general surroundings remained residential.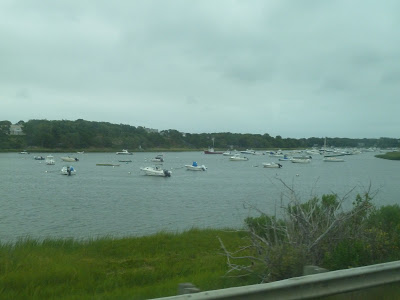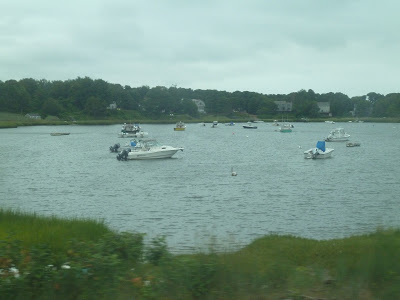 Lots o' boats.
We crossed over a river, then it finally started to get more commercial. We were going by businesses with parking lots out front for a little while, but it went back to houses eventually. Route 28 turned right onto Old Harbor Road, and soon we reached the Chatham Rotary.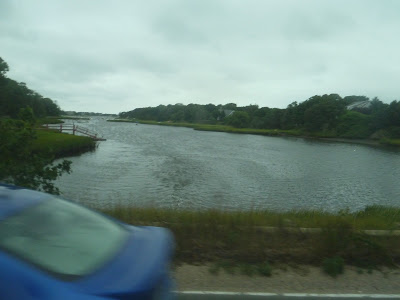 This would've been a great picture if that CAR hadn't gotten in the way.
This was Chatham Center, and it was pretty congested around the tiny rotary. Seriously, just replace the thing with a traffic light and things'll flow so much better. Anyway, Route 28 curved right onto Main Street, going by small businesses (including an old-fashioned looking car dealership). Unfortunately, though, the businesses got big parking lots as we got further away from the center.
Here it is, folks: the Chatham Rotary.
These continued for a while until it eventually became residential again. Aside from a bit of commercial at major intersections, the surroundings were either houses or forest. During this time, we entered Harwich, but there wasn't much of note to see until Harwich(port) Center. This was a really nice downtown, with small, dense businesses.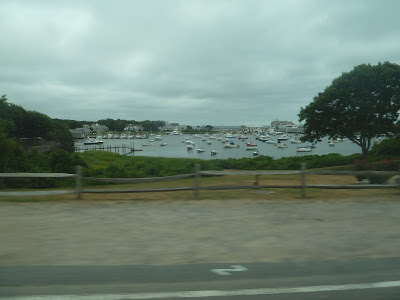 Nice view!
Later on, we turned off the road to serve a Star Market. We also went by a go-kart place, which was pretty cool. Returning to Route 28, we went by another "attraction". This one was – no joke – just a bunch of trampolines on the ground. It was surprisingly busy, maybe because it was an overcast day.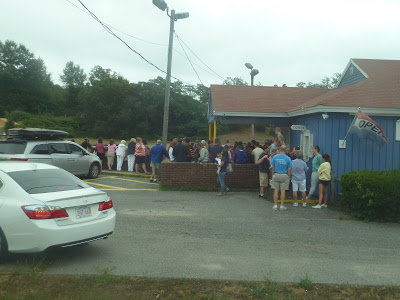 Go-karts, anyone?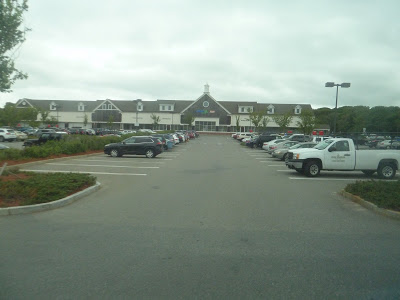 The Star Market and its huge parking lot.
There were more normal businesses from there, which continued after we crossed over a river (blurry picture, unfortunately). We entered Dennis and went through another lovely downtown, then it went back to pittier retail. After going by a mini-golf course, we went through a short residential section, then crossed over a river.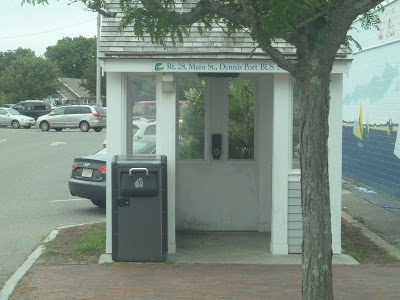 A shelter in Dennis.
Lots of water views along this route.
After that, we turned onto Route 134. This is the longest detour on the H2O, going 2 miles out of the way in order to serve a mall. We went through a forest and then the road widened, entering a very pitty area. After serving the aforementioned mall (Patriot Square), we headed back the way we came, eventually returning to Route 28.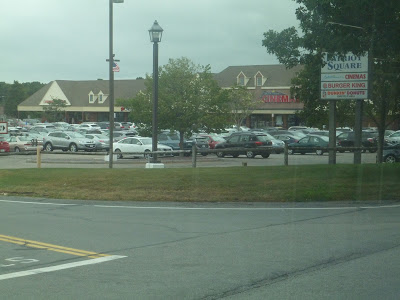 Ew…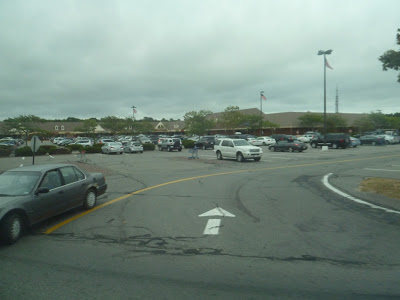 That's a big parking lot.
Back on Route 28, we were going by the same ol' businesses with lots of parking. There was some traffic crossing over the Bass River into Yarmouth, but that did mean more time to see the view. We passed a few hotels, then pulled into a Shaw's. From there, we went down a few residential side streets, then came into another Stop and Shop.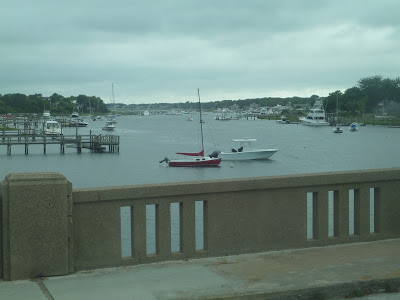 The Bass River.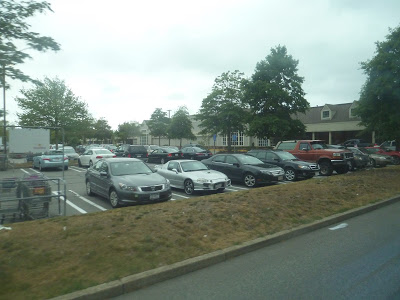 I'm getting sick of these parking lots!
We returned to Route 28, passing two mini-golf courses and a bunch of pitty-looking motels. Of course, there were also regular businesses, but they were all looking the same by this point. We crossed over another body of water and continued past the same increasingly boring surroundings. It was unexpected when we pulled into the Hyannis Transportation Center, because everything still looked exactly the same. So yeah, I prefer the Flex to this route – this one is just really long and really boring. Next time, we'll be looking at the Hyannis Transportation Center!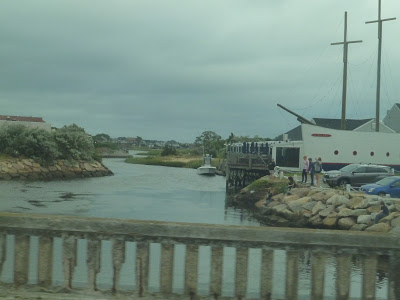 At least the water views are nice.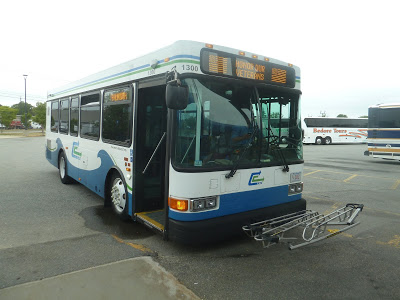 The bus in Hyannis.