If you're coming from Hyannis, taking the Capeflyer train is simple and straightforward. If you're coming from Provincetown…not so much. Although the Plymouth and Brockton bus runs direct from Provincetown to Hyannis, I wanted to see the local transportation. Thus, my father and I ended up on the Cape Cod Regional Transit Authority, Cape Cod's bus system.
There are nine routes around the Cape, three of which are seasonal. Most of them converge at the Hyannis Transportation Center, which I'll be covering in a later post. And…well, I'll be honest, a lot of people on the Cape have cars. There's not a very high amount of people who actually use the buses here. Well, we ended up taking two routes, since there's no direct one from Provincetown to Hyannis. It was a very long trip, but it was interesting travelling down the Cape without a car.
The Flex runs from Provincetown to Harwich. Its name comes from the fact that you can call in and have the route "flex" to pick you up. Need more information? Check out this very cheesy video about the route.
It was a pleasant surprise to find out that Provincetown has an actual bus terminal. It was simple, with parking spaces for buses and some benches. There were also bathrooms, an information booth, and a connection to the Provincetown Fast Ferry to Boston (which would've been a lot quicker than taking the bus looking back).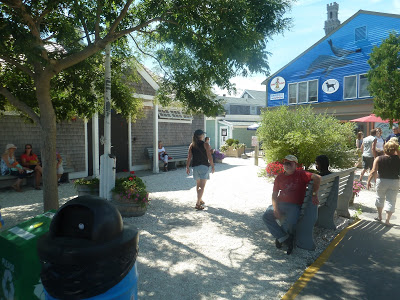 A waiting area.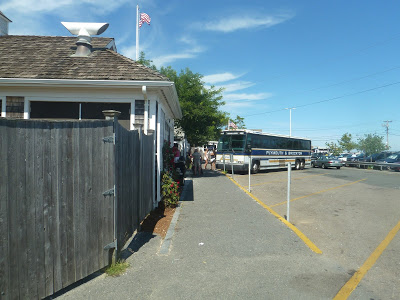 The boarding area.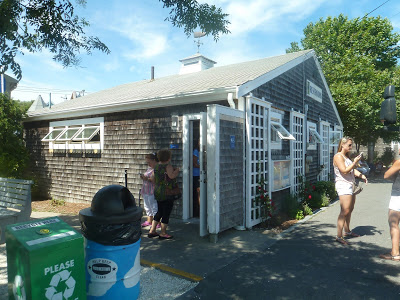 Everybody likes bathrooms, right?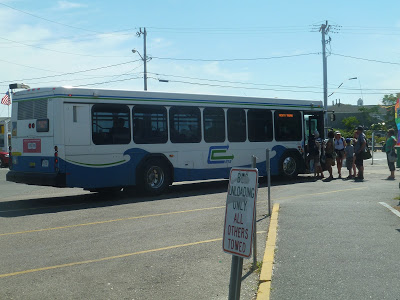 A CCRTA bus picking people up.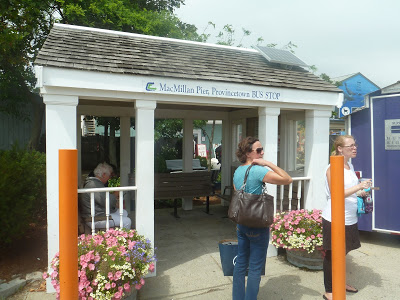 A shelter.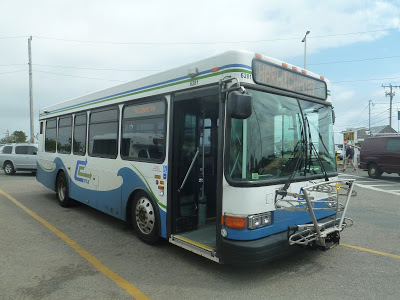 Two shots of the Flex in Provincetown.
The bus arrived a few minutes early, and we got on. The inside was pretty nice, with a mix of sideways and forward-facing seats. There were pull cords, which is always preferable to stop request tape. There was also a screen up front which said what the next stop was, which was convenient – no automatic announcements, though.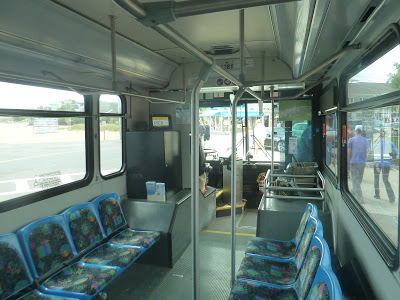 Two shots of the inside.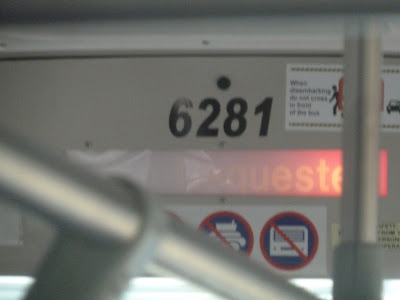 A bad picture of the "stop requested" sign.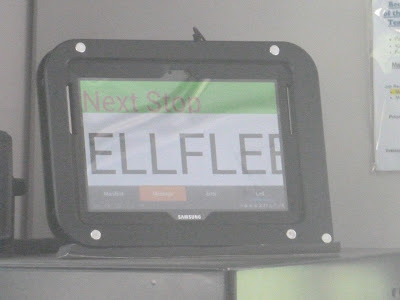 The screen up front.
Leaving the bus terminal, we headed up Ryder Street, avoiding the massive crowds a block away. We then turned onto Bradford Street, coming close to the tall Pilgrim Monument. Continuing down the narrow street, we were passing lots of dense houses. Soon, we turned onto Shank Painter Road (great street name), passing a Stop and Shop and some businesses with parking lots out front.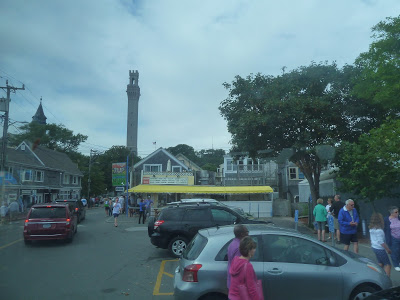 Man, that monument towers above everything else, doesn't it?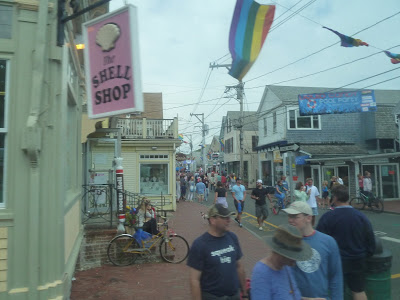 Downtown Provincetown.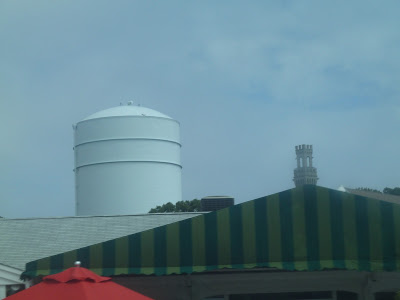 An industrial tower, plus the monument in the background.
We merged onto Route 6 soon after, speeding down the highway. We were mostly surrounded by forest until we came to the sand dunes. At this point the road was on an isthmus with water and sand dunes on one side and isolated houses on the other. It was pretty cool.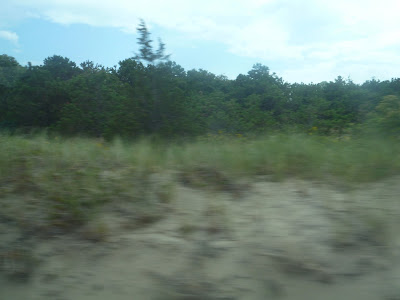 So, who likes woods?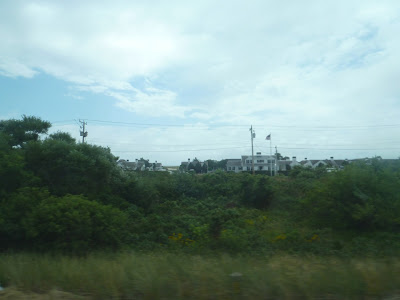 There are houses beyond the trees.
A view of the sand dunes (taken from the other side of the bus).
It was mostly just woods from there as we entered Truro. We passed the Truro Public Library, then took an exit onto Highland Road. This was just to serve a little shelter, where someone was actually waiting, and then we headed right back onto the highway.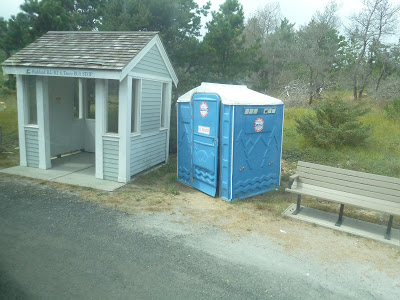 Look, it even has an outhouse!
We passed more trees, then the Truro Police Department and a school later on. Soon there were some houses along the road, but they were far apart. Eventually, we turned off Route 6 onto Truro Center Road, which went by more houses. We went through "downtown Truro" (blink and you miss it), crossed over a river, and returned to the highway.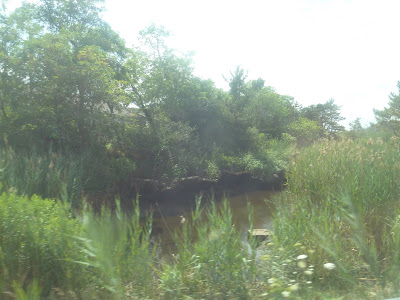 The river.
From there, Route 6 was all forest. There really wasn't anything of note until we entered Wellfleet and went past a few public service buildings. After going by a bank, we turned onto Main Street, passing a fair amount of houses. At Wellfleet Center, there were some small businesses. Here, we turned onto Bank Street, then East Commercial Street, returning to a residential neighborhood. Heading back onto Main Street, we returned to Route 6.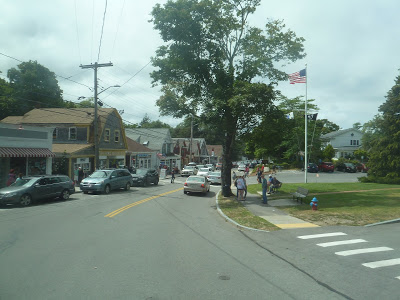 Wellfleet Center looks nice!
The road had a lot of businesses with big parking lots from there. We soon reached a Dunkin' Donuts and pulled in. The driver explained that we were early and got to spend "nine glorious minutes" there. We got to leave the bus, and my father and I talked to the driver outside. Eventually, it was time to go, and we got back on.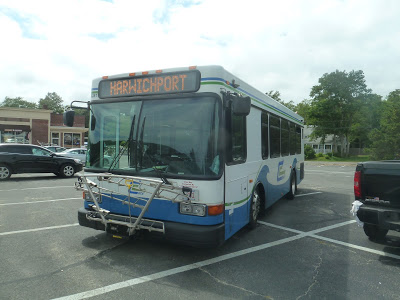 Three shots of the bus at Dunkin' Donuts.
Returning to the highway, it was residential from there. Eventually, we passed a gas station and a shopping plaza, then went by a marsh. After that, we turned onto Marconi Beach Road. Looping around, we made a stop next to a bike trail, then came back onto Route 6.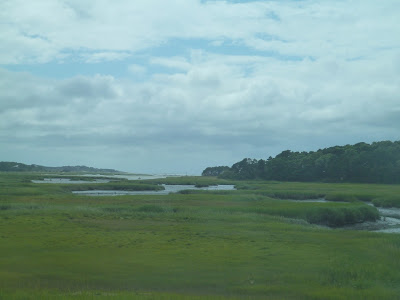 Some marshland.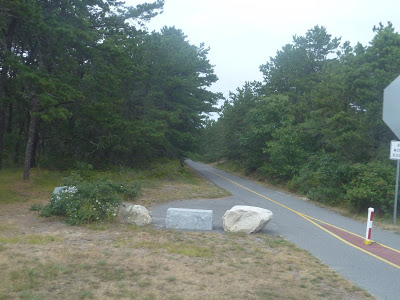 The aforementioned bike trail.
Back on Route 6, the surroundings were basically businesses with parking lots interspersed with forest. Eventually, we passed the Wellfleet Drive-In and entered Eastham. It was more residential now, though we did pass a few motels and a mini-golf course.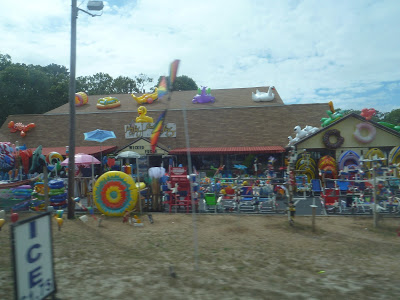 Man, that's a gaudy gift shop.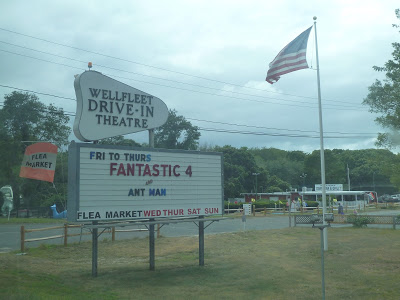 The drive-in!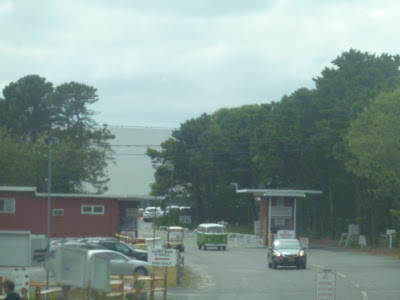 I managed to get a quick shot of the screen – as well as a Volkswagen Bus, it would seem.
There were more businesses from there, all with big parking lots. We went by some hotels and a church, then turned onto Nauset Road later on. This was the Salt Pond Visitor Center, and the bus navigated through a parking lot. We dropped someone off, then started to leave. However, when we got to a certain point, the driver started to reverse the bus. Turns out the person who had gotten off there had said they were going somewhere else, and the driver wanted to make sure the person had wanted to leave here. Turns out the passenger did, but it was still really nice of the driver to do that.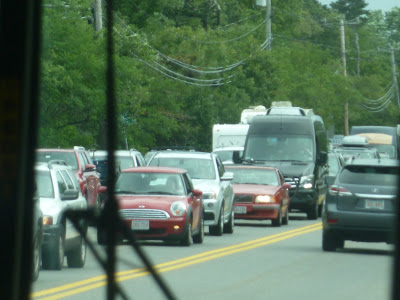 Woah, lots of traffic on the other side!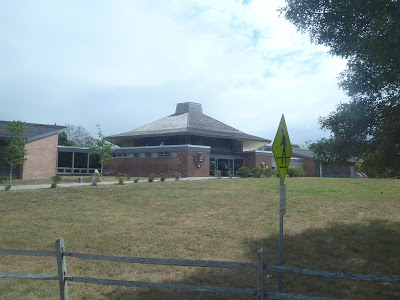 The Salt Pond Visitor Center.
Soon after returning to Route 6, we went by Eastham town hall, then turned onto Samoset Road. After going by a construction site, we turned onto Bridge Road, leaving the highway once and for all. We crossed over that bike trail again, but the surroundings were all houses. Eventually we reached open marshland, crossing a river, then Bridge Road curved to the left.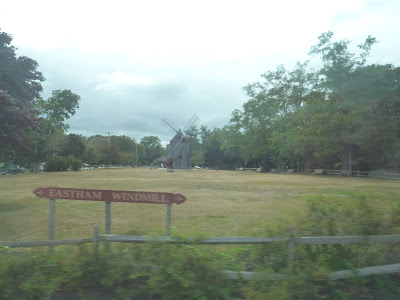 Okay, that's pretty cool.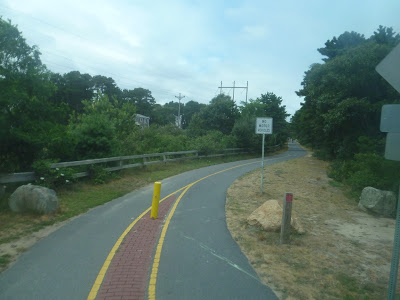 The bike trail.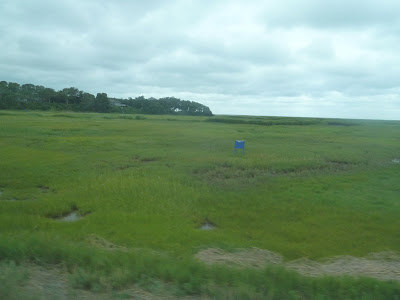 Some marshland.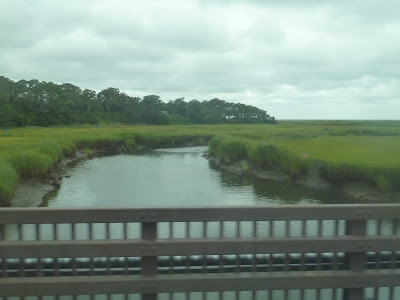 Crossing over the river.
Soon we turned onto Rock Harbor Road, then entered a rotary. Exiting onto Route 6A, there were lots of businesses here, all with big parking lots. But the biggest parking lot in town was clearly the Stop and Shop we pulled into. This was where we were going to get out to transfer to the H2O route to Hyannis – that was supposed to leave at 3:30 and it was 3:15, so we had plenty of time.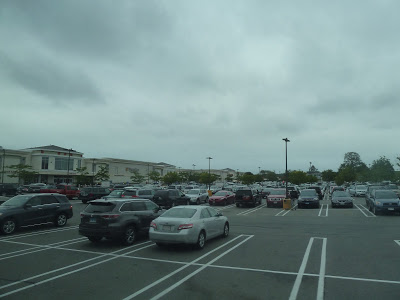 Welcome to scenic Cape Cod…
However, as we were pulling into the Stop and Shop, there was an H20 leaving towards Hyannis. "Is that the bus to Hyannis?" I asked the driver. He said it was, so I asked why it was leaving 15 minutes early. Well…turns out it was 45 minutes late. But since the 2:30 bus was so late, who knows how long we would've had to wait for the 3:30 trip?
"You guys going to Hyannis, I can get you onto that bus," the driver said. He explained that the H2O route has to make a circuitous run to Orleans Center, while the Flex runs there directly. He told us exactly where to get off, and gave us directions to where the H2O stops. Thanks to him, we were able to get on the H2O, and it was really nice of him to help us like that. Honestly, I think the driver might've been my favorite part of the Flex, what with his help at the end, as well as the long stop at Dunkin' Donuts. Aside from that, though, it's a very interesting, albeit long route that's worth taking – at least if you're a transit nerd. Next time, we'll be taking a look at the H2O to Hyannis!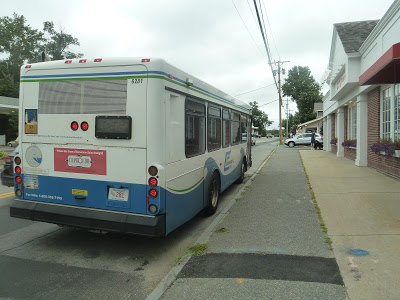 Two shots of the bus in Orleans.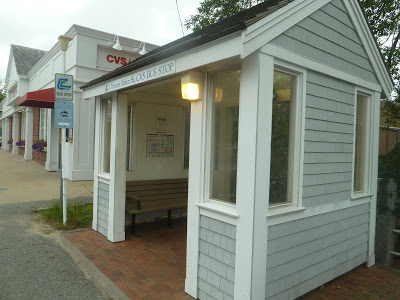 A quick picture of the Flex's bus shelter.