Okay, Haverhill's a nice town and all, but you run out of things to do when you're stuck there for three hours. I took it upon myself to come up with a solution: take a bus. And not just any old bus – a bus to another state. That's right, we took the MVRTA's 13 route, which goes just over the New Hampshire border to a plaza designed to take advantage of no sales tax. To get to the bus, though, we had to start at the Washington Square Transit Station in downtown Haverhill.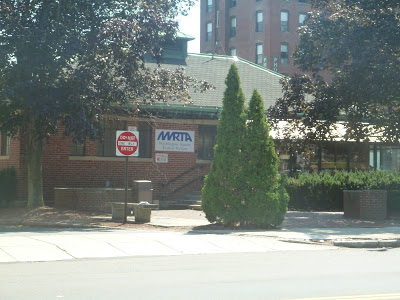 The station, viewed from across the street.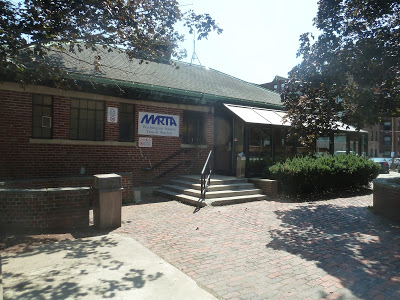 And up close.
First thing's first, I think the signage for this station could be much better. It's a small building, so it can be hard to find nestled between larger ones. However, it is rather nice inside. There's a waiting room with schedules and a long bench, complete with pillows!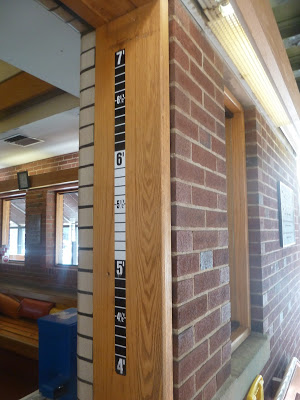 Ever wanted to know your height? Come to the Washington Square Transit Station and find out!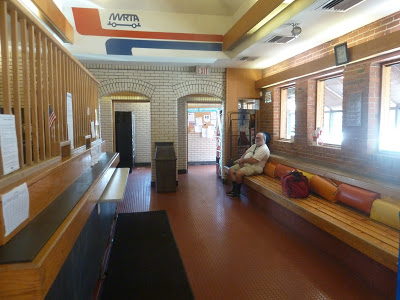 Cozy!
As for the place where you get the bus? Well, that has much fewer bells and whistles. There are four asphalt parking spaces for buses to board. No shelters or benches or anything. A lot of people still wait outside, though, so it seems like at least the latter would be a welcome addition.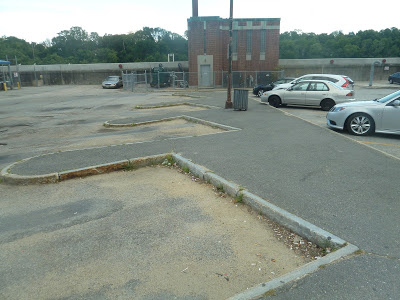 Hmm…could use a bit of work…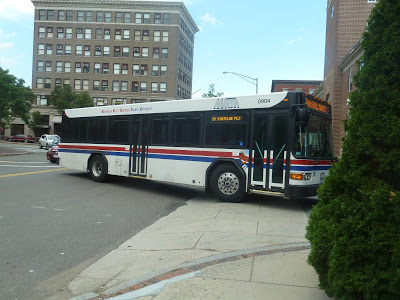 Alas, the best picture I could get of the bus.
Okay, so the 13. This is a short route, taking only 15 minutes to get from end to end. It runs two different ways, depending on the time (Main Street or North Avenue). Despite taking the route both ways, we only got to ride on the Main Street routing. The bus itself was slightly different from the one I took on the 41, but they were similar inside.
Looking toward the front.
After getting yelled at for taking pictures, we were off. The bus slowly made its way out of the Transit Station and down Washington Street. We went by the businesses of downtown Haverhill, then turned onto Main Street. Passing Haverhill City Hall, the surroundings became those of shopping plazas with big parking lots in front.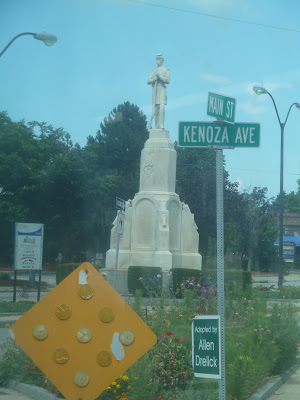 Nice monument!
The smooth-talking automatic announcements from my previous MVRTA ride were back, and they announced that we were in Monument Square. From there, it got more residential, though the houses were fairly dense. There was even a little apartment block on a corner.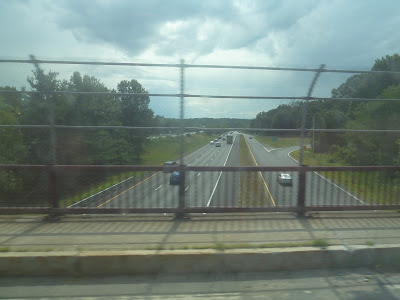 Crossing I-495.
The houses continued for a while, interspersed with some businesses at places. The driver floored it when Main Street crossed over I-495, but it stayed residential past there. Eventually, however, we started to go by more businesses with huge parking lots. Ugh.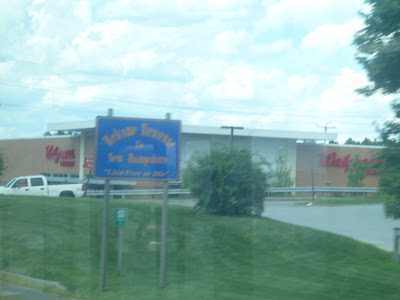 As the blurry sign points out, we're in New Hampshire!
We turned onto Plaistow Road, entering (drumroll, please) New Hampshire! We then pulled into the Stateline Plaza, just north of Massachusetts. After picking up a fair amount of people, we left the plaza, heading back into our home state and to Haverhill. Well, we were in New Hampshire for about five minutes…