Bradford is incredibly close to Haverhill – a quick jaunt across the Merrimack River, and there you are. Yet the stations couldn't be more different. Haverhill feels urban, with fairly tall buildings in view of the station. Bradford, meanwhile, is very local and tranquil, with mostly trees for surroundings. Let's take a look.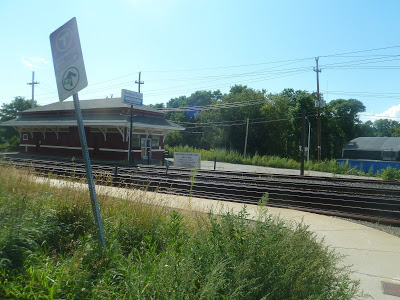 The entrance from Laurel Ave.
The Laurel Ave entrance is probably the better-used one, at least for pedestrians. It's the closest entrance to a residential neighborhood, but it seems like the pedestrian connections themselves could be better. Anyway, it's basically a path that parallels the tracks for a bit to the station.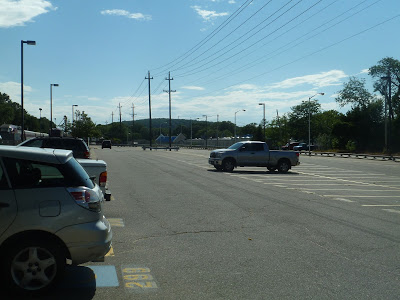 The near-empty parking lot.
This is one of those Commuter Rail stations that has more parking spaces than it does ridership. As such, Bradford's 300-space lot can quite easily handle all passengers coming to the station. The parking lot is the other way of entering the station, and it's probably the only reason anyone would enter on this side – there really isn't much here except for the lot.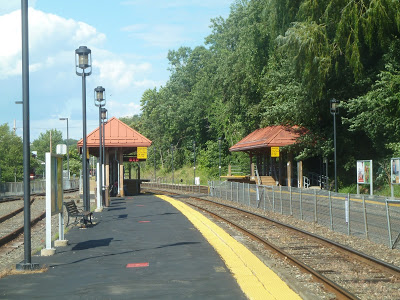 The platform.
Aside from the inbound platform having a few more benches and a longer shelter, both sides of the station are the same. There are some nice rustic-feeling boarding areas with benches, and that's about it. There isn't much on the rest of the platform, but the waiting areas are all you need, and they're great.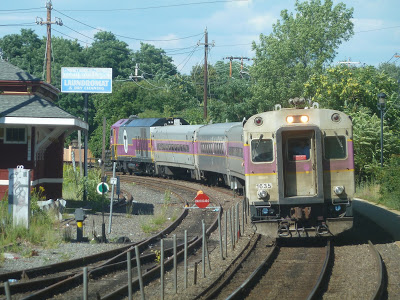 A train coming into the station.
Station: Bradford
Ridership: My friends, Jason and Michael, and I were the only people who were waiting for the inbound train here. The station's ridership is pretty low overall, with 278 inbound riders per weekday. I would imagine all of these people come from local residential neighborhoods – it's not like the Haverhill lot fills up and people need an alternative.
Pros: This is a more tranquil alternative to Haverhill. I don't think anyone would actually bother to walk an extra half-mile for just tranquility, but the point is that it's possible. Bradford's platform is fantastic, with the great boarding areas being the main highlight. It also has so much parking.
Cons: I can't say I'm too familiar with Bradford's topography, but some direct pedestrian walkways from nearby residential neighborhoods would be great. There's an entrance on Laurel Ave, but the problem is that that street is isolated itself.
Nearby and Noteworthy: Well, the MVRTA's headquarters is right near the station, if you're interested in…well, looking at it, I guess. I assume it's not public. Also, there's a Commuter Rail layover area here, where you can spot a few trains.
Final Verdict: 8/10
It may not have the bells and whistles of Haverhill, but Bradford is another excellent station. It's quiet, it's local, and it's a nice place to wait for the train. I'm not sure why they decided to build it so close to Haverhill, but I don't think it slows down travel times too much.
Latest MBTA News: Service Updates