Okay, it's pronounced "Hai-ver-ill". Not "Hai-ver-hill". Not "Ha-ver-ill". It's "Hai-ver-ill". I just wanted to get that out of the way, in case anyone reading doesn't know how. Now no one has to worry about embarrassing themselves by mispronouncing the city when trying to buy tickets at North Station. (not that that happened to me…or anything…) Well, anyway, let's take a look at Haverhill Station.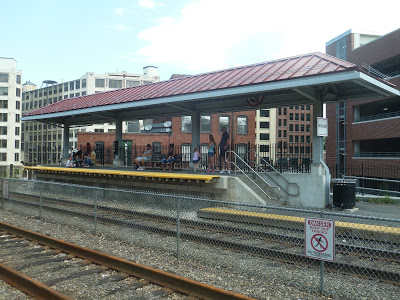 Here's where I got off the train, so I guess I'll start here.
For anyone wondering what I was doing in Haverhill, here's how it happened. My friends, Jason and Michael, and I wanted to go on an adventure. So we went to North Station and grabbed the first train, which happened to be going to Haverhill. It's not the most interesting city, but it's something. Anyway, we disembarked the train onto a boarding platform, which was a nice one. It had benches on it, which was good, since trains were only boarding on the outbound platform at this time. Naturally there are benches on the inbound side, too, for more normal circumstances.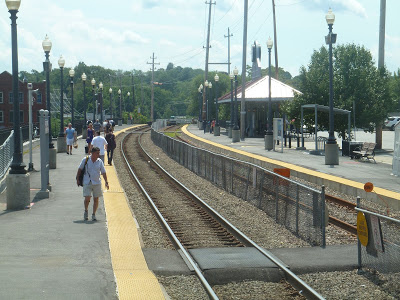 Looking down the platform.
The rest of the platform is great, too. Firstly, it's elevated on the side facing downtown, which is always nice. There's even a bench facing downtown further down the platform, should anyone want to do some small-city people-watching. The platform is also lined with some cool old lights, which must look great at night. There's a fence between the tracks for the most part, but there are pedestrian crossings at either side of the platform.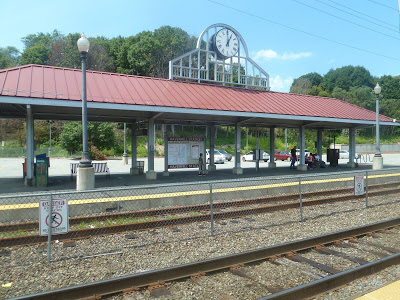 I love this shelter!
The inbound side of the platform also has a really nice shelter, complete with a clock tower. It has some benches inside, even though the boarding platform would probably be a better place to wait. The shelter also has some newspaper boxes and a few bike spaces.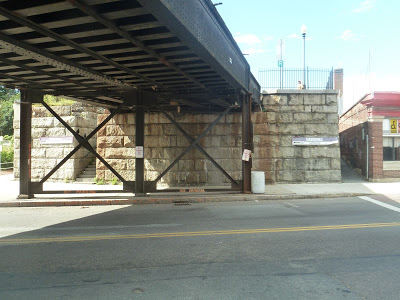 Both sides of the station's Washington Street entrance.
From both sides of the platform, there are exits down to Washington Street, the main drag of Haverhill. On the outbound side, it's a claustrophobic ramp, while the inbound side has a claustrophobic staircase. Still, it's good that there are direct exits to downtown from the station.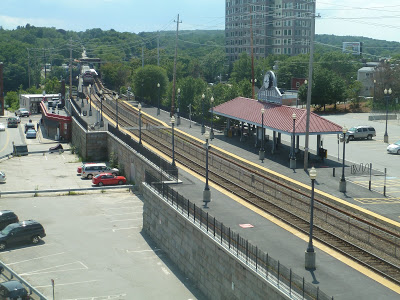 The platform…viewed from above.
The official MBTA parking lot is accessible from the inbound platform. It has 159 spaces, which seems to be more than enough for Haverhill. The MBTA website says this station has no bike spaces, when there is in fact a bike rack here. There are alternatives to both car and bike parking, though.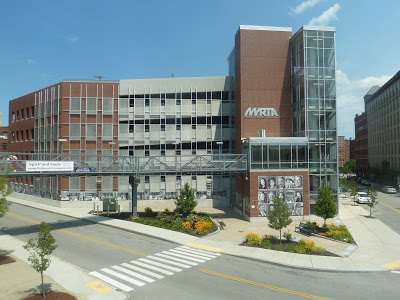 Behold, the parking garage!
Yes, an alternative to the MBTA lot is the brand-spanking new MVRTA garage, which has a direct connection to Haverhill Station. It offers 315 parking spaces, as well as overnight parking, which the MBTA lot lacks. Plus, the lot has some bike racks on the ground floor. It's not that many, but it's more than what the MBTA offers.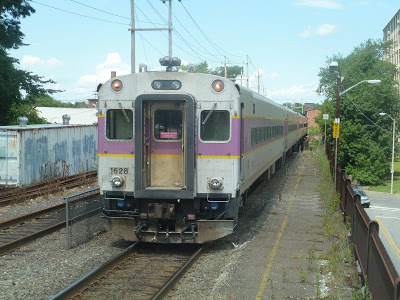 A train leaving the station.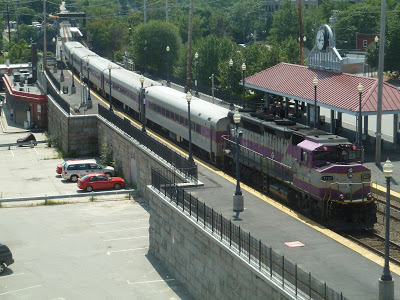 And another train…viewed from above.
Station: Haverhill
Ridership: Haverhill's ridership is pretty average for the Commuter Rail, with about 575 riders per weekday. I feel like these mostly come from local residents – I can't imagine anyone reverse-commuting out here. Some passengers may come from MVRTA buses, too.
Pros: The platform is fantastic – there's absolutely nothing wrong with it. This station offers a good amount of parking, both from the MBTA lot and the big garage. There are also MVRTA bus connections here – the buses leave from a terminal a few blocks down Washington Street. I'll take a look at that in another post.
Cons: Hmm…well, it would be nice if the MBTA acknowledged the big MVRTA garage on its website, but nothing much, other than that.
Nearby and Noteworthy: Downtown Haverhill may not be the most interesting of places, but it does have some restaurants and businesses lined up along Washington Street.
Final Verdict: 9/10
Haverhill is another great Commuter Rail terminal. I think it takes much less to impress me when it comes to Commuter Rail stations, but whatever. Haverhill has a great platform with awesome architecture and a bunch of parking in two different lots. For a Commuter Rail station, this is top notch.
Latest MBTA News: Service Updates