Why did they paint it salmon? Why did they paint it salmooooooooooon? Waverley used to be at street level, but it was depressed into a trench…with salmon-colored walls. Now, perhaps salmon is your favorite color, but it's certainly not mine. Yuck.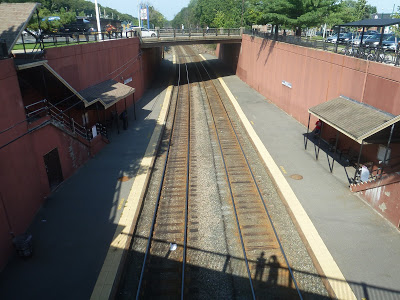 Looking at the station from above.
The station has shelters on both side, with benches underneath. Waverley isn't wheelchair-accessible, so the shelters are presumably where you wait. Other than that, the platform has a few wastebaskets, but that's it. It's pretty barebones. Also, there are the salmon walls. Blech.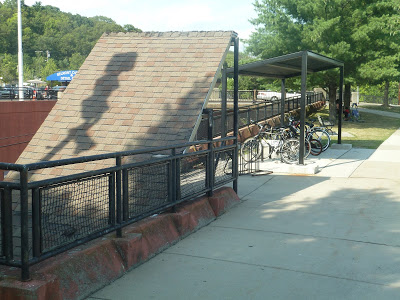 One of the entrances with some bikes in the background.
The station is accessed by some dilapidated staircases with wooden shelters – one for each platform. They lead to a small park that surrounds the station. By small, I mean small, but it's nice that it's there. And contrary to what the MBTA website says, there is bike parking here, with a few bike spaces under a shelter.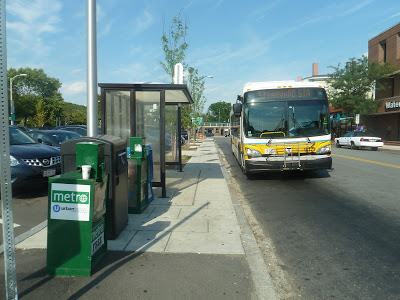 Unfortunately, I didn't take the 73.
The station is served by two buses: the 73 and the 554. Whereas the latter only comes on weekdays, 73's just stream into this station, nonstop. Good schedule, I guess. As for parking, the station website says there's none, but Waverley does have a lot right next to it. Perhaps it's a public lot rather than an MBTA one, but it's parking nonetheless.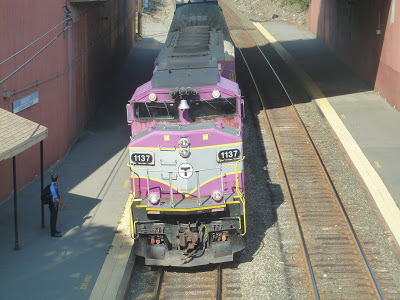 A train…viewed from above.
Station: Waverley
Ridership: I'm gonna go outright and say it, this is one of the least-used stations on the Commuter Rail. It only gets 117 inbound riders per weekday, who I assume are mostly locals. It's interesting how both of Belmont's stations get low ridership, with Belmont Center only getting 168 inbound riders per weekday.
Pros: Well, it has bike and street parking, which is good. Um…there are bus connections?
Cons: Firstly, it's not wheelchair-accessible. It would admittedly be hard to make Waverley accessible, but the point stands that it's not. Oh, also: saaaaaaaalmooooon. It's ugly.
Nearby and Noteworthy: Aside from some businesses in the station's immediate vicinity, there isn't much around Waverley.
Final Verdict: 4/10
I would say this station's on the same level as Belmont Center. They're both not accessible, though Waverley has some form of parking while Belmont Center doesn't. That said, Belmont has an awesome old station building, whereas Waverley has…salmon. I rest my case.
Latest MBTA News: Service Updates