I have a few Commuter Rail stations to review, but I figured I'd get some more buses out of the way first. The 38 is interesting in that it's the only West Roxbury bus that avoids Washington Street, opting for a route down Centre Street instead. Let's take a look at this Forest Hills anomaly.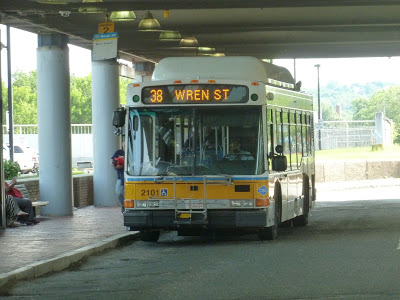 The bus hanging out in the Forest Hills busway.
Leaving the Forest Hills upper busway, we headed north (unlike every other bus from that busway) on South Street, along with the 39. There were lots of dense three-story houses interspersed with small businesses. Eventually, we reached the Monument in JP, and turned onto Centre Street. After going by a laying-over 41, we went around a rotary and Centre Street headed south.
There was a dramatic change in scenery – the street now had a grassy median, it was much more leafy, and we went by single-family houses. We passed the huge Faulkner Hospital complex, then reached some businesses at Weld Street. The houses got much more dense from there, and it wasn't quite as leafy as before.
Eventually we reached Bellevue Station. Here, we looped around another rotary onto West Roxbury Parkway, crossed over the Commuter Rail tracks, and turned onto Anawan Ave. This was basically a side street in a nice residential neighborhood. Soon we turned onto Park Street, and then Woodard Road. After looping around a pseudo-rotary, we arrived at the Wren Street bus stop.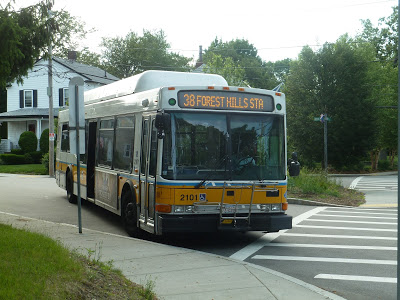 The bus at Wren Street.
Route: 38 (Wren Street – Forest Hills Station via Centre and South Streets)
Ridership: There were only 14 people on my ride, all of whom got on at Forest Hills except for one person who boarded at the Monument. Everyone fed off slowly, with Bellevue Station being the only place where more than one person disembarked. The 38's ridership isn't the best, with only about 1,000 people per weekday, and 300 per Saturday – making it the 11th worst Saturday bus route for ridership.
Pros: The 38 avoids the crowded Washington Street corridor and serves Centre Street instead. Granted, a lot of it isn't too densely populated until south of Weld Street, but still. Also, the route's schedule is pretty good, considering its ridership – every 22 minutes rush hour, every 45 minutes during the day, and every 40 minutes on Saturdays.
Cons: There's no Sunday service, but I can't imagine too many people using this route on Sundays. I'll cut the 38 some slack here.
Nearby and Noteworthy: A few little business clumps, but nothing seemed too noteworthy.
Final Verdict: 7/10
A nice, short, local route. It serves a few neighborhoods that other buses avoid. And assuming there's no traffic, the 38 travels fast down Centre Street. The schedule is a bit meh, but really, the 38 doesn't get too many riders overall.
Latest MBTA News: Service Updates