The Robert Kennedy Transportation Center (which also houses the MBTA Commuter Rail station), hub of the LRTA, is something like an 18 minute walk from downtown Lowell. It's doable for sure, but you could also just take the downtown shuttle operated by the LRTA. That comes at a cost, though – my problem with the shuttle is that it costs a dollar, the same as any other LRTA city route. It would be so much more downtown shuttle-esque if it only costed 50 cents for a ride, since it's meant to be taken short distances. On the flip side, buses run every 15 minutes on weekdays and every half hour on Saturdays, but there are no LRTA buses with Sunday service.
When I took this route there and back, both times were operated with minibuses. I did see some full-sized vehicles along the route, though, which seems silly to me. But going back to the minibus, it was pretty comfortable inside, with big, poofy seats. And there were pull cords again!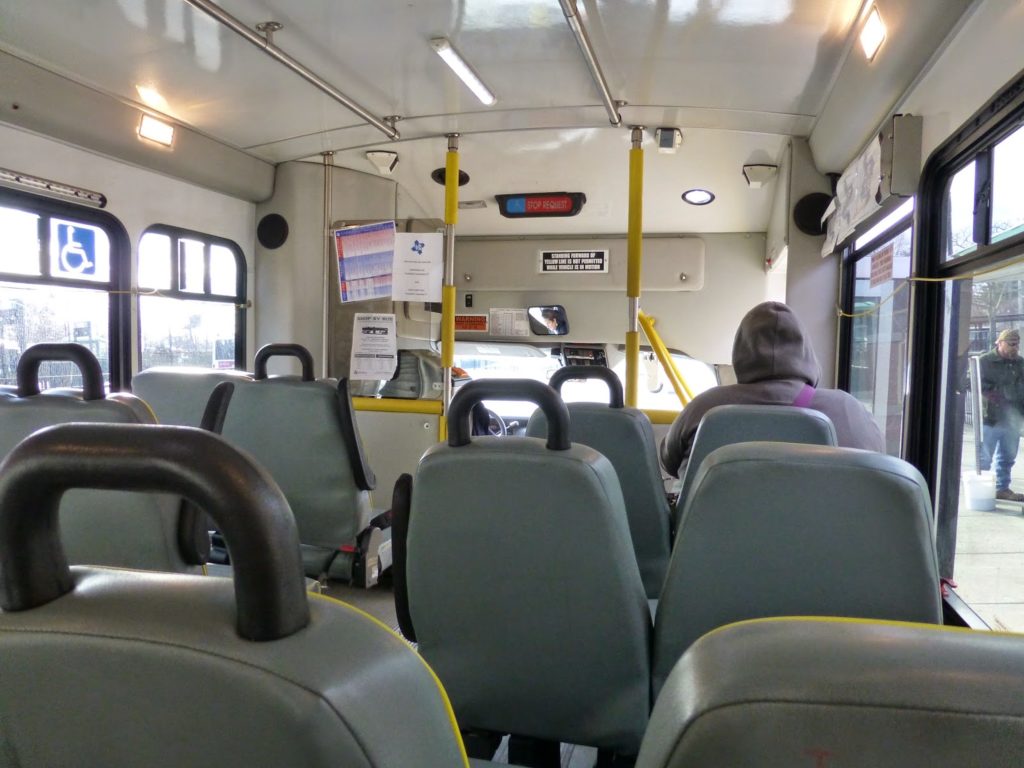 The inside of the bus.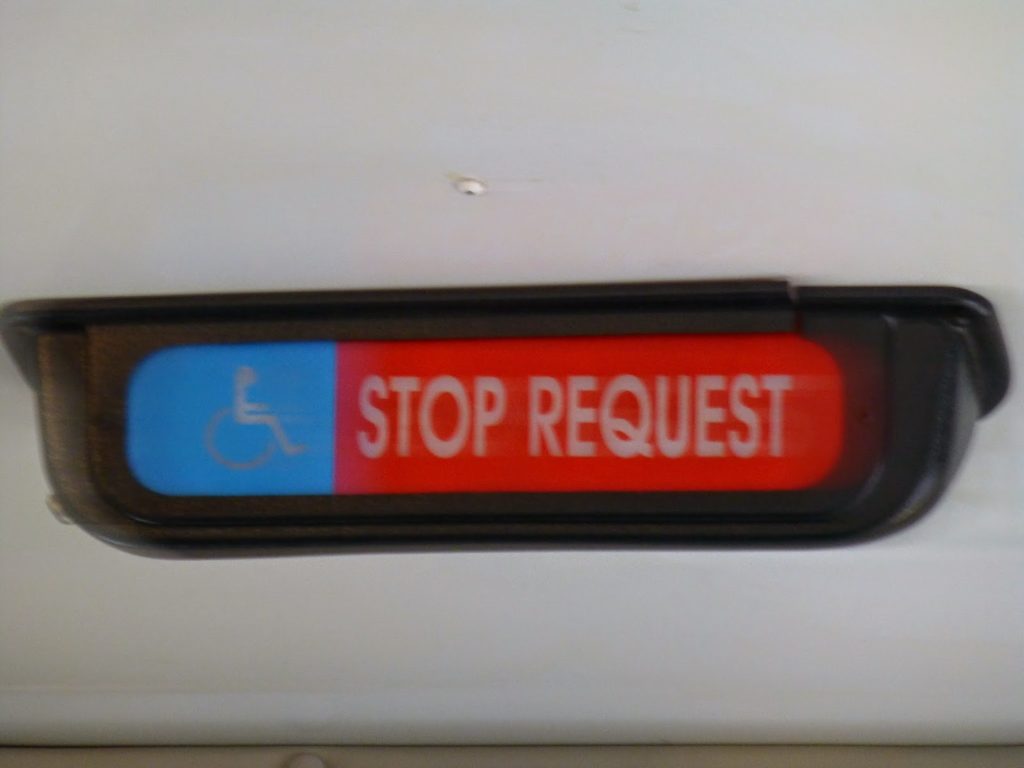 The stop request sign up front.
We left the transportation center and made our way to Thorndike Street. This was an underpass beneath a few streets, then we came back up and crossed over the Pawtucket Canal. Paralleling the Merrimack Canal and the Lowell Trolley, there were businesses on the other side of Dutton Street. We then turned onto Arcand Drive, going past Lowell city hall, then we turned onto Father Morissette Boulevard.
This became French Street as we passed the Lowell High School, a park, and a bunch of brick buildings. We made our way around to Merrimack Street, which seemed to be the "main drag" of downtown, with a bunch of businesses lining it. This is the last stop of the outbound route, and where the bus lays over for a few minutes before heading back to the Kennedy Center.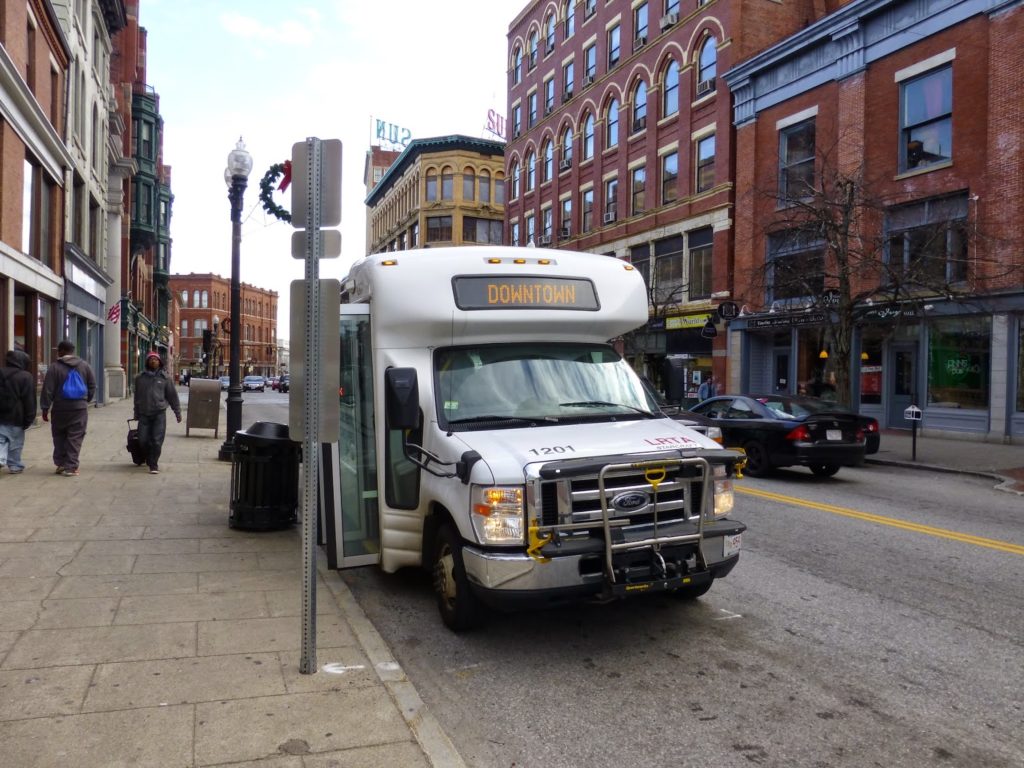 The bus downtown.
After wandering downtown for a while and having really excellent pizza at Eileen's, I headed back to the bus stop. On the way back, we headed down Merrimack Street, then turned onto Shawmut Street. This street was narrow and cobblestone, so it was a bit of a rough ride. We then turned onto Market Street, going by some more businesses.
Next, we turned onto Central Street, going over the Pawtucket Canal, then we turned onto Middlesex Street. This one was mostly parking areas, abandoned buildings, and totally empty lots. We then turned onto Thorndike Street, coming back to the Kennedy Center. It was definitely a quick way of getting to and from downtown Lowell, though it was a bit expensive.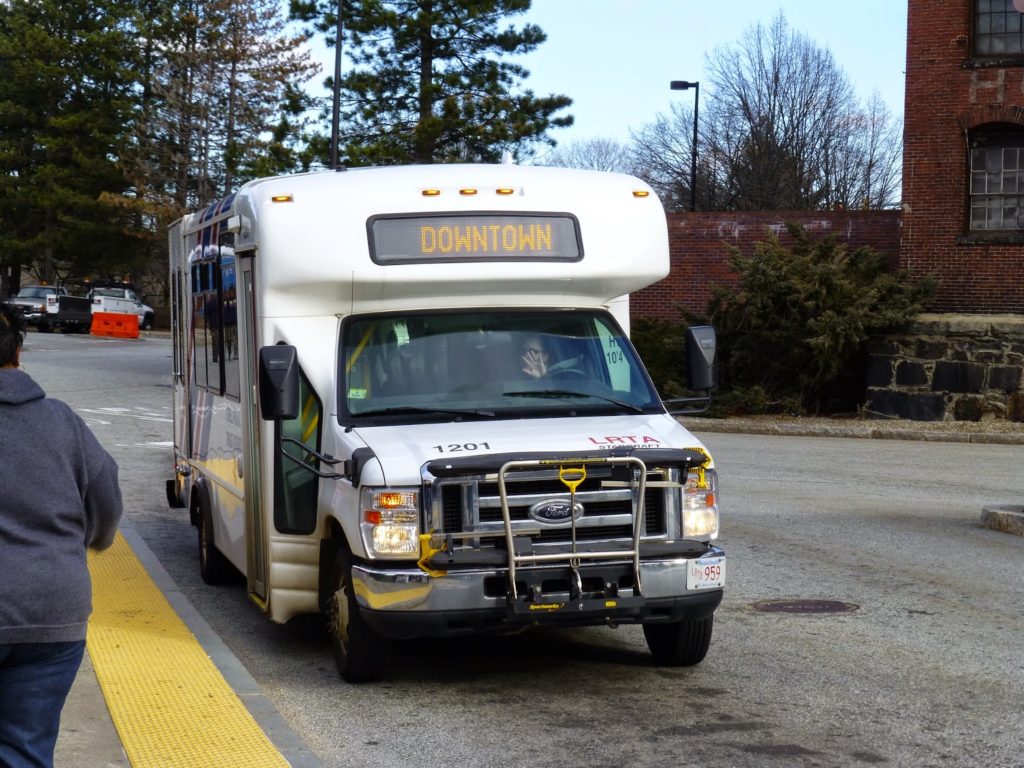 The bus back at the Center.